Yellowstone's Morning Glory pool turned green by tourist's good luck coins, say researchers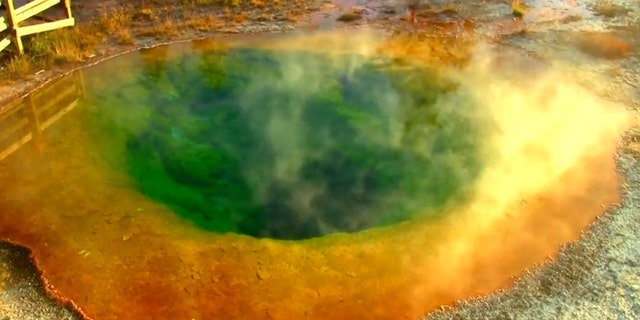 No, this isn't some St. Patrick's Day joke.
Researchers say that Yellowstone National Park's world-famous Morning Glory thermal pool is turning a yellowish-green by decades of tourists throwing coins for good luck and from trash and other natural debris.
Once a crystal clear lagoon, images reveal a dramatic change since the 1940s.
"Over the years, however, tourists have tossed lucky coins, rocks, and other debris into the pool, partially blocking the underground heat source and lowering the temperature of the spring to a range habitable by photosynthetic microorganisms that probably didn't live there before," Adam Hoffman, explains in Science Friday.
The pigments produced by these new microbes are partly responsible for the "brilliant yellows, greens, and oranges that now tinge Morning Glory and other thermal pools in Yellowstone."
In the mid 40s and 50s, Yellowstone received about one million visitors annually. Today, the beloved park receives nearly three million visitors, according the National Park Service. While humans were long thought to be culpable for the lagoon's changing hue, only recently did science confirm this to be true. The surge in visitors means more trash and refuse has been clogged up the underwater vents in Morning Glory pool—which used to be as blue as the flower for which it was named.
So can anything be done to save this national treasure?
Paul Nugent, a Ph.D. student at Montana State University, has led a team of researchers using thermal cameras to measure how light, temperature and microbial make-up influence the color of the hot spring.
He said that by just removing trash may not be enough to restore Morning Glory to its former blue hue but the team hopes to collaborate with biologists to develop better monitoring tools will track the chemical and microbial elements of such bodies of water from afar.