What are the rules when it comes to breastfeeding on a plane?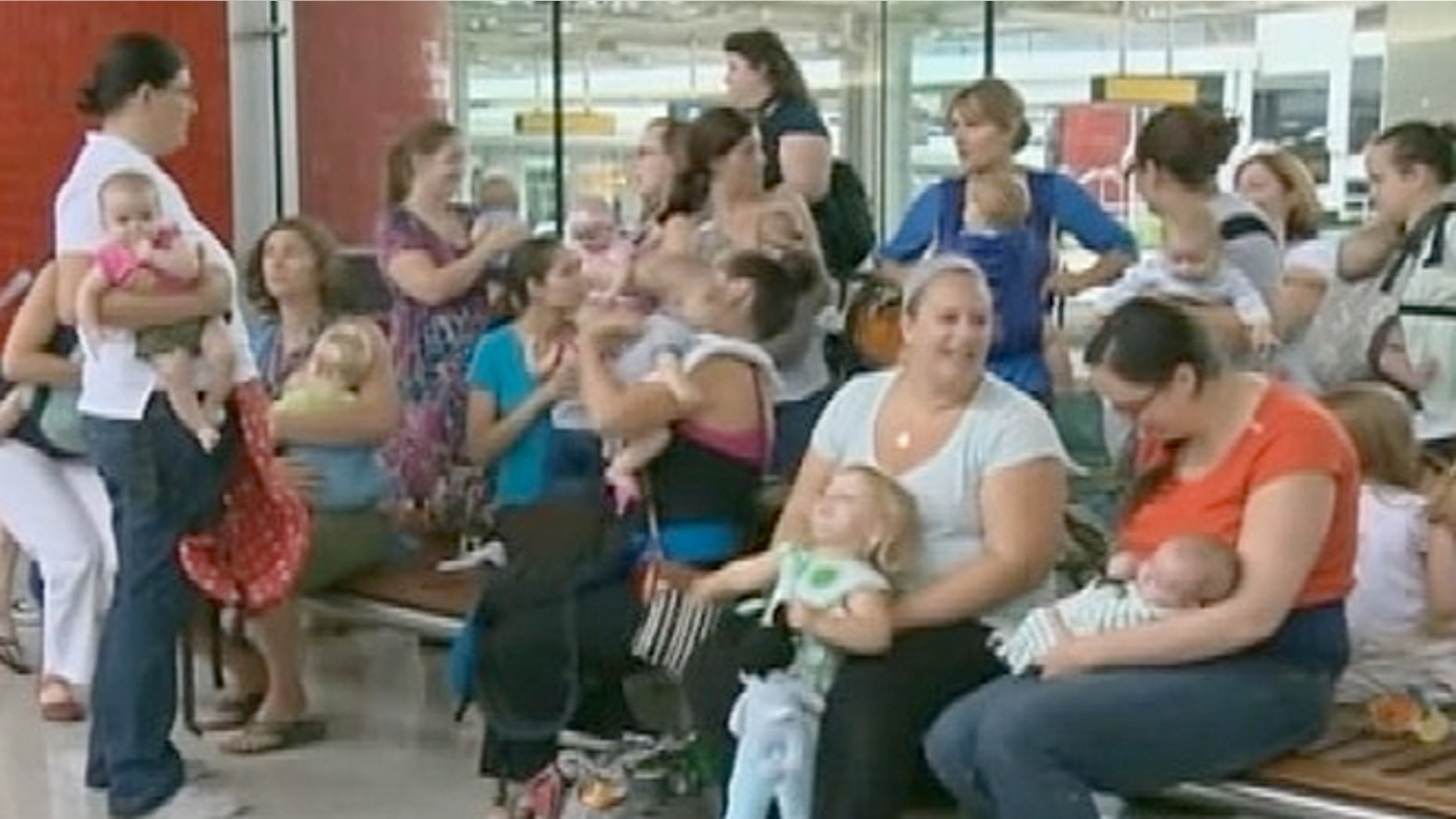 The breastfeeding battle over what is appropriate or not aboard commercial aircraft has once again taken off.
This time American Airlines is the focus of protests after a Baltimore-area woman said a flight attendant was rude to her and told her to cover up.
A group of about 25 nursing mothers and their nursing children gathered Wednesday at Baltimore-Washington International Thurgood Marshall Airport to protest the airlines.
The woman at the center of the dispute says that while on a flight last month, a flight attendant passing her row shook her head at her, then returned saying she needed to put a blanket over her son because there were kids on the flight.
The woman was sitting next to the window, her husband in the middle, and an unrelated 12-year-old in the aisle seat.
The woman, who wishes to remain anonymous, wrote a complaint letter to the airline to voice her concerns.
She received a reply in which the airline said that breast-feeding is allowed in flight, but "because of the offense that may be taken by others within the close confines of commercial aircraft, we simply ask that breast-feeding be done with a certain discretion and a sense of modesty."
Hannah Butta, a "dear friend" of the mom posted a letter on Facebook, and helped organize Wednesday's protest.
American has since apologized to the mother, saying: "We apologize to the breastfeeding mother who was offered a blanket during a recent flight by a well-intentioned flight attendant. The intent was to make everyone on board comfortable," the airline said in a statement.
Yet, news of the incident spread on social media sites, sparking debate on both sides.
On Facebook people wrote the airline's actions were "unacceptable," while others say passengers shouldn't have to be subjected to "indecent exposure."
American Airlines, Northwest and United Airlines clearly state that breastfeeding is not prohibited while on the plane.  Other carriers, such as British Airways and US Airways, don't have a written policy, but say they respect the rights of nursing mothers.  Most airlines suggest that mothers cover up while breastfeeding on a plane.  Mommy bloggers also recommond that travelers err on the side of caution and cover up. But some say confusing the issue are vague policies where airlines leave it to cabin crew to "use their best judgment to decide whether the activity is inappropriate."
On the other hand, flight attendants are constantly making judgement calls about other issues, such as cabin safety.
Mothers who spoke with FOX 4 spoke with say they do try to cover up. But when it comes to flying, a happy baby is what's most important to everyone.
"It'll keep him calm and probably the guests will be happy if he's not crying to breastfeed," said one breastfeeding mother.