Viral video captures heated argument between airline passengers over armrest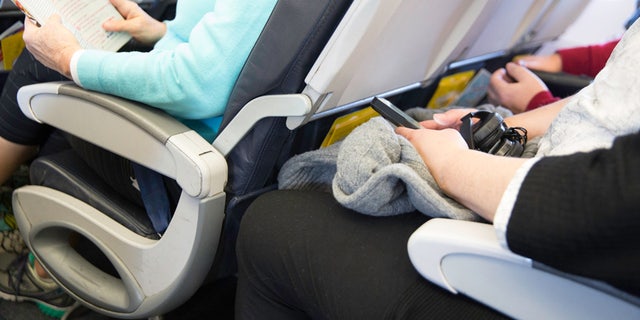 A video reportedly showing two plane passengers claiming to be lawyers embroiled in a heated argument over a seat rest is making waves on social media.
The footage, recorded on a mobile phone, appears to start midway through the interaction, which reportedly lasted at least five minutes.
Other passengers on the plane, believed to be a Monarch Airways flight from Gatwick Airport to Malaga in Spain, can be heard laughing in the background.
A flight attendant appears to try to switch the passengers' seats before one of the alleged combatants says, "We are arguing over an armrest. Please, relocate her; I'm not going anywhere."
"I paid for this seat. The woman is obnoxious and rude.
"I'm not moving anywhere, anywhere at all. I'm sorry, sorry I'm not going anywhere, I have not done anything wrong."
But the woman insists the male passenger "needs to move" before yelling "do not spit on me."
She then claims, "I'm a lawyer and I know my rights."
The man then screams, "I'm a lawyer too, you stupid woman."
FOR THE LATEST TRAVEL FEATURES, FOLLOW FOX LIFESTYLE ON FACEBOOK
Mild laughter can be heard from other passengers with one quipping, "God, everyone's a lawyer today."
But the man refuses again, adding, "I haven't done anything wrong. Ask her to go to the back. What did I do? I'm sleeping."
The woman then threatens the attendants with legal action if they do not move her seatmate, saying, "I'm going to report this to the airline if you guys don't do anything.
"He just punched me. I'm a lawyer and I will sue you guys if you don't do anything."
The woman continues: "He just hit me with his elbow and everyone has seen it."
But the man replies, "She's lying, she's blatantly lying."
As the clip, reportedly recorded on New Year's Eve, draws to a close, an air hostess asks if the pair are travelling together — and in unison they reply, "No!"
Many plane passengers then erupt in laughter.
The video ends with both of the fighting passengers at different ends of the plane.
MAN ACCUSED OF BITING CREW EN ROUTE TO HAWAII
We recently reported on a man who engaged his fellow travellers by taking off his trousers for the entire flight.
And here are the things flight attendants REALLY wish passengers would stop doing.