United Airlines passenger claims flight attendants 'started making jokes' after she moved away from masturbating seatmate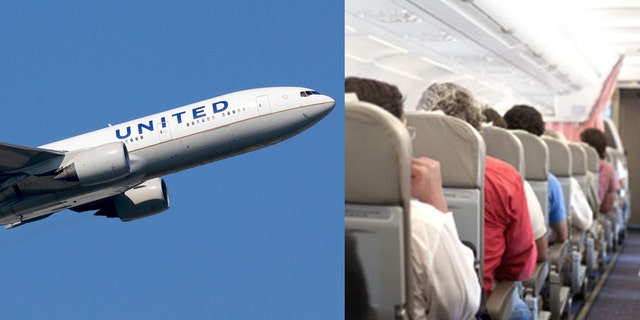 One "appalled" United Airlines passenger is calling out the carrier, claiming that flight attendants "started making jokes" after she requested to move away from her male seatmate who was masturbating during a June flight. The Chicago woman further alleges that she is only sharing her story now as United took six weeks to respond to her complaint, declaring that their "lack of action is disgusting."
Last week, Genevieve Pascolla took to Instagram to detail the incident, which reportedly occurred aboard a June 4 flight from London's Heathrow Airport to Chicago. The 26-year-old Chicago photographer was appalled to awake from a nap to find her unnamed male seatmate "touching himself under a blanket," BuzzFeed News reports.
UTAH TRAIN WORKER CALLED FEMALE PASSENGERS 'PORN STARS,' ASKED ABOUT TAMPONS, REPORTS SAY
"I woke the woman next to me and got out of there to tell a flight attendant the attendants checked and confirmed that he was masturbating in public. Once I got up the woman next to me saw and she also got up. They gave us new seats," she wrote in the caption. "They then started making jokes about the situation, asking, 'What perfume are you wearing?' and excusing him saying, 'He's had a bit of wine' [and] no one stopped him."
Pascolla further stated that the man "was allowed to finish, with a child sitting closely by."
Upon deplaning, she says she immediately approached a "security guard" who asked if she'd like an apology from the offender, which she rejected. She further claims that it took United "a month and a half" to respond to her complaint via email, in which a representative apologized for the "uncomfortable situation" she experienced in the skies. The rep further declined to grant her a refund for the trip or goodwill compensation, according to the photo of the purported email Pascolla shared to Instagram.
"I am appalled at the lack of action taken in this situation in which as a woman, I was terrified. This man is clearly capable of much more," Pascolla wrote. "(See email) your lack of action is disgusting."
FOLLOW US ON FACEBOOK FOR MORE FOX LIFESTYLE NEWS
In a July 19 interview, Pascolla told BuzzFeed that she received half of her ticket refunded in the form of a voucher, but remains shaken from the encounter.
"They were excusing his disgusting behavior and making jokes. I understand you can't control the situation, but you can control how you handle it," she said.
Representatives for United returned Fox News' request for additional comment on the story with the following statement:
"Inappropriate and offensive conduct like this on our aircraft is exceedingly rare, but we have a protocol to ensure our customers' safety because it is our top priority," a spokesperson for the carrier said. "That's why, in this case, our customers were promptly moved to different seats in a different section of the plane and law enforcement officials were summoned in advance to meet the perpetrator when the plane pulled into the gate."
"Our team also called Ms. Pascolla the same day her flight landed in Chicago for a wellness check," they added.