TSA finds Python hidden in hard drive at Miami airport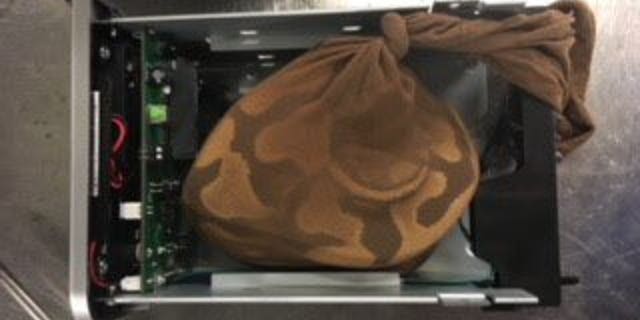 Agents at Miami International Airport had a bit of a slithery surprise on Sunday when they discovered a python "artfully" hidden in a hard drive.
Transportation Security Administration officials said the hard drive was stashed in a checked bag heading to Barbados when officers intercepted it.
PASSENGER ARRESTED AT AIRPORT WITH 60 POUNDS OF POT, SAYS HE HAD 'NO IDEA' IT WAS IN LUGGAGE
"This organic mass was not explosive, but it shows you can't hide any threat from us," TSA spokesperson Sari Koshetz wrote on Twitter.
Koshetz identified the snake as a Ball or Royal python, and said it was handed over to U.S. Fish and Wildlife. She added that the python and the snake owner did not board the flight to Barbados.
TSA previously warned passengers about hiding wildlife in checked bags, saying the animals have been known to escape and chew through wires on the aircraft.
FOLLOW US ON FACEBOOK FOR MORE FOX TRAVEL NEWS
Ball pythons are often mistaken for Burmese pythons, which are usually 6 to 9 feet in length. Ball pythons are much smaller and rarely are more than 4 feet long, FWC reported.