Tourists banned from Malaysian mosque after women filmed dancing provocatively outside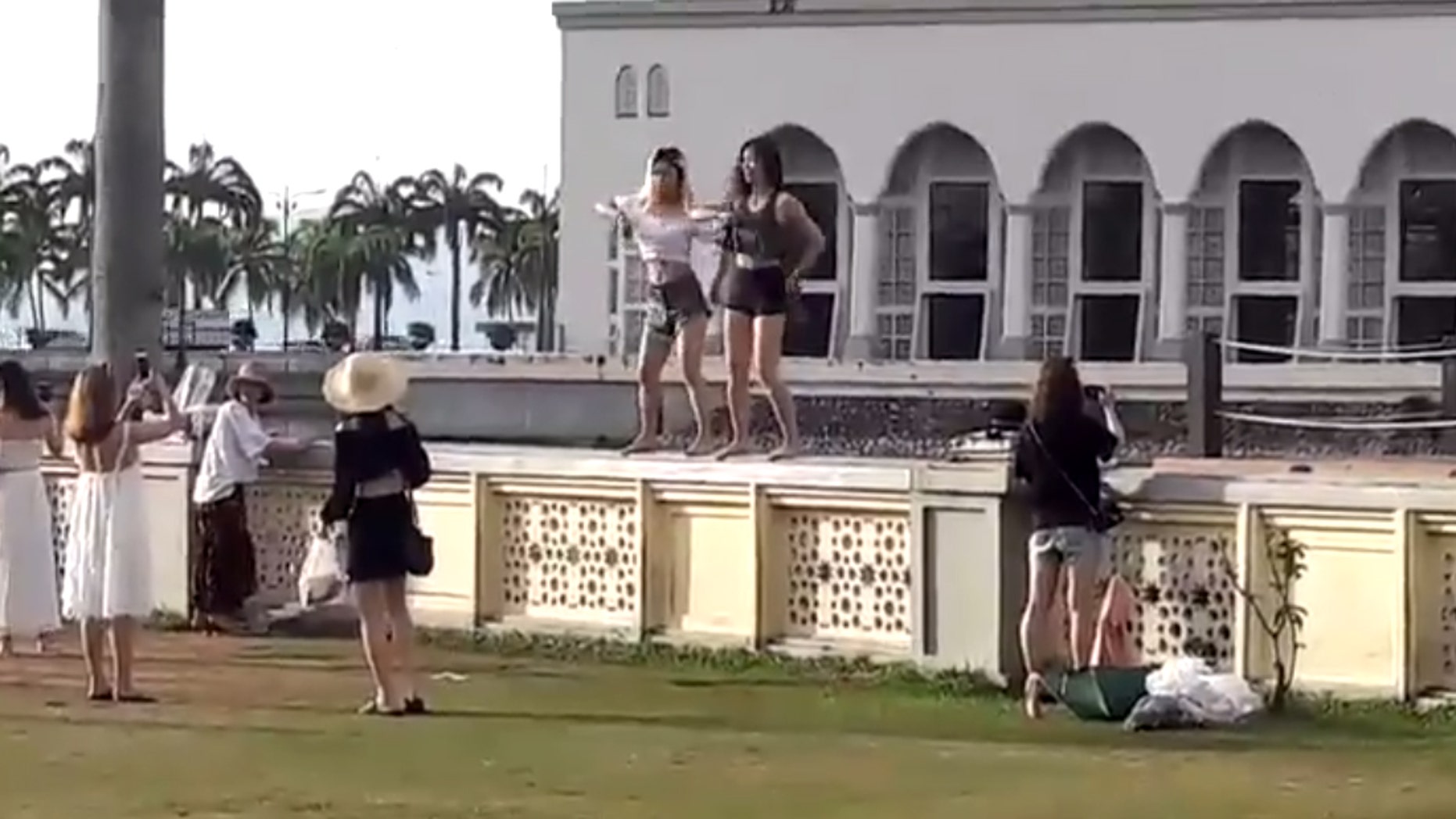 The chairman of a mosque in the Malaysian state of Sabah has temporarily banned tourists from visiting, and it's all thanks to a couple of midriff-baring foreigners.
Over the weekend, footage of two young women dancing in front of Masjid Bandaraya mosque — while wearing shorts and belly-baring tops — went viral on social media. The short video clip soon caused a stir in the local Muslim community, prompting the chairman of the mosque, located in the city of Kota Kinabalu, to respond.
WOMAN SPOTTED DOING YOGA ON EDGE OF CLIFF AND POPULAR TOURIST ATTRACTION
"We opened our doors to visitors because we want to introduce and let the people know the beauty of Islam, but such action has tarnished the image of our religion," said mosque chairman Jamal Sakaran, reported Malaysia's The Star.
Sakaran further claimed that all visitors to the mosque are offered more modest traditional dresses, headscarves and hats, but "there were still some who do not show respect."
On Sunday, Sakaran temporarily canceled all tour buses and car services that would bring tourists directly to the popular holy site.
The lone exception, for the time being, would be visitors using car services registered with the mosque's management.
MALDIVES RESORTS FED UP WITH INSTAGRAM MODELS REQUESTING FREE STAYS
At the moment, the women seen in the video are unidentified, but believed to be foreigners. A minister for Sabah's tourism department has also said "strong action will be taken" against the women and the operator of their tour group if identified, although another minister quoted by The Straits Times said legal action will not be pursued, as the pair had likely not realized the severity of their actions.
Onlookers at the time of the incident likely did, however, as one can be heard saying, "Why don't they just fall off the wall?" in the footage shared online.
The mosque is currently said to be looking into hiring additional security in response to the women's actions, per a Borneo Post article shared by the tourism board.
FOLLOW US ON FACEBOOK FOR MORE FOX LIFESTYLE NEWS
The temporary tourist ban at Kota Kinabalu's mosque comes just over three years after four tourists, from the Netherlands, England and Canada, were fined and sentenced to three days in jail for posing nude atop Mount Kinabalu.