The world's most luxurious suites on cruise ships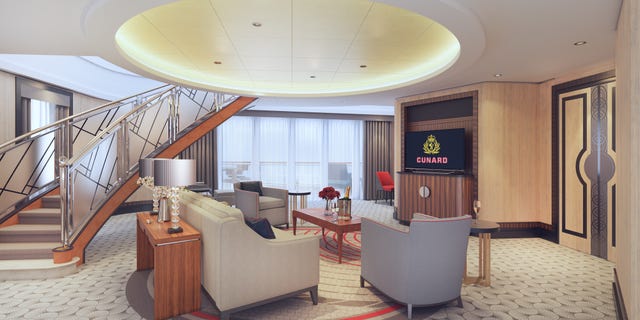 Cruise ships have come a long way since the early days of cramped staterooms dressed in staid colors. Now, top architects and designers vie for the opportunity to design the suites aboard luxury vessels.
Spanning thousands of square feet—and costing thousands per night—these posh pied-à-terre-style digs often include floor-to-ceiling panoramic windows, en suite saunas or private spa treatment rooms, whirlpool tubs in the master bath (and sometimes on the veranda), and spacious living areas that are perfect for entertaining. Upholstery accents throughout may range from cashmere to crocodile, and it's not uncommon for works by world-class artists to grace the walls.
Plus, the perks that may come with these top-notch suites are compelling: 24/7 butler service, priority embarkation, VIP access to the ship's restaurants and entertainment, and entrance to private areas for suite passengers only. Take a look at the most beautiful cruise ship suites sailing the world's oceans today.
1. Oceania Marina and Riviera Owner's Suite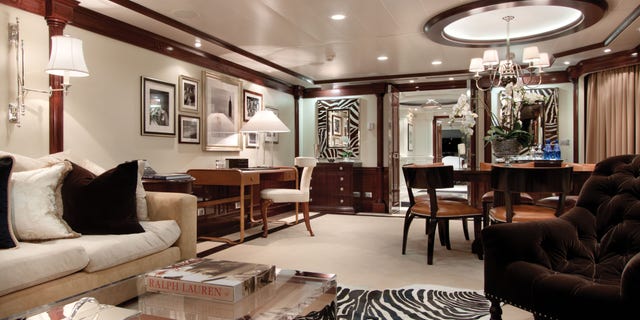 The Owner's Suite is the first accommodation at sea to be appointed throughout with furnishings, fabrics, lighting, and accessories from Ralph Lauren's Home Collection. Designer Susan Bednar Long styled the 2,000-square-foot space that spans the full beam of the ship. The dramatic foyer features a black-and-white mosaic tile floor, a piano, and a mahogany bar with burnished silver stools covered in white crocodile. Enter the bedroom and you'll find walls of Austyn cashmere and a Bel Air bed with a headboard upholstered in steel-blue mohair, while the dining room is decorated with a Mayfair-style table and caramel leather Clivedon chairs. From $11,499 per person for a seven-night cruise; oceaniacruises.com
2. Viking Sea's Owner's Suite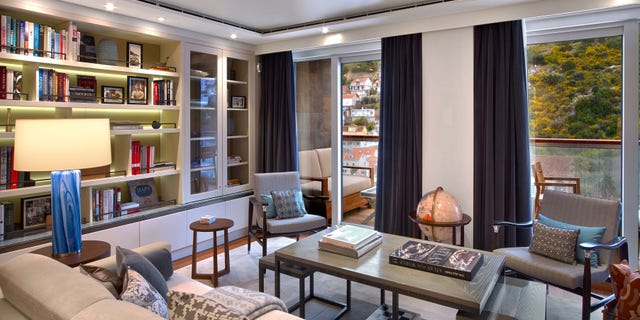 Designed by Rottet Studio and SMC Design as a personal retreat for Viking chairman Torstein Hagen, who collaborated with the team on the space, this 1,448-square-foot space exudes a warm Scandinavian vibe. Amenities include a sauna with an ocean view, an original oil canvas by Norwegian artist Jakob Weidemann, a conference room, and a high-tech touchpad that controls the lighting, television, and music. The sleekness of the suite comes from teak paneling and flooring, lacquered cabinets, and nail-studded leather upholstery. Don't miss the heated floors in the master bath. From $17,549 per person for an eight-day cruise; vikingcruises.com
More from Conde Nast Traveler
10 New Exotic Retreats Around the World
Go Inside a $53 Million Private Jet
Inside Jennifer Aniston's Gorgeous Beverly Hills Home
10 Awesome Hotels in California's Wine Country
3. Regent Seven Seas Explorer's Regent Suite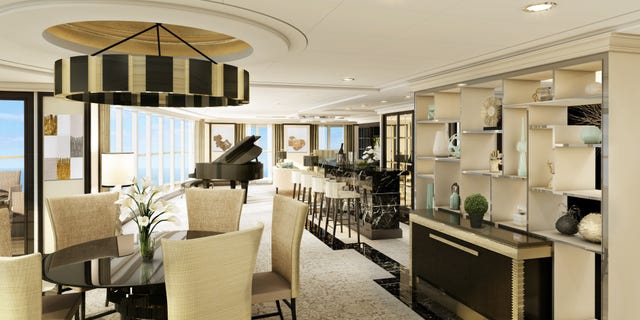 The two-bedroom, 3,875-square-foot Regent Suite has standout features such as floor-to-ceiling windows in the master bedroom, an immense living area with a custom-made Steinway Arabesque piano designed by Dakota Jackson, and a private spa treatment room with dual ceramic heated loungers (guests receive unlimited complimentary services here). This top suite is accented with marble, exotic woods, and a glass-enclosed Vista Garden at the bow that allows for a 270-degree view of the horizon. From $29,999 per person for a seven-night cruise; rssc.com

4. Crystal Serenity's Crystal Penthouse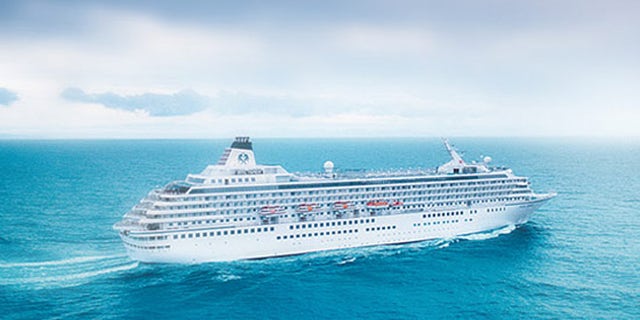 Toronto's II by IV Design guided the development of the refined yet comfortable Crystal Penthouse, which reflects the style and sensibility of the posh hotels that line New York's Fifth Avenue. Bathed in a palette of creams, grays, and soft browns accented by aubergine, gold, and light turquoise, the design elements herein are stunners. Look for the Swarovski sconces in the entryway and cut-crystal vessel sinks and heated floors in the master bath. Furniture is by Morgan. From $12,730 per person for a five-night cruise; crystalcruises.com
5. Celebrity Reflection's Reflection Suite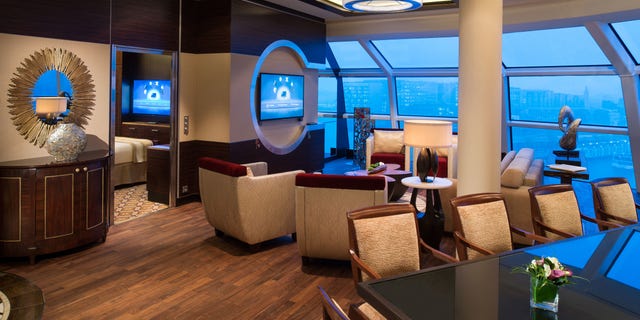 The 1,800-square-foot Reflection Suite designed by New York's BG Studio has an incredible glass-enclosed shower that is cantilevered over the sea. Staying in the only two-bedroom suite in Celebrity's fleet has its privileges, including a personal butler plus access to Luminae VIP restaurant and Michael's Club lounge (both exclusively for suite passengers). From $10,999 per person for a seven-night cruise; celebritycruises.com
Check out more of the world's most luxurious cruise ship suites.