The most dangerous trips in the world
For your next vacation, take a walk on the wild side.
Sitting on the beach or going for a nice stroll are so yesterday. Why not try climbing one of the steepest cliff faces in the world or swimming with live jellyfish? Some of these outlandish vacation excursions might not be everyone's speed but if you're feeling adventurous, it's nice to have a few options.
1. Jellyfish Lak - Eil Malk, Palau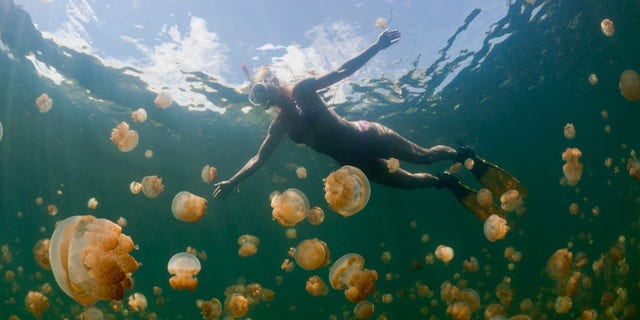 Remember the jellyfish scene from Finding Nemo? That's pretty much exactly what Palau's Jellyfish Lake is like. Located on Eil Malk Island, this marine lake is home to millions of jellyfish that slowly migrate across the water each day, following the path of the sun. Tourists can obtain a pass to visit the island and snorkel among the golden jellies and moon jellies. Although these stingers are (mostly) harmless, you may feel a twinge around sensitive body parts. Be careful not to dive too deep into the pool—the lower level contains dangerous amounts of hydrogen sulfide, which can be deadly.
2. Villarrica Volcano - Chile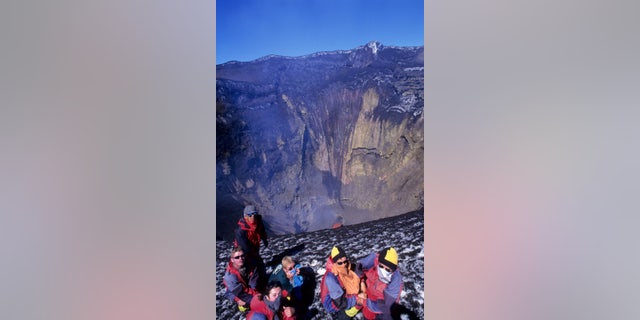 The Villarrica volcano in southern Chile is a go-to destination for the craziest of daredevils. During the summer, thousands of tourists attempt to hike to the top of the volcano (one of the few in the world with an active lava lake) on guided tours. Come wintertime, even braver groups climb the glacial slopes while dodging crevasses and avalanches. If neither of those seasonal options appeals to you, there's always the ultimate feat of courage: bungee jumping from the skid of a helicopter right above the volcano's bubbling crater. Could anything be better for your next relaxing vacation?
3. North Yungas Road - Bolivia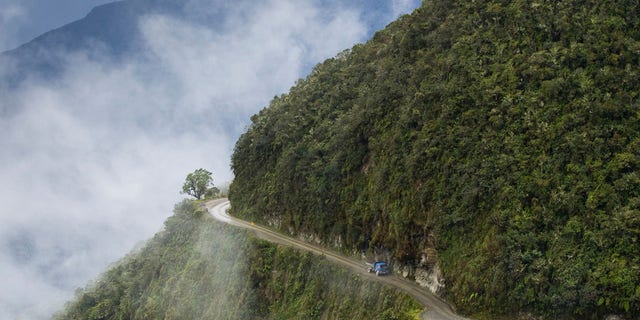 The path from La Paz to Coroico, Bolivia, is a treacherous one. The North Yungas Road weaves precariously through the Amazon rainforest at a height of over 15,000 feet. When you consider that frightening elevation—not to mention the 12-foot-wide single lane, lack of guardrails, and limited visibility due to rain and fog—it's easy to see why this 50-mile stretch of highway has earned the nickname "The Death Road." While 200 to 300 drivers used to die here annually, North Yungas Road has now become more of a destination for adventurous mountain bikers than a vehicular thoroughfare.
4. Teanupoo - Taiarapu-Ouest, Tahiti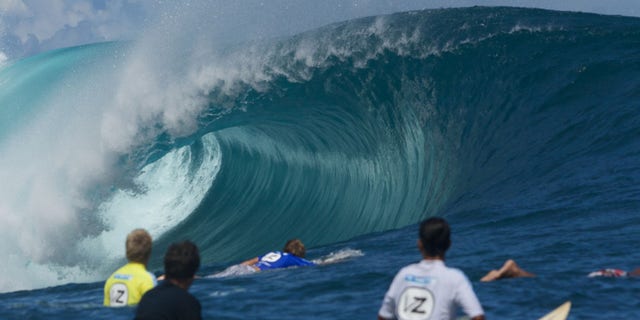 Surfing is a perilous sport in and of itself, but the risk increases exponentially when Tahiti's famous Teahupoo wave becomes a factor. The top-heavy swells of the wave can reach heights of up to 21 feet, making it a popular destination for professional (and daring) surfers. There have been five recorded deaths at Teahupoo since 2000, mainly due to the razor-sharp coral reef located a mere 20 inches below the water's surface.
5. Mt. Hua - Huayin, China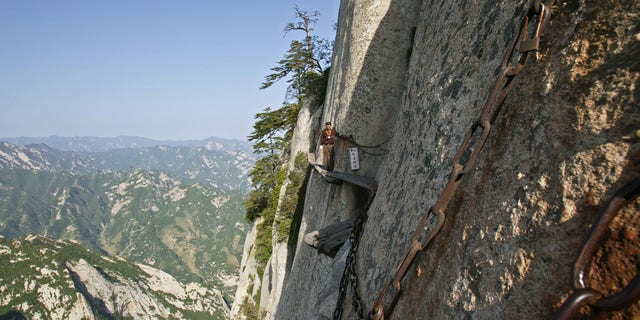 The peaks of Mt. Hua—or Huashan, located about 75 miles east of Xi'an in northwest China—boast a variety of beautiful temples and some of the best sunrise views you can imagine. To get there, one must simply side-step across rickety 12-inch-wide planks while holding on to loose metal chains—thousands of feet above the ground. Sound fun? Just note that many spots of the "bridge" are broken or missing and hundreds of people have died while trying to reach the scenic summits over the years. So, uh, don't look down?
6. Corbet's Couloir - Jackson Hole, Wyoming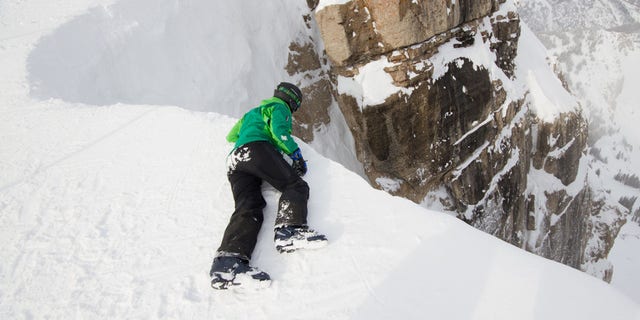 If there's one U.S. location on every expert skiier's bucket list, it would have to be Corbet's Couloir, located at the Jackson Hole Mountain Resort in Wyoming. Otherwise known as "America's scariest ski slope," Corbet's is more than 10,000 feet high, has a double-diamond rating, and drops down at a 60-degree angle. The biggest feat for skiers, however, is the initial jump over the mountain's cornice—depending on snow conditions, the free fall ranges anywhere between 10 and 30 feet.
Check out more dangerous adventures around the world.
More from Conde Nast Traveler
15 Places You Won't Believe Exist
Tourist Attractions That Are Actually Worth the Wait