Southwest cancels customer's ticket after he took flight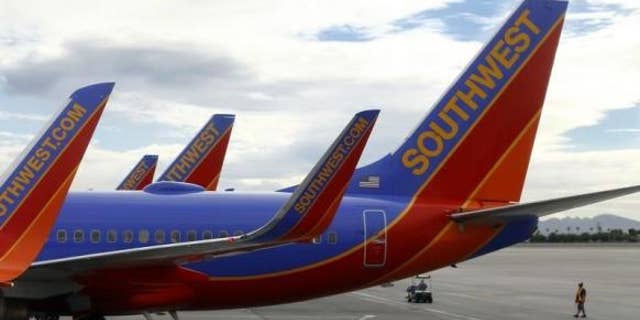 Airlines cancel itineraries when passengers fail to show for a flight but a Michigan man claims Southwest cancelled his ticket for a connecting flight --after he had taken the first leg of his trip.
Bob Woudstra was flying from Grand Rapids to Ft. Myers, Florida last month. He had originally purchased a round trip ticket for $616 from Southwest. Though he had no trouble booking the ticket or getting through security, Woudstra says there was some trouble as he was boarding the plane.
"I handed my boarding pass to the lady and she ran it under the scanner and it didn't beep the first time," Woudtsra told WZZM 13. "So she took it and did it again. I just made a comment that she had to do it twice."
Woudstra made it to Florida but soon received an email from Southwest, saying his flight had been cancelled and explained the airline's policy in the event of no-shows. He was confused but initially thought it was just spam.
But when he went back to the airport to return home, the Southwest ticket agent informed him that his itinerary had in fact been cancelled, and he was forced to pay for a new return ticket at the cost of $456.
"They say I wasn't on the plane, so they cancelled all my flights," Woudstra explained. Southwest requested proof that he had been on the plane from Grand Rapids but since he had not purchased anything onboard he was unable to verify he took the flight through financial transactions.
"They said, 'well, do you have a receipt?' If you bought something at the airport and had a receipt that would be something they could go on."
Woudstra claims several people saw him at the airport, including friend Gary Leeuwenburg who traveled with him.
"I'm just speaking on his behalf, I feel bad for him," says Leeuwenburg. "I got picked up about noon, we [he and his wife] picked him up at 12:15 p.m. and dropped us off at the airport."
Southwest is currently conducting an investigation into the incident, but a spokeswoman for the airline says that people often claim various excuses when they miss flights in order to avoid being charged.
Southwest spokeswoman Lisa Teller explained to WZZM 13 that "although we still haven't determined exactly where an error occurred, we will make an exception to the no show policy and refund the price of the second ticket."
Woudstra is seeking a full refund on both tickets but his biggest concern is about airline and airport safety.
"These airlines don't know who's flying on their planes. Our security is supposed to be so good and this is terrible."