South Carolina airport becomes FEMA staging area for Hurricane Florence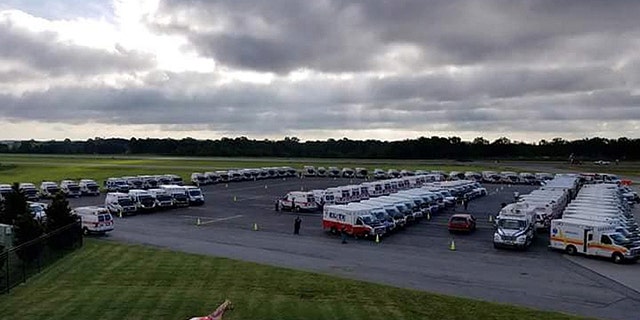 A small South Carolina airport has undertaken the mighty task of housing hundreds of first responders from all over the country ahead of Hurricane Florence's arrival in the region.
Emergency responders from as far away as Nevada and California began arriving Wednesday at Spartanburg Downtown Memorial Airport, after airport director Terry Connorton offered the air hub as a headquarters for relief operations to Federal Emergency Management Agency (FEMA), the Aircraft Owners and Pilots Association (AOPA) reported.
According to the Spartanburg Herald-Journal, the airport's "strategic location" is ideal for such a base, given its close proximity to the coast, where relief is expected to be needed, but far enough inland to hopefully avoid the worst of the Category 1 storm.
'LIFE-THREATENING' HURRICANE FLORENCE SHUTS DOWN NORTH CAROLINA BAR THAT NEVER CLOSES
"We're happy to do so. FEMA's success isn't just about FEMA. It's everybody pulling together to get this done. That's what I'm seeing here," Connorton told AOPA of the news.
Overnight, Spartanburg Airport has become a "small city" housing the emergency crews, rescue pilots and support staff, the outlet states, as tables, chairs and portable showers have been rolled out in the hangars for the crews. The closing of the runway has opened up additional space for emergency vehicles.
Hundreds of first responders currently fill the airport, an airport worker confirmed to Fox News on Friday.
The Herald-Journal reported that over 400 emergency response personnel, 200 ambulances and 11 medical helicopters are currently being housed by the air hub.
Once activated, the crews will work one- and two-week rotations to assist where needed in disaster areas.
"This facility has been just amazing. They couldn't have picked a better place," said Tyanie Gordon, American Medical Response director of Tucson, Ariz., of Spartanburg Airport's hospitality.
FOLLOW US ON FACEBOOK FOR MORE FOX LIFESTYLE NEWS
"It's a surreal experience, to be honest. But this is what I choose to do," emergency responder David Allen of Casa Grande, Ariz., similarly agreed.
In the days since, first responders have taken to Facebook to share photos and updates from their stay at the airport.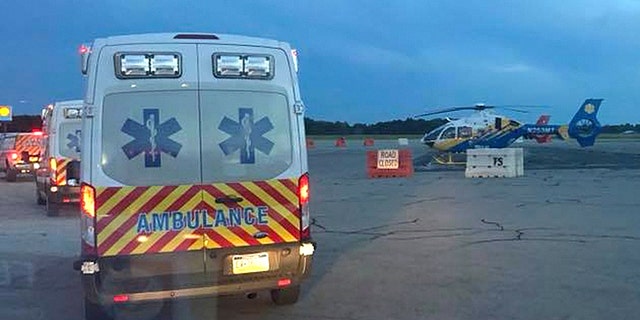 "Now a real nap before the storm," one wrote online.
Early Friday morning, Florence made landfall near Wrightsville Beach, N.C., as it battered the coast with hurricane-force winds and heavy rains that officials warned could trigger catastrophic floods.
Officials said some 1.7 million people in the Carolinas and Virginia were warned to evacuate, but it's unclear how many did. The homes of about 10 million were under watches or warnings for the hurricane or tropical storm conditions.
Fox News' Lucia I. Suarez-Sang and the Associated Press contributed to this report.