Snag a Southwest Companion Pass this summer to fly family for free in 2017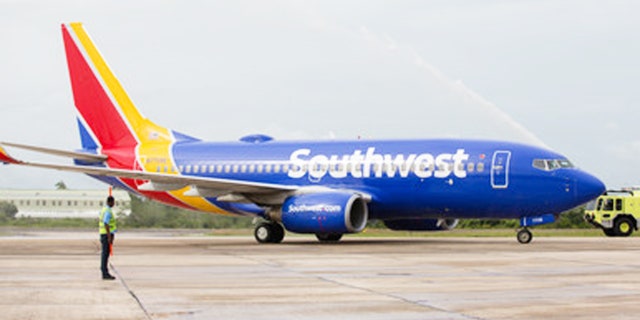 NEWYou can now listen to Fox News articles!
When it comes to finding cheap airfare, Southwest offers one of the best deals in the industry for those who frequently travel around the U.S. Caribbean and Mexico: The Southwest Companion Pass.
It's been around since 1987 and lets the holder bring anyone along on any flight for free for up to two years. That means you could fly your spouse, you mom, a buddy or one of your kids without paying for their fare.
But how do you get it?
You need to collect 110,000 of Southwest's Rapid Rewards points, not by flying, but by strategically and responsibly applying for two of the airlines credit cards when they offer a 50,000-point bonus each after spending $2000. Other points can be collected by everyday spending on the cards, start online shopping at the Rapid Rewards Shopping Portal and or through the Rapid Rewards Dining program.
But all good things must come to an end-- and the Southwest pass is no different. The Companion Pass is good from the time you earn it until the end of the following year, so the earlier in the year you secure it, the longer you'll be able to fly someone for free when you travel.
If you wait too long to start earning points, you also risk some of your points not being credited to your account until 2017-- at which point you'll have to start all over again. Bummer.
To obtain the maximum usage, per Southwest's rules, you must meet the minimum spending on your Southwest credit cards by the end of the card's October billing period, providing more than a month safety net for the 50,000 bonus points to be credited to your Rapid Rewards account.
The 50,000 point credit card bonuses also come and go, so you need to grab them while they're active. They may not come back again until too late in the year to earn all 110,000 points in time.
Once you've earned your Southwest Companion Pass, prepare for friends and family to bug you all time. While you decide who gets to go where, here are some ways to stretch those air legs as far as possible:
1) Use your earned points to book flights.
Once you reach Companion Pass status, you'll 110,000 points that you can use to spend on booking flights.
2) Redeem points during a fare sale.
The number of points needed to book a flight is based on the current price of the fare, so when fares go down, so do the points needed to book them. If you book when points are at their lowest, you could save hundreds off the usual flight price. Southwest is just starting to have some of the best prices of the year, so keep an eye out for good deals in the second half of 2016. Plus, the airline doesn't charge cancellation fees, so you can always book now and cancel or change later if the price drops-- or plans change.
3) Research fares to your favorite destinations.
While you're earning points toward Companion Pass status, start researching fares to destinations on your travel list, especially during sales to get idea of what is and what isn't a good price for a particular route. Once you have the Pass in hand, you'll know the best time to book, and whether you're actually getting the best deal.
4) Keeping getting those points.
To really stretch your points and get in as many flights as possible, keep earning points by using your Southwest credit cards (don't go into debt trying to earn miles, oy you'll counteract the whole saving money thing. Live within your means.). Take advantage of the Rapid Rewards Shopping Portal where you can earn up to six times -- or sometimes more -- points on popular online stores, subscribing to magazines or even changing cell service providers.
5) Add the Chase Sapphire Preferred to your portfolio.
Chase regularly offers a 50,000-point bonus offer after meeting a minimum spend and its points transfer 1:1 to Southwest Rapid Rewards, making it a great option if you're on the hunt for points. The points don't count toward Companion Pass status but you can use them to book future flights.
By using these strategies, my family of four will be able to fly to six destinations in one year for less than $100 per trip so the Companion Pass is a serious money saver.
Want to become a Southwest travel expert? Check out "The Step-by-Step Guide to Earning Your Southwest Companion Pass"