Skinny dippers in Australia smash world record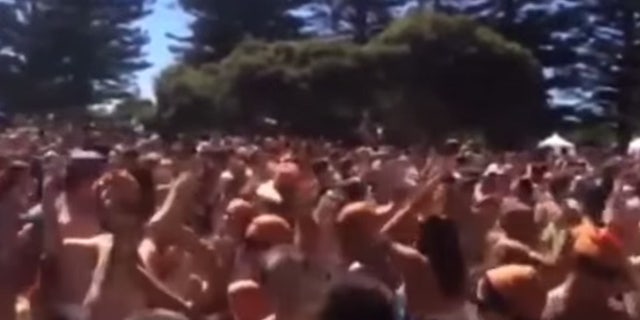 Perth has smashed the world record for the largest number of people skinny dipping simultaneously.
On Sunday morning, 790 beach bums stripped off and ran into the water at Fremantle's South Beach, breaking the previous record of 744 skinny dippers held by New Zealand.
The mass skinny-dip raised money and awareness for the Butterfly Foundation, a group that helps those affected by eating disorders.
"It was very nerve-racking in the lead up, but then everyone started dropping their sarongs and strangely it felt so normal because if you weren't naked you were the odd one out," she said."It was a very freeing experience.
For the people that have body issues, doing something like that was really liberating. There was a lot of people who are on that journey.
"I had huge body image issues over the last few years and over the last three years I have been working on myself. This was the next step towards embracing who I am."
Anderson said she'd never been nude in public before, apart from the odd skinny dip with girlfriends after a few drinks.
"It was like a nude community, there was people of all shapes and sizes — when we were chatting to people you didn't know where to look," she said.
"There was different races, skin colors and ages, from 16 up to a bloke who would have been in his late 70s. It was such a beautiful experience. I can't wait to do it again next year."
Organizers had hoped to attract 1000 participants. Last year, the group fell 80 people short of the record when 672 people ran into the water at North Swanbourne.
The City of Fremantle allowed the 2015 Naked Fig Skinny Dip challenge to reserve South Beach to ensure privacy of those stripping off.
The event breaks the previous record of 744 set in Gisborne, New Zealand, in 2013, according to Perth Now. Guinness World Records still has to confirm the new feat.