'Sharknado' actor Ian Ziering's newest role: Travel agent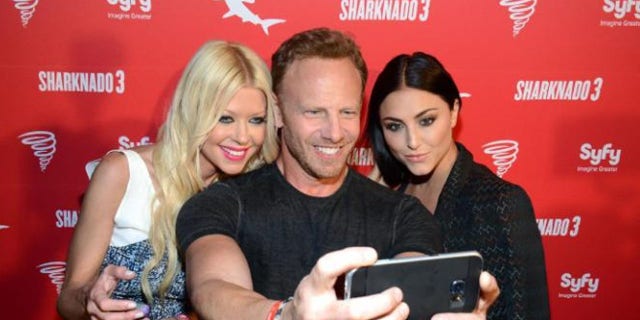 Ian Ziering certainly knows his way around Beverly Hills 90210 and all its celebrity haunts – not to mention knowing his way around a chainsaw and some sharks gone berserk in "Sharknado".
Now the actor wants to bring those celeb hangouts to the average Joe.
Ziering has become a travel agent of sorts by launching a new online travel site called CelebrityHideaways.com,his representative told TMZ. The site caters to high-end, luxury destinations, hotels and restaurants often frequented by celebrities.
Apparently, Ziering caught the entrepreneurial bug from his appearance last year on "Celebrity Apprentice."
"He's very involved," Justine Liddelow, Ziering's partner in the venture, told TravelPulse.com today. "It was his idea from the get-go and he has been the real spearhead on getting it off the ground."
The site described Ziering as having "been privy to some of the most unique destinations in the world. Whenever the conversation turns to travel, he's often asked what's the coolest or most amazing place that he's ever been. A question not easy to answer. We are bringing this website to market to help take some of the guess work out of planning these vacations."
Jennifer Michels, vice president of communications for the American Society of Travel Agents, said this is a win-win situation for the industry.
"The American Society of Travel Agents is happy to have a high profile celebrity shine a spotlight on what ASTA professional travel agents do every day – treat their clients like royalty and rock stars," she told TravelPulse.com. "I'll send Ian an ASTA membership application and invite him to our Global Convention in Reno Tahoe in September where he can meet an army of travel advisors who already know where those super-secret celebrity hideaways are. I guess you could say his 'secret' is safe with us. Our website, where consumers can find an agent to treat them like a celebrity is TravelSense.org. But seriously, we are happy to welcome Ian into the fold."
CelebrityHideaways.com is described as an "in the know destination-based website dedicated to the discerning traveler looking for the grand, unique experiences typically reserved for people of profile. … Our celebrity hideaways highlights those special places that are frequented by the rich and famous, as well as the undiscovered jewels that are sure to be tomorrow's celebrity hideaways."
Liddelow, who will handle sales and partnerships for CelebrityHideaways.com, most recently was the general manager for Stage and Screen Travel Services, where she curated very specific travel experiences for the entertainment and sports industries.
"I've been in the travel industry for 25 years and it comes down to relationships," Liddelow said. "It's a good product and it's something different in the market. Expedia and Orbitz are selling in mass; we only sell high-end. We're really keeping our clientele very high up."
In addition to Ziering and Liddelow, partner Michael Politz – himself a successful producer, restaurateur, CEO and magazine honcho – will run the editorial component of CelebrityHideaways.com.
Already the site has two sections up called "Celebrity Style" and "Celebrity News" that features several articles, including "10 Hottest Celebrity Vacation Spots" and "Top 10 Packing Tips."
CelebrityHideaways.com does offer visitors a chance to request a quote for any of the destinations.
"It links to an email. We wanted to keep it very much case by case," Liddelow said. "Each inquiry is very personalized. We can work out what they want."
More from TravelPulse
Want To Go Skiing With Icelandair's CEO?
Florida Keys Tourism Is Looking for The 'Trump Bump'
In Europe, Flights Are Cheaper than Getting to the Airport
Zika Virus and Travel Insurance: What You Need to Know
Why More And More Airlines Are Going Green