SeaWorld launches Pokemon GO event to bring guests to Orlando park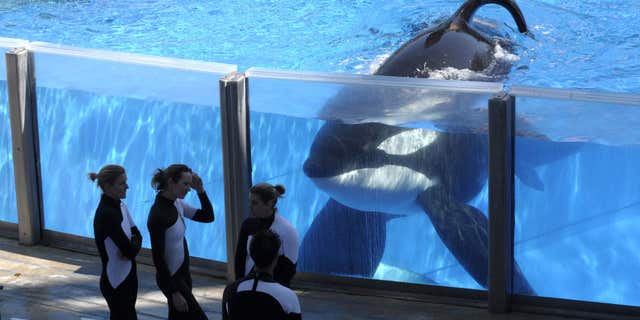 NEWYou can now listen to Fox News articles!
It's probably safe to say that it has been nearly impossible to escape the phenomenon that is Pokemon GO lately.
SeaWorld has embraced this trend wholeheartedly, and has made efforts to welcome and accommodate players who want to visit the property while pursuing Pokemon achievements.
Based on the video game franchise that has endured for years, this augmented reality game lets people use their smartphones as a way to spot and catch these elusive creatures that will pop up at locations all over the world.
While some may find the inescapable mentions of this game to be a bit of an overload, it has proven to be a way to get people (including kids) to spend more time outside, getting exercise and interacting with friends, neighbors and other aspiring Pokemon trainers. It might be one of the best ways so far to combine technology with real-world physical activity.
The game itself — and the opportunity to make new friends or have fun with people you already know — makes for an enjoyable activity. But to add some extra excitement, many players are opting to head to action-filled or exotic locales to serve as their Pokemon-hunting territories.
More from TravelPulse
6 Great Restaurants In Puerto Vallarta
10 Secrets Behind the Magic of Walt Disney World
All Nippon Airways Reveals Fourth Star Wars-Themed Plane
3 Easy Ways to Save on Airfare This Summer
5 Tips To Create Great Travel Memories
SeaWorld Orlando recently hosted the first Pokemon GO lure event, a one-of-a-kind extravaganza for those who are eager to achieve brag-worthy accomplishments with the game. This made SeaWorld the first of the Orlando area theme parts to organize a major event specifically dedicated to Pokemon Go players.
Pass holders were offered early access to the park during a special event period, giving them the ability to navigate a less-crowded park environment while taking a journey around the 50 Pokestops that had been established throughout the property. Guests could conquer dozens of lure modules and — perhaps the most irresistible part —have the chance to discover rare Pokemon that were hidden all over the park.
Early reviews of the new enhanced Pokestop are glowing.
To ensure players can enjoy the game without interruptions, the park is equipped with plenty of charging stations and Wifi hotspots. Players were also encouraged to share their accomplishments or exchange tips with other players by posting updates on social media.
Players have noticed that more crowded locales tend to be a rich Pokemon hunting ground, as the creatures tend to be more plentiful in areas where there are a lot of people. Popular hotspots also allow people to mingle with others who share their love of the game. Another important advantage: heading to a location like SeaWorld ensures a safe environment — which is particularly important to parents of younger players.
As a nice bonus, once players have enjoyed a day full of game-related achievements, they can switch gears and take some time to enjoy the many other great attractions that SeaWorld has to offer.
Of course, one of the most popular features would be the shows and exhibits featuring all types of sea creatures. Other options include roller coasters, fast-paced rides, entertainment and unique experiences.