River Cruising Returns to the Mississippi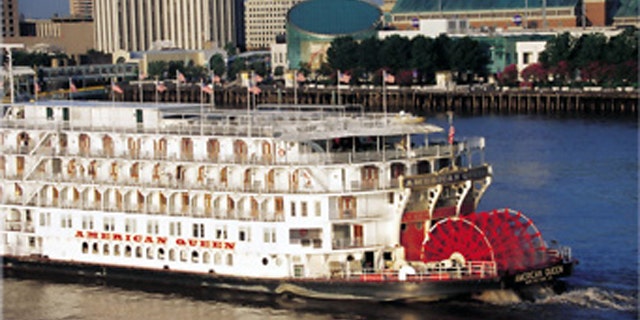 I am about to embark on a Danube River cruise through central Europe. The cruise leaves from Budapest and spends eight days rolling past farms and authentic riverside towns that grew up on the banks of the Danube and are home to marketplaces, restaurants and nightlife favored by many travelers.
River cruising has been a staple of intra-European travel for decades. About 100 vessels offer cruises of seven days or longer on the Rhine, Rhone, Danube, Seine, Mosel and other rivers. But in the last few years, the popularity of European river cruising has boomed and has become the fastest-growing sector in the cruise business. Most of the riverboats in Europe are modern and more than a dozen have been built in the last few years.
Meanwhile here in the U.S., river boating has been on virtual life support for the last three years. The last time a steamboat carried passengers in staterooms on an overnight journey on the Mississippi or any of its tributaries was in 2008. That was the year Majestic America Line ceased operations of its Mississippi Steamboats, which operated two vessels, the Delta Queen and the American Queen.
But there is good news for fans of American river boating: it is coming back in 2012 with two brand new companies.
The Great American Steamboat Company of Memphis just acquired the newest and biggest steamboat ever built--the American Queen--and it will resume cruises out of Memphis in 2012.
American Queen is a beautiful riverboat, with all the intricate details of a Mississippi steamer on the outside (including the paddle wheel and two smokestacks) and all the grandeur of a classic Victorian-era paddle-wheel steamer on its five full decks above the water line. The vessel has 222 staterooms and berthing capacity for 463 guests and 160 crewmembers. The rooms open to stately outdoor promenade decks on most levels.
Unlike the new generation of European riverboats, which boast modern amenities such as big- screen TVs and balconies, American Queen, built in 1995, is a modern recreation of the classic age of Mississippi steamboats. Her stern paddlewheel is actually steam driven -- although she also has a set of Z-drive propellers (diesel-electric driven, like a modern cruise ship). In fact, in many ways she is more like a cruise ship on the inside than a paddle-wheel steamboat, with a beautiful dining room and a large showroom.
American Queen has been laid up in Beaumont, Texas, since the previous owner ceased operations. It was reportedly purchased for $15.5 million and an additional $5 million will be spent to renovate and upgrade the vessel. Notably, the company and the boat will be based in Memphis rather than New Orleans, its former home port. The city of Memphis and a group of local entrepreneurs are assisting the principals who created and manage the new company. Memphis has also invested $30 million in the new Beale Street Dock project.
The new principals include John Waggoner; Jeff Krida, a former president of Delta Queen Steamboat Company in the 1990s; and Christopher Kyte, a purveyor of all-American travel experiences through his company Uncommon Journeys, which specializes in train and river voyages throughout the U.S. on small, chartered vessels. Kyte said American Queen will offer three to 10-night river voyages through Americas heartland, with embarkations in New Orleans, Memphis, St. Louis, Minneapolis/St. Paul, Cincinnati and Pittsburgh beginning in April 2012.
Unfortunately, the original steamboat that started it all, Delta Queen, is no longer able to offer overnight cruises. This authentic paddle wheel steamer was built in 1926 in California for regular service between San Francisco and Sacramento. In 1946, she sailed through the Panama Canal to the Mississippi River. Three U.S. presidents have sailed on her: Herbert Hoover, Harry Truman, and Jimmy Carter. She was allowed to continue providing cruises on the Mississippi thanks to a presidential exemption that was renewed yearly since 1971. In 2008, House Transportation Committee Chairman James Oberstar blocked her exemption renewal and the boat was sold to become a hotel in Chattanooga, Tenn.
Another Mississippi Riverboat is Coming
American Queen is not the only riverboat about to reinvigorate Mississippi River cruising. American Cruise Lines, based in Guilford, Conn., just floated a new Mississippi riverboat, the Queen of the Mississippii, on July 17.
Currently under construction at the lines own shipyard, Chesapeake Shipbuilding in Maryland, the boat was floated in historic fashion by sliding down a slipway into the water with a glorious splash (see the video here). Modern cruise ships are floated by simply allowing water to fill a dry dock and it's not nearly as dramatic to watch.
The Queen of the Mississippi passenger capacity is 140 and will begin cruising in August 2012. The brand new propeller-assisted paddle wheel boat will sail seven-day itineraries including New Orleans to Memphis, Memphis to Nashville, Nashville to St. Louis, St. Louis to St. Paul and Cincinnati to Pittsburgh.
Cruising 101
As always if you need to know more about cruising we urge you to consult our Cruising101 FAQ.

I started writing about stock market investing for Motley Fool in 1995, but previously I worked aboard cruise ships. I co-founded the CruiseMates.com cruise travel guide on the Internet in New York City in 1999. CruiseMates was acquired by Internet Brands in 2006. Once CEO, I am now the editor of CruiseMates