Red-blooded adventures in red wine country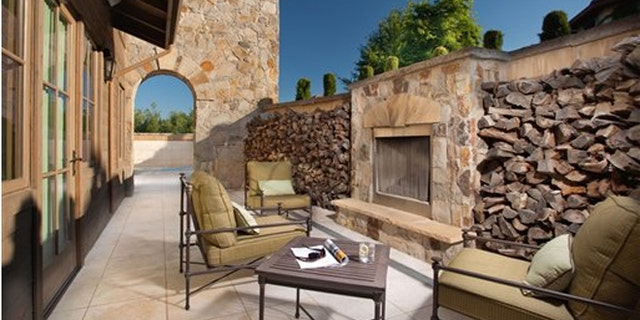 Do you crave a little red-blooded adventure along with your red wine? The Napa Valley may have just what you seek.
Sure, you can indulge such standard bro behaviors as golf and biking. But hotels and other businesses in the popular wine region are kicking things up a notch.
Get behind the wheel and unleash some serious horsepower, fulfill your Davy Crockett fantasies by bagging some game for supper, or live the life of a vintner, briefly, as you blend and bottle your own wine. And at the end of a long day, what could be more relaxing than chilling out with your own special "man-spa" session?
And all just in time for Father's Day.
Here's a rundown of activities aimed at the testosterone travel set.
DRIVE, HE SAID: Try the Chris Cook Performance Driving Experience offered by Auberge du Soleil and get behind the wheel of an exotic car to enjoy back road cruising or the chance to drive on a real race track at Infineon Raceway. Price $2,500 for a half-day or $6,000 full day; prices vary depending on car and experience selected. Or take Solage Calistoga's "Day at the Racetrack" package, $6,500 for two, which includes a half-day Grand Prix Masters program with the Jim Russell Racing Drivers School and boxed lunches from Michelin-starred Solbar restaurant. And no need to fight traffic on your way to and from the track; round-trip limo transport to the track is included.
GET GAME: Guests at Calistoga Ranch can participate in a pig or fowl hunt, go fishing or dive for abalone. They'll finish the day learning to clean, prep and barbeque the days' catch. A private guide service is hired to lead the hunt, which takes place in the Guenoc Valley. To hunt pig or fowl, a guest must have a California hunting license. Prices start at $300 for fowl. If you'd rather meet your meat already slain, the Fatted Calf charcuterie in Napa offers classes in how to break down a whole hog, duck or goat as well as other animals.
SEE WHAT'S BREWING: Tour the NapaSmith Brewery; enjoy a pint; play a little darts. Catch a game at the Norman Rose Tavern, a casual bar and restaurant in downtown Napa. And the annual Blues, Brews & BBQ festival in downtown Napa takes place on Aug. 25 with three musical stages, 20 microbrewed beers, a rib eating contest, and a lot of barbecue.
GET CORKING: Sometimes a guy shouldn't bottle things up. But not when you're talking about delicious Napa cab. Take your DIY side out for a spin at the Judd's Hill Winery's Bottle Blending Day Camp where you craft a blend from four barrels under the advice of an expert. Bottle, label and take home your liquid asset.
TRY SOME GOOD, CLEAN FUN: The Man Space Guys Getaway at Spa Villagio features a private spa suite with fireplace, infinity soaking tub, steam shower and 50-minute massage. You have a choice of one of three different types of facials, a spa refreshment platter — and the suite comes equipped with a flatscreen TV with Bose surround sound. Or try the Gentleman's Facial at the Calistoga Ranch Bathhouse Spa.
___
If You Go...
CALISTOGA RANCH: 580 Lommel Rd., Calistoga, Calif., http://www.calistogaranch.com or 707-254-2800. Rates start at $750 through June 30.
AUBERGE DU SOLEIL: 180 Rutherford Hill Rd., Rutherford, Calif.; http://www.aubergedusoleil.com or 707-963-1211. Summer rates start at $775.
SOLAGE CALISTOGA: 755 Silverado Trail, Calistoga, Calif., http://www.solagecalistoga.com or 866-942-7442. Rates start at $488.
FATTED CALF: Oxbow Public Market, 644 C First St., Napa, Calif., http://fattedcalf.com or 707-256-3684. Classes from 11 a.m. to 3 p.m., reservations via email to contact(at)fattedcalf.com. Classes generally $175, which includes lunch and take-home treats; nonrefundable deposit of $50 required to confirm reservation.
NAPASMITH BREWERY: 1 Executive Way, Napa, Calif., http://www.napasmithbrewery.com or 707-254-7167. Tours, $10; available by appointment Wednesday-Sunday at 2 p.m. via email to ellen(at)napasmithbrewery.com. Brewpub does not sell food, but guests may bring their own to enjoy with beer.
NORMAN ROSE TAVERN: 1401 First St., Napa, Calif., http://www.normanrosenapa.com or 707-258-1516.
BLUES BREWS & BBQ: Aug. 25, 1 p.m.-6 p.m., First and Main streets, downtown Napa, http://www.donapa.com/events/special-event/blue-brews-bbq
JUDD'S HILL WINERY: 2332 Silverado Trail, Napa, Calif., http://www.juddshill.com or 707-255-2332. Open 10 a.m.-4 p.m. daily, visits by appointment only. Reserve blending sessions at least 24 hours in advance. Packages start at $225 for three bottles, up to four adults may participate.
SPA VILLAGIO: 6841 Washington St., Yountville, Calif., http://villagio.com or 707-945-4545. Man Space Guys Getaway, Sunday-Friday for the month of June, $260 per person. After that if available, Monday-Friday through 2012.