Qantas says innovative new seats will provide more space, 'genuine comfort'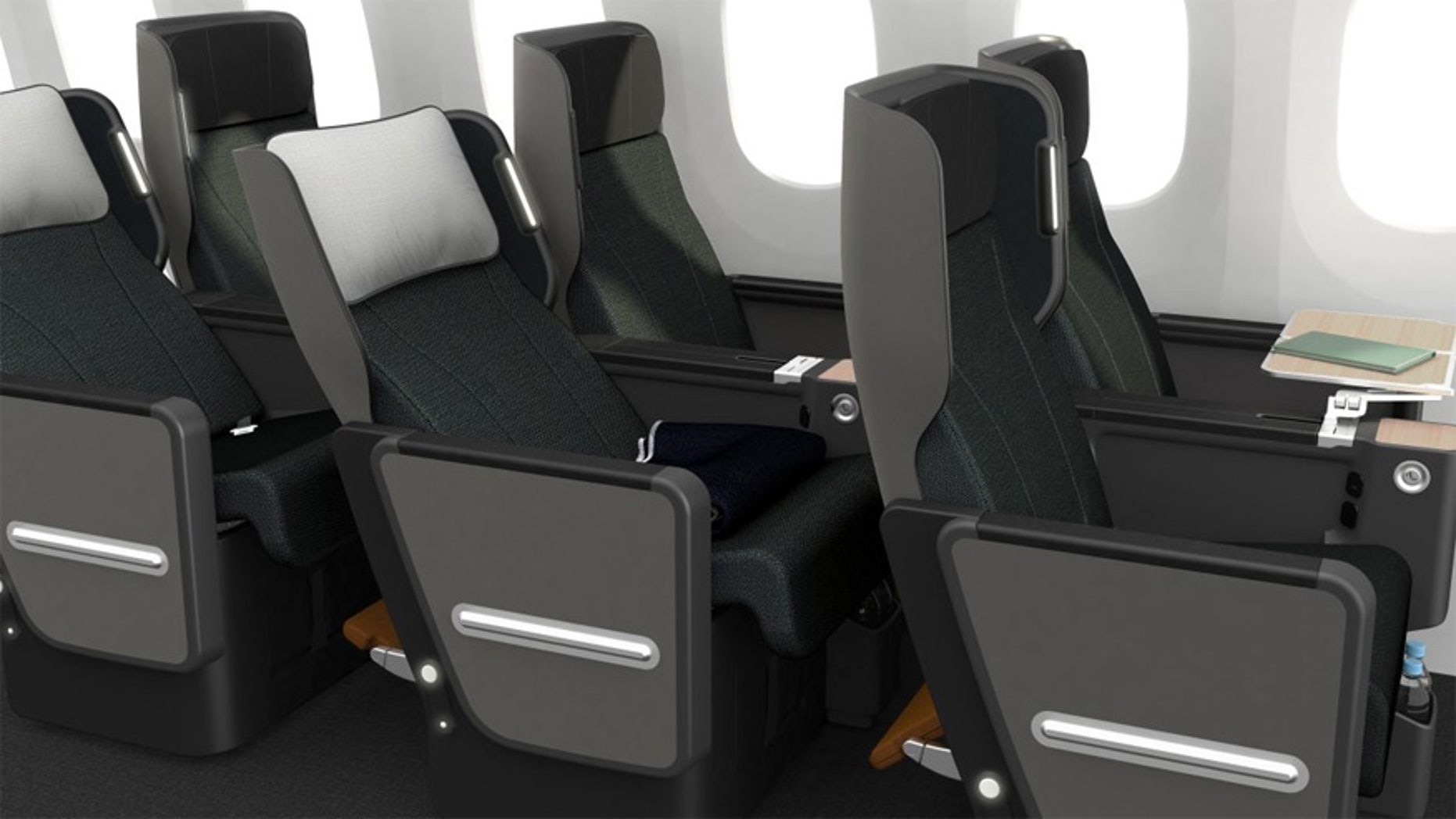 "Serious wow factor" is how Qantas boss Alan Joyce described the just-unveiled premium economy seats on its new Dreamliner fleet.
And these could be the seats that eliminate a lot of known triggers of passenger air rage. The seats will debut on Qantas' Boeing 787-9 Dreamliner fleet that will service some of the world's longest routes later this year.
Joyce says enhanced personal space and a unique recline were among the features premium economy passengers could expect on-board.
"This new premium economy seat has some serious wow factor," he said. "You have to experience how well it supports you when you recline to realize it's completely different from anything in its class."
CHINESE AIRLINE BREWING BEER THAT TASTES BEST AT HIGH ALTITUDES
The design is based on a prototype by Qantas' design partners Thompson Aero Seating and will be the only seat of its kind.
"Developing a new seat comes with its own set of challenges and opportunities," industrial designer David Caon said.
"We've made sure this seat offers genuine comfort through design elements not seen before on aircraft. There are a number of new bespoke design elements that we hope will really set the benchmark for this class."
From seat-reclining to the frustration of being in the middle seat, this is how premium economy on the Dreamliner could make flying a lot more tolerable:
More comfortable than "cattle" class?
Premium economy passengers can expect a seat pitch of 38 inches (compared to 32 inches in economy) and a seat width of up to 22.8 inches — a whopping 5.6 inches more than in economy class.
The seat has an ergonomically designed headrest and a unique footrest that works in a variety of ways: You can press your feet on it, or you can stretch your legs forward and use it to support the backs of your legs, like a leg hammock.
The footrest is attached to the back of the seat ahead, rather than the front of your seat — a game-changing move that makes better use of all that valuable leg room.
And as the seat reclines, several parts of the seat shift to support the whole body from head to toe.
The issue of reclining 
It's the great battle of the skies: to recline or not to recline? This premium economy seat could appease both sides of the debate.
Here, when the person in front reclines, their backrest doesn't just fling backwards into your face, like usual. Instead, their whole seat rolls in a more curved, back, down and under motion that reduces the invasion of your personal space.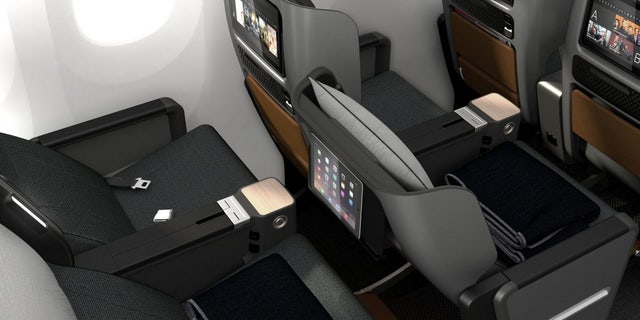 FOLLOW US ON FACEBOOK FOR MORE FOX LIFESTYLE NEWS
The difference is in the pivots: Most seats use just one, but these seats use two.
Fewer middle seat battles
There will be 28 premium economy seats on the Dreamliner, configured in a two-three-two layout, so there will be a fewer people stuck in the middle seat.
But the middle seat will be more than three inches wider than on other premium economy flights, giving those passengers a much-needed perk. Overall, these seats are almost 10 percent wider than the existing Qantas premium economy seats.
And all the armrests along the aisle drop down so you can slide out of your seat a lot more easily.
Where to put that iPad...
If you're one of the growing number of passengers watching TV shows and movies on your own mobile phone or tablet, rather than watching the in-flight entertainment, premium economy has thought about you, too.
The in-flight screen comes with an L-shaped frame designed to securely hold mobile phones and tablets of all different sizes, so they sit directly in front of the back-seat screen. So you don't have to worry about holding your device with a tired arm or having it uncomfortably sitting in your lap.
And if you are inclined to tune into the in-flight entertainment, these high-definition Panasonic screens are 13.3 inches — that's 25 percent larger than existing premium economy.
Other highlights 
The seats are tricked out with an ergonomically designed, detachable pillow that fits into the headrest, two USB ports and five personal compartments that can stow large items like books and laptops and smaller items like your phone and glasses.
The Dreamliners will also come with two new self-service bars, one in economy class and one in business.
UNITED AIRLINES TO LAUNCH SLEEPING CLASS CUBICLES IN BUSINESS CLASS
Last week, news.com.au revealed that the Dreamliners will do away with window shutters, which will be replaced with electronically dimmed windows.
The first of the Qantas Dreamliners will be delivered in October, with the first international flight, from Melbourne to Los Angeles, scheduled for December. Flights between Perth and London, which will directly connect Australia and U.K. for the first time, will start in March 2018.