Paris tourist sites reopen but tourists remain skittish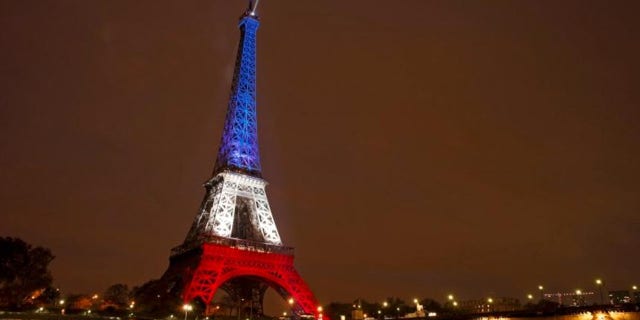 Paris reopened many of its iconic tourist sites Monday following Friday's bloody terror attacks that killed over 130 people.
"In tragic moments that pass over France, culture is more than ever the symbolic place of discovery for oneself and others," Culture Minister Fleur Pellerin said in a statement issued Sunday night.
Museums, such as the Louvre and Musée du Luxembourg, as well as other historical buildings like Notre Dame Cathedral opened at 1 p.m. local time.
The Eiffel Tower began accepting visitors into the building at around 3:30 p.m. as The Tower was lit up in red, white and blue — the colors of the French flag.
A few museums, such as the Musée d'Orsay, which are closed on Mondays, didn't open as usual.
But even as the travel industry starts getting back to business, some are second guessing a trip to the City of Lights.
Over the weekend, some tour companies let frightened tourists leave Paris and cancel trips.
Globus, a global travel company that offers guided tours, canceled excursions in and around Paris and provided escort services to the airport for those wanting to leave the city.
"We will continue to closely monitor the situation and provide additional updates, as necessary," a spokeswoman told FoxNews.com. For guests booked through Globus, and several affiliated companies, scheduled to travel within the next month through Dec.14, the company is offering free rebooking to a different date on any tour, cruise or travel package that includes travel to Paris.
A spokesman for California-based Intrepid Travel confirmed to FoxNews.com that it canceled planned Intrepid Urban Adventures activities throughout the city "until Wednesday at which time we will reevaluate the situation."
U.K.-based Trafalgar Travel, another group that leads Paris tours, says it too is "closely monitoring the situation on the ground so as to make informed decisions on all future trips."
For those traveling alone, the U.S. State Department cautioned extra vigilance--urging travelers to remain watchful of local media for the latest news and expect significant travel delays and site closures.
And on Monday, the U.S. Defense Department banned U.S. troops and employees from traveling in their free time within 50 kilometers of Paris.
While many analysts say tourism will take a hit from the recent attacks in the short term, it's unclear what lasting impact the violence will have.
Meanwhile, flights into Paris continue and the Paris Convention and Visitors Bureau has been trying to keep visitors apprised of travel information, including posting a list of museum and monument closures online.
Despite it being a city on heightened alert, some travel experts are encouraging tourists not to abandon Paris.
In a blog titled "Don't be terrorized" posted late Friday night, European travel expert Rick Steves encourages people not to give in to fear.
"Tomorrow Paris will be no more dangerous than it was the day before that terrible Friday the 13th. I also believe that security in Paris and throughout Europe will be heightened in response to this attack," Steves wrote. He concluded the post by saying it is his personal belief "that the best way for Americans to fight terrorism is to keep on traveling."