Most scrumptious attractions for chocoholics
Cuckoo for cocoa? Here's your bucket list. We've scoured the globe to find the theme parks, hotels, trains, airports and more that will take you to chocolate heaven.
1. Chocolate theme parks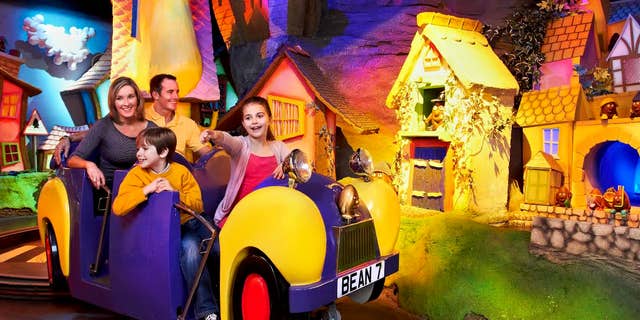 There are entire theme parks dedicated to chocolate: BonBon-Land in Denmark, Cadbury World in England and Hershey Park in Pennsylvania.
BonBon-Land, in Holme Olstrup, Denmark, came about when a candy factory that manufactured chocolates with crazy names like "seagull droppings" and "dog farts" (and some others we won't mention) did not have a space to host children. What began as a candy shop for kids became one of Denmark's most popular theme parks. It has typical theme park rides, though many are graced with foul-names, like the Henry Dog Fart slide. Says the BonBon-Land website: "Henry has been nicknamed Dog Fart because he suffers terribly with flatulence – but do not be sad, because when he gets a decent wind, it just boosts the circulation." Nuf said?
Cadbury World, in Birmingham, England, is dedicated to Cadbury's chocolate, including the company's famous Easter egg. You can journey through play areas like the Aztec Jungle and African Adventure, as well as learn how chocolate is made and packaged. Ride a "beanmobile" through a chocolate wonderland, chase a Cadbury Crème Egg and visit the World's Biggest Cadbury Shop.
Hershey Park, originally opened in 1907 by Milton Hershey as a pleasure grounds for his employees, is now a 110-acre theme park that boasts 70 rides and attractions and is the only place where you can you get your picture taken with a human-size, walking Hershey bar or a Reese's Peanut Butter Cup. Be sure to hit the Simply Chocolate café, which has cupcakes, pies, cheesecakes and other treats made with Hershey products. Is your mouth watering yet?
2. Pick up some chocolate culture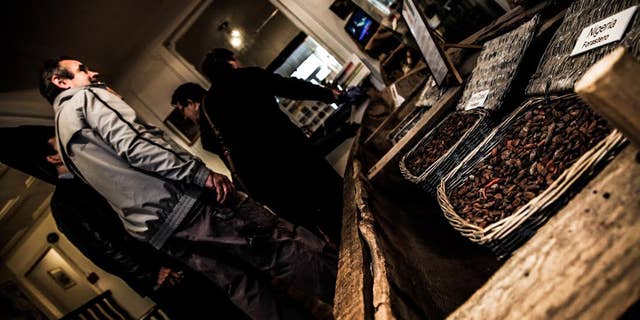 Across the pond, Belgium is known for its chocolate, and you can learn everything you ever wanted to know about the epicurean delight at the Museum of Cocoa and Chocolate, located in a beautiful townhome in Brussels that was built in 1697. You'll discover the cocoa bean's origins and how it made its way to Europe, as well as see how the cocoa tree is grown and how its bean is turned into bars and candies and fudge. The tour concludes with a master chocolate maker showing how the traditional praline is made. And yes, you get to taste.
3. Take a chocolate trip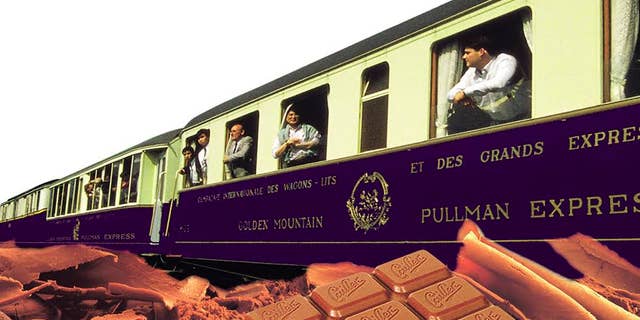 Also renowned for its chocolate is Switzerland, home to the GoldenPass Line Chocolate Train, which runs from Montreux to the Gruyère region. Enjoy the Swiss scenery as you travel along in a 19th century train to the village of Gruyère, known for its cheese and fine chocolate and home to the charming Castle Gruyère. After a stop at a cheese dairy, the train travels to Broc, where you can see – and taste – chocolate being made at the Cailler Nestle Chocolate Factory.
4. Sleep amid chocolate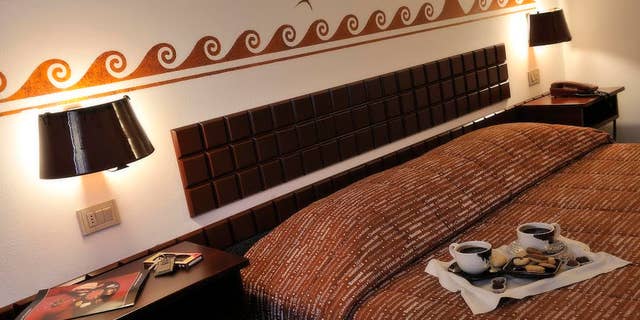 To fully immerse yourself, consider a stay at a chocolate-themed hotel. The Etruscan Chocohotel in Perugia, Italy, claims to be the first hotel in the world dedicated to chocolate. Rooms feature lamps that look like pouring chocolate, headboards that look like candy bars and comforters that have "chocolate" written on them in many languages of the world. Book the Choco Sweet Suite and you'll discover chocolate waiting for you in every corner of the room.
In the Soho corner of Bournemouth, U.K., close to beaches and the Bournemouth International Centre, you'll find the smaller, family-run Chocolate Boutique Hotel, with 15 unique chocolate-themed rooms. Guests receive a hand-crafted chocolate treat every night, and you can up the ante with an "extra," like a chocolate fountain or a personalized message for your loved one written in a chocolate bar.
5. Chocoholic's paradise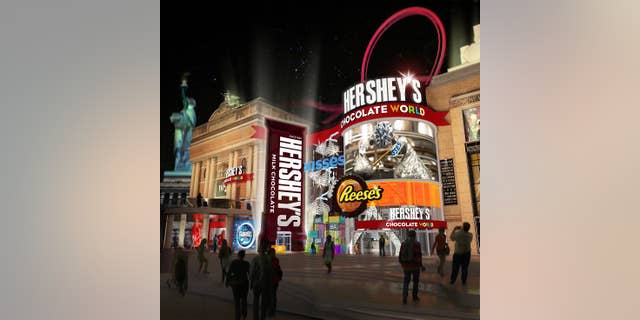 Opening on the Las Vegas strip next month is the new Hershey Chocolate World Vegas, located between the Statue of Liberty and Brooklyn Bridge at New York-New York Hotel & Casino. The two-floor store of sweets will feature a towering Hershey's milk chocolate bar, an 18-foot Reese's Peanut Butter Cup and an entrance full of Hershey Kisses. Inside, shoppers will be able to create a customized candy wrapper, take keepsake photos and personalize a Hershey Kisses plume.
In Orlando, Fla., when you're ready for a break from the theme parks, fill up on some tasty sweets at the World of Chocolate Museum and Café and take in some amazing hand-crafted chocolate sculptures of famous people and places. Ranging in size from 3-6 feet, there are chocolate versions of the Eiffel Tower, Easter Island and the Great Wall of China. There's also a guided museum tour through a representation of a rainforest to show you where cocoa trees grow. And did we mention the European Café, full of chocolate pastries, gourmet candies, espressos and milkshakes? It's the perfect indulgence after a day in the parks.
6. Chocolate while you wait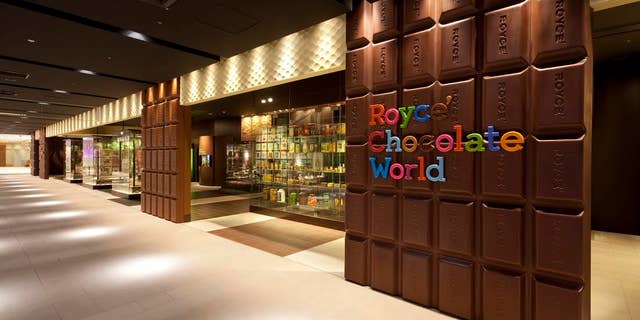 In Japan, you can sneak in some chocolate while waiting for your flight. At the New Chitose Airport, visit Royce's Chocolate World, a store and factory rolled into one. Royce is a local chocolate maker in Hokkaido, and its colorful gift shop explores the history of chocolate and lets you watch the sweets being made in a factory within the store. You'll also find more than 200 kinds of Royce's Chocolate to tide you over till you get to your destination.