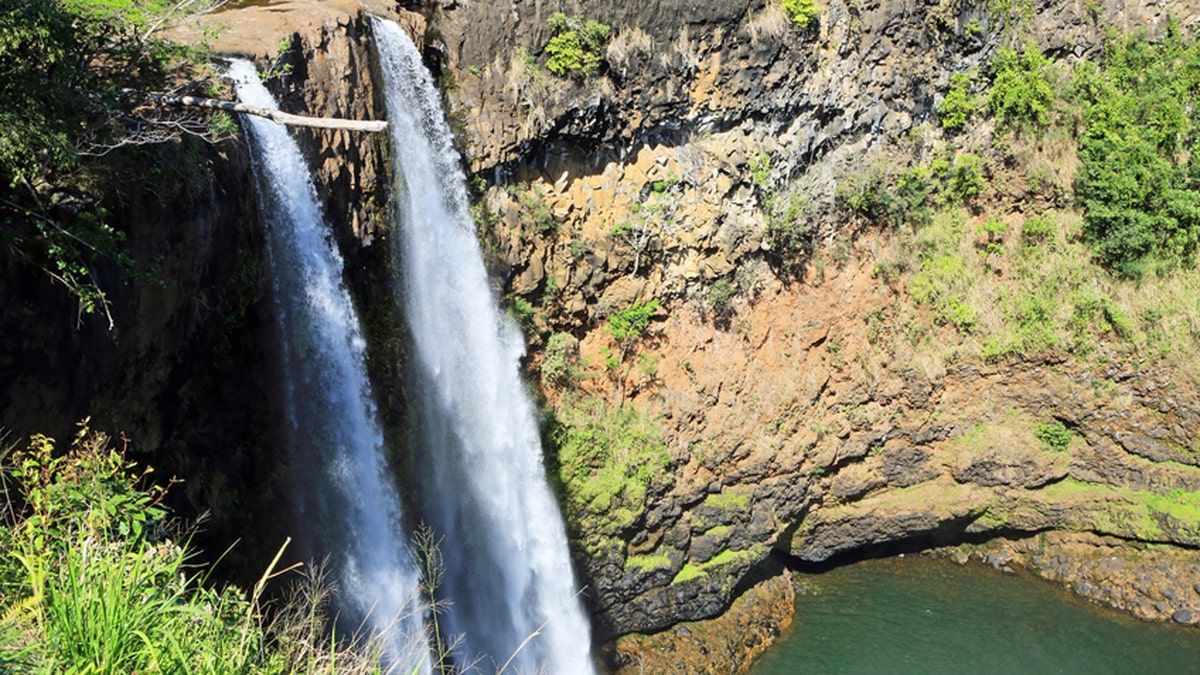 A California man who nearly risked his life to pull off an illegal stunt, is thankful to two tourists who may have saved his life during a recent trip to a famous Hawaiian waterfall.
Shiloh Shahan visited Wailua Falls on the island of Kauai with a friend earlier this month. Shahan, who had been living and working on the island for a year, told The San Luis Obispo Tribune that he wanted to make his last few days in paradise memorable so he took a trip to the Falls.
"I decided, 'I want to jump off of this,' " Shahan said in a phone interview from Atascadero, Calif. He had a friend take a video of the feat. "I was at a really pivotal point in my life. Everything was changing, and it felt like the right thing to do."
But the "right thing to do" was extremely dangerous. The area above the falls is fenced off and there are signs up warning people to stay out.
In a clip posted to YouTube Sept. 8, Shahan is seen taking a short running start before hurdling himself into the air and over the falls. He can be seen tumbling through the falls before hitting the water. Shahan says his neck snapped back and he blacked out when he hit the water. In the video two tourists can be seen swimming toward what appears to be a lifeless body.
His friend, David McGrath, screams "Wake up!" while filming.
"I really want to give credit to them for my safety," Shahan said of the father-daughter team who pulled him to safety after his jump. "Without them, I probably wouldn't have been able to survive."
Shahan told The Tribune that he suffered a concussion and tore some chest and back muscles as a result of the incident, but was able to leave the area without medical assistance.
"I was still able to walk around. I was just stiff," he said.
Wailua Falls tower either 80 or 200 feet above the water—there is some debate about how tall the falls really are. According to the State of Hawaii Data Book, the Falls are 200 feet high.
Though police were dispatched to the scene and many online have commented that he put other lives at risks by attempting to jump from the waterfall, Shahan says he never wanted his stunt to be seen by such a wide audience. Though he's back in California, Shahan could face a fine for his actions if the state decides to press charges.
The video now has over 100,000 views.
"It was never my plan for the jump to go viral," he said. "It just put it on YouTube because it wouldn't upload to Facebook, and I just wanted my friends and family to see it."
But, says the 21-year-old, he blames himself for getting knocked out.
Said Shahan, "If I had jumped correctly, I probably would have been fine."