Is a 'Walking Dead' ride coming to an amusement park near you?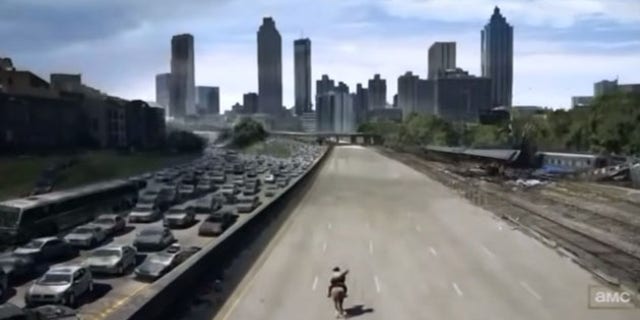 For "Walking Dead" fans, the popular television show, comic books and video game will reportedly now be coming to the live action genre with an amusement park ride.
According to Christian Hoffer of ComicBook.com, amusement park ride company Sally Corp. will be announcing its latest project, "The Walking Dead: Battle for Survival" at the 2015 edition of the IAAPA Attractions Expo.
The IAAPA event will host over 1,000 exhibitors trying to sell their ideas and concepts to an estimated 18,000 buyers, companies and theme park owners. Sally Corp. doesn't have a partner for the "Walking Dead" ride just yet, but there is hope that they will secure a deal at the expo.
The Attractions Expo will take place Nov. 16-20 at the Orange County Convention Center in the theme park Mecca, Orlando, Florida.
As for the design and layout of "The Walking Dead: Battle for Survival" ride, it will be based off the concept of a Dark Ride, but has been dubbed a "Very Dark Ride" by Sally Corp. Using 3D visuals, realistic sets and props and animatronics, the attraction will feature all of the horror and gore that has made the "Walking Dead" so popular.
This won't be Sally Corp's first foray into dark rides, as the company also designed the "ET Adventure" ride at Universal Studios Florida and Universal Studios Hollywood; the "Justice League: Battle for Metropolis" attraction at Six Flags over Texas and Six Flags St. Louis; and the "Zombie Adventure" ride at the Tokyo Dome in Japan.
More from TravelPulse
What Does Marriott-Starwood Mean for Travel Agents?
Why It's a Great Time For Cinephiles To Get to The Bahamas
Villa del Arco: The Perfect Way To Experience Los Cabos
I Had My Perfect Day In Paris. Now It's Your Turn