Inside the world's most expensive cruise ship suite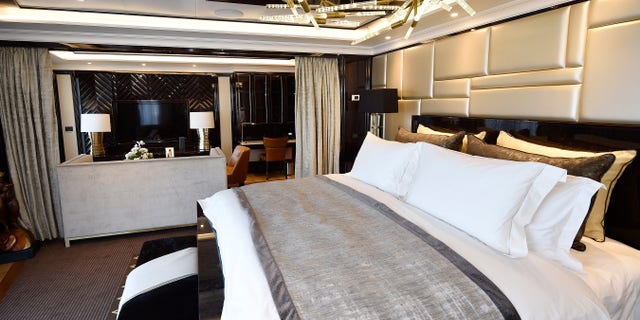 Love to cruise but can't stand the crowded buffets and over-booked shore excursions?
Onboard Regent Seven Seas Cruises' new ship Seven Seas Explorer—which begins sailing to the Caribbean from Florida this December— guests in the luxurious Regent Suite will enjoy a private car with driver and guide in every port, business or first class airfare as well as private sedan transfers to and from the airport-- and even unlimited laundry and pressing during your trip.
So what's the catch? The suite is $10,000 a night per couple.
Love luxury? Check out the Regent Seven Seas' Explorer
The expansive suite is 4,443 square feet and comes equipped with an in-room spa retreat--a first at sea--complete with a treatment area, full sauna, ceramic heated relaxation loungers and multi-jet shower.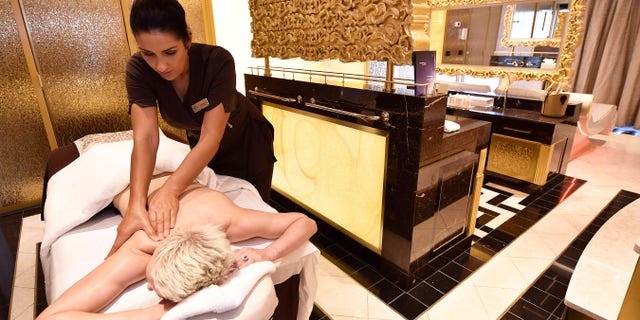 Here's what else you get for your money:
--A lavishly decorated two-bedroom suite at the ship's bow on deck 14 with marble, exotic woods, handcrafted furnishings, a golden chandelier and plenty of floor to ceiling windows to enjoy the sea views.
--An oversized hot tub enclosed by glass and adjacent to the spa retreat.
--Stellar 270-degree ocean views from the massive wraparound veranda and glass-enclosed Vista Garden.
--A stocked marble bar with black lacquered stools for entertaining new found friends. The bar is fully stocked with top-shelf liquor that guests can enjoy at their leisure.
--A custom Steinway Arabesque piano.
--Free pre-cruise hotel stay.
--A media center with a collection of limited-edition art books, artifacts and Murano glass bowls. Of course, there's another huge HD TV in the master bedroom as well.
Carrying only 750 guests (while many large liners carry over 5,000), the Explorer boasts one of the highest space ratios in the cruise industry. The line is also spearheading the trend of luxury cruise lines toward all-inclusive pricing.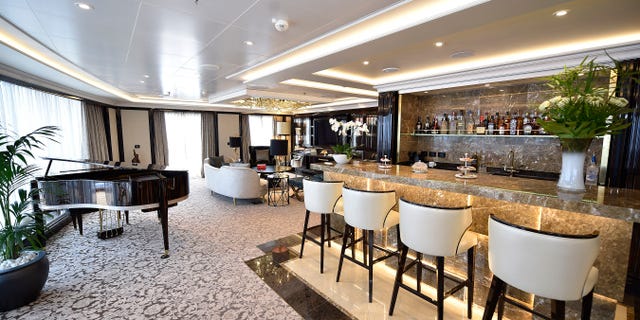 This comes amid increased demand for luxury travel options, according to the Cruise Lines International Association. Major cruise lines, including Norwegian and Royal Caribbean, say their most expensive suites with extra amenities are the first to sell while specialty lines now tout everything from exclusive tours to butler services to alcohol.
Now, Crystal Cruises offers complimentary alcohol, "You Care, We Care" voluntourism excursions and specialty dining, among other perks. Windstar's yachts in warm weather climes have a Water Platform with complimentary water sports--kayaking, sail-boarding, even water skiing.
Cruise Critic recently named Viking Ocean Cruises the "Best Luxury Cruise Line for Value," noting that the line, which will add two ships in 2017, has adopted inclusions traditional in its river cruises and other river cruising brands—complimentary wine and beer at meals, transfers, Wi-Fi and in this case, use of the Nordic Spa with its thalassotherapy pool, steam room, hot tub and first "snow grotto" at sea. Guests get an included shore excursion in every port, port taxes and fees and more—adding up to more than $200 per person per day. Cruises start at just under $2000 per person.
But few go as far as Regent Seven Seas, which offers "exceptional exclusivity," says Colleen McDaniel, Senior Executive Editor at Cruise Critic.
7 over the top cruise shows setting sail this year
All guests receive airfare–business class for international flights—free unlimited shore excursions, specialty dining, alcoholic beverages throughout the ship and in your minibar, ground transfers and gratuities. Those booking on the concierge level or above get even more including the free pre-cruise hotel stay.
On many cruises, drinks and specialty restaurants add up fast and can ultimately cost more than the cruise itself. Regent Seven Seas all-inclusive pricing starts around $5,000 for two.
"For travelers who like transparency and prefer not to receive a final bill at the end, a luxury or river cruise can be a great option that delivers value," suggests McDaniel. "However, travelers are advised to consider what they'll receive for their fare and assess how it meets their individual needs. For example, some lines offer unlimited alcoholic beverages, yet for those who don't drink this won't necessarily add value."