How to Make Bus Travel Bearable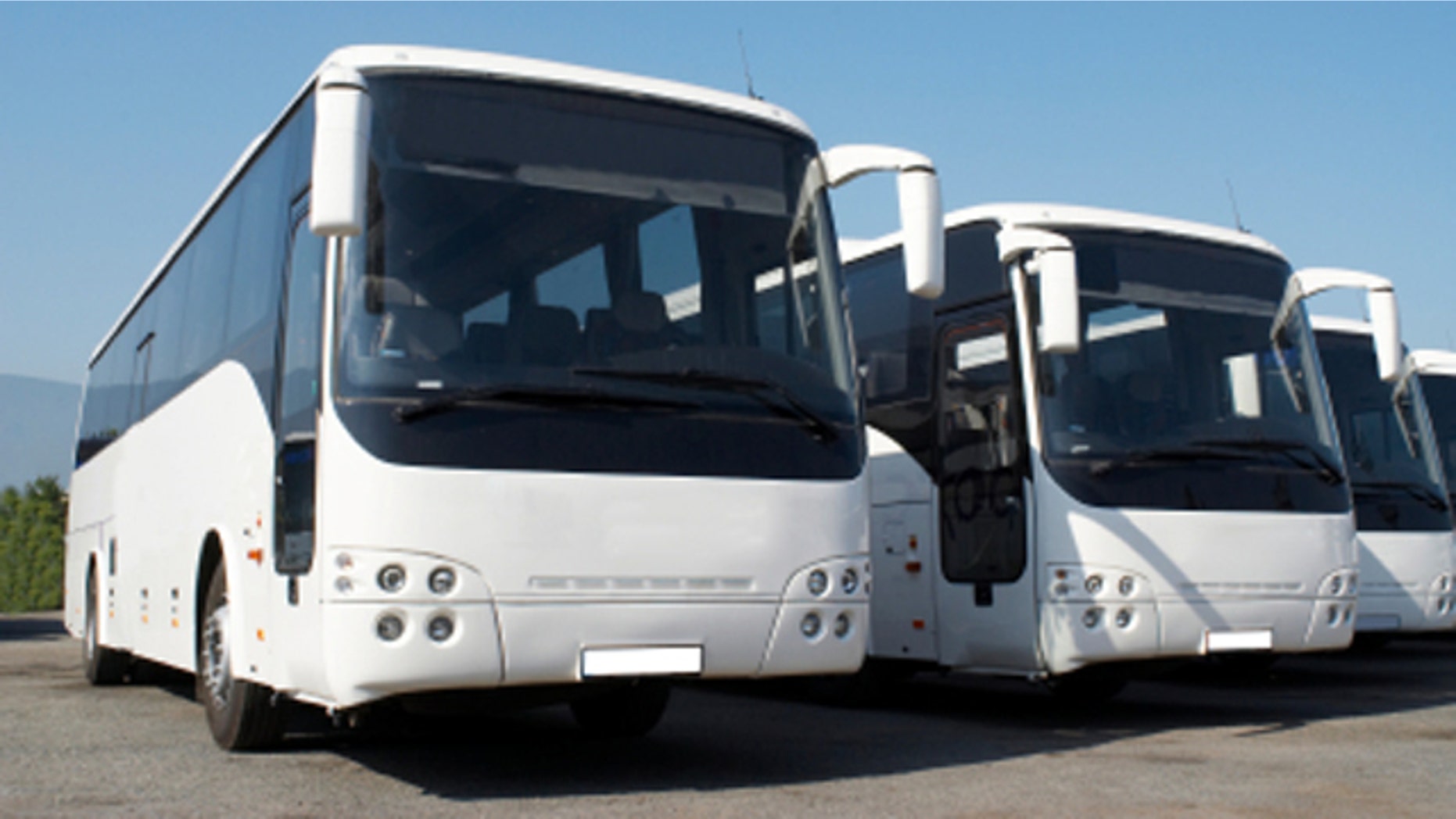 Some things you just never see coming.
Having settled in on a Greyhound that was just beginning to thread its way through the Midwest, travel writer Melisse Gelula was prepared for the hours-on-end sameness of her bus ride. What she hadn't counted on was the thin-set man in a plaid shirt who sat down next to her, opened a package of raw hot dogs, and began consuming one after the other.
"What's wrong with packing a PB&J for the ride?!?" Gelula, co-founder of WellandGoodNYC.com as well as a vegetarian, recalls thinking. "The guy chomped the hot dogs like celery sticks, which I tried to pretend they were. The woman across the aisle from me mouthed 'What's that smell?' and I leaned back so she could see. We both tried not to breathe through our noses until we hit Iowa City."
Writer Brandon Mendelson recalls the bus ride where he had "a four-hundred pound ex-convict fall on top of me on my way home from Binghamton. I didn't know what to do as he literally just got out of prison that day - he said so [prior to dozing off] and was wearing the clothes the convicts usually wear when they're released onto the bus. I could have freaked out and started swearing but instead I pushed, gently, until he rolled back into his seat. Thankfully he didn't wake up, but it was probably the most horrifying thing to ever happen to me while riding a bus."
Not every bus ride deteriorates into this kind of miserable freak show, but let's face it, if you've ever been on a bus - be it the cross-country, regional, commuter, or yellow school kind - you know the potential is there. However, if you try to wrangle some amenities and remember a few rules, you might discover there is such a thing as a good bus ride.
Seek out a bus with amenities.
Greyhound is in the midst of retrofitting 250 of its buses, which includes losing five seats on each coach to free up legroom, offering free Wi-Fi, and giving each passenger access to a working power outlet, says Greyhound media relations director Maureen Richmond. While there's no way to tell ahead of time if you can book one of these refurb buses, Richmond says certain lines like the Atlantic City Lucky Streak "offer the opportunity to see which schedules offer Wi-Fi." The retrofitted buses are being introduced on the East Coast, and more of the refurbs as well as new buses will be introduced in other parts of the United Sates this fall, she says.
Based on reports of how other countries are tricking out their buses, U.S. bus operators would do well to take notes. During a 19-hour bus ride in Chile, traveler Victoria Baxter was happy to have a semi-cama (roughly," half-bed" in Spanish) though if you pay a bit extra you can recline further in the "cama" or lie almost flat in the "cama premium." Avid Trips founder Sanem Eruar notes that stiff competition among private bus companies in Turkey is paying off for the traveler, to the point where "most companies use Mercedes for their buses" and that many buses have both a driver and a "'muavin,' an assistant to the driver who also does what flight attendants do - serve tea, snacks and provide blankets."
Mexico's intercity bus service also gets high marks. "Bus travel in Mexico is a dream if you take executive class, says travel author Tim Leffel. "You get a designated nice waiting room, a snack and a drink when you board, a movie you can choose to listen to or not with headphones, and almost as much legroom as you get in business class on a plane - only 8 rows of 3 seats. On [Mexico's] ETN buses, you get free Wi-Fi as well. All this for a price that's usually about $7-8 per hour of travel." Transportation planning professional Lawrence Hughes adds that many of the executive class buses also have "complimentary coffee, tea, and water in the self-service galley" and "separate washrooms for men and women." Marketing expert Shel Horowitz notes that Mexico's present-day bus service provides "adequate security to protect checked luggage," a change from his last visit in the mid-1980s.
Remember bus etiquette.
Be friendly to your driver, urges Mendelson. "I used to ride thirteen hours on an Adirondack Trailways bus from Potsdam to New Paltz, N.Y. and I knew the driver was in for a long night. Concurs communications strategist Dave Clarke, who commutes regularly between Philadelphia and New York, "I take the Chinatown bus - $10 each way, [usually with] free Wi-Fi. I always tell the driver 'thank you' at the end of the ride, as I tend to see the same ones over and over. You can imagine how many people just hop off and 'peace out' without even a nod." Also keep in mind that you're not the only passenger who's trying to get settled. Mendelson says he tries to keep his "earbuds off until the bus is in motion and make sure I don't have my stuff taking up the seat next to me. I've found people like this." This is a concept that continues to elude many airline passengers, so perhaps bus riders can start a trend.
Whether she's managing a bus tour or is a passenger on one, Trip Chicks tour guide Ann Lombardi says the best course with your driver and fellow passengers is to "kill them with kindness...and snacks," offering treats to her fellow travelers to break the ice. That small gesture seems to help people somehow remember me, and I start off the bus tour on the right foot."
Never try to hop on a city bus without paying the fare, even if that appears to be the custom, says Lombardi. "Despite what some may have read about the lack of conductors and ticket checkers, never try to be a "bus bandit," even in a city like Rome. Saving a Euro or two isn't worth the risk on the bus "joy ride," especially after you're nabbed by the controller and then end up forking out an 80 Euro fine for 'misunderstanding.'"
Try both of these things to improve your ride.
Cynthia Clampitt has taken long-distance bus rides in Australia, where she notes bus-traveling Aussies love Americans and are friendly and talkative, if you like that kind of thing. She notes that on "overnight drives, the best tip - one I got from another traveler - is bring your sleeping bag with you. It goes a long way toward making the seats cushier and can be scrunched into a sort of pillow. If you're sleeping with your head against window, it can protect you from an unexpected head smack if one encounters a bump in the road."
Frequent bus traveler Kevin Kato suggests the "next time you find yourself on a bus in a foreign country, spend some time looking for things to write down - details in the changing landscape, the houses and towns that pass by, the expression on the face of the man or woman across the aisle. Sketch them if that's your thing. Then show it to them. Chances are you'll create a moment you won't soon forget."