Hoover Dam Bypass Bridge Finally Ready to Open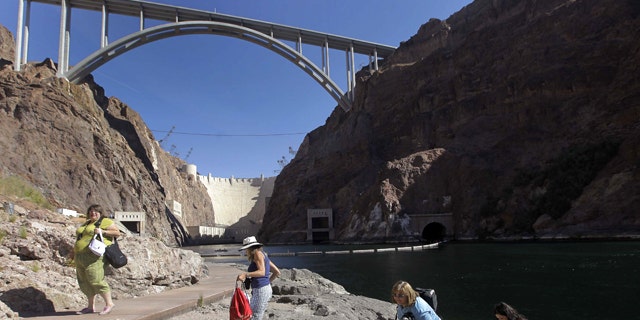 LAS VEGAS – A soaring bypass bridge high above the Colorado River near Hoover Dam is set to open after nearly eight years and $240 million worth of work.
The 1,900-foot engineering wonder perched 890 feet above the water is expected to drastically cut travel time along the main route between Las Vegas and Phoenix, as motorists will no longer have to make their way across the dam and its security checkpoints at a snail's pace.
The bridge, which officially opens next week, is named for former Nevada Gov. Mike O'Callaghan and Pat Tillman, the former NFL player who quit the Arizona Cardinals to join the Army Rangers and died in Afghanistan under friendly fire. Family members of O'Callaghan and Tillman are expected at the bridge's dedication.
Cars previously were routed across Hoover Dam to cross the border between Arizona and Nevada, and checkpoints added after the terrorist attacks of Sept. 11, 2001, often caused miles-long backups of traffic. Federal officials also heavily restricted the types of vehicles and cargo that could cross the dam, sending semis and other large vehicles an extra 23 miles through the resort town of Laughlin.
The new bridge allows travelers to bypass the dam much more quickly and with no checkpoints. The U.S. Department of Transportation estimates it will cut at least 30 minutes from the trip.
Those going to the dam will no longer be able to pass over it to cross the border by car, though it will remain open as a tourist attraction.
Visitors to the dam often can't help but turn and gawk at the bridge, which federal officials say is the second- tallest bridge in the United States. The tallest is Royal Gorge Bridge in Colorado.
It's the longest bridge built with concrete arches in the western hemisphere, according to the Transportation Department. The arches measure 1,060 feet.