HONK is a new app that offers help on the highway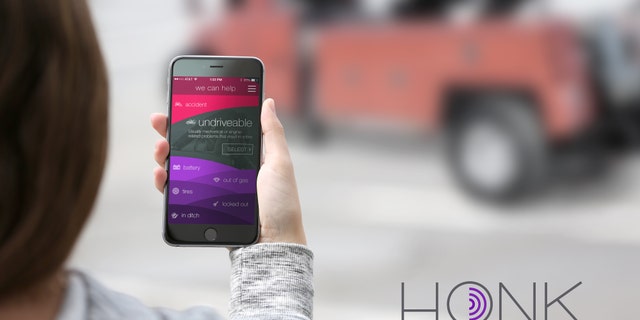 HONK if you have car trouble. That's the message a startup is sending to millions of motorists as they get ready to hit the highway for Thanksgiving.
HONK, a free app for iOS and Android devices, is driving to disrupt the $10 billion roadside assistance market dominated by AAA. Its developers say it will provide expeditious 24/7 highway help from more than 20,000 independently owned tow trucks and garages in the U.S., with service starting at $49.
While the app officially debuted on Wednesday, company founder and CEO Corey Brundage has been quietly working for almost a year to create its technology and forge its alliances. In fact, he says, the company has already done jobs in every state.
HONK, based in Santa Monica, Calif., faces a powerful incumbent in AAA, but Brundage says the roadside assistance market is ripe for dislocation.
He says an on-demand app like HONK will get a nearby tow truck to you quickly when you need one and eliminate the need to pay annual fees to auto clubs like AAA for "peace of mind."
"I believe in this day and age peace of mind should be free," he said. He pointed to his smartphone and added, "This is your peace of mind. You have peace of mind in your pocket."
For its part, AAA points out that members get four free tows per year, which is a better deal if you're towed often, and AAA membership also includes travel services and discounts.
Jeffrey Spring, spokesman for Southern California AAA, says the venerable auto club has been "monitoring" roadside service startups and adapting digitally.
"People can find us through the AAA app, online, on the phone and in person, and we'll put our service up against theirs any day of the week," he said.
Brundage, 34, said a frustrating breakdown a year ago spawned HONK. He and his fiancée needed a simple jump-start late one night, and the job set him back $150. More importantly, he said, it took 24 hours and several attempts to get assistance at a reasonable price.
He said he got eyebrow-raising quotes from local tow companies in the $200-$250 range; he was dissatisfied with the process and cost of signing up with AAA on the spot; and even though his Mercedes was under warranty, the manufacturer didn't get roadside help to him until the next day.
"I couldn't get the dichotomy of the Uber experience and this experience out of my mind," he said. "There's a button I can press to get a taxi cab here in two minutes, and when I really need help, in a desperate situation, an unplanned emergency, and I've got places to be, there's no button. There should be a button for this."
Investors clearly agree. HONK also announced on Wednesday that it has raised $1.8 million in venture capital financing from investors, some of whom were early backers of Uber, Lyft and Twitter.
Brundage is not the only entrepreneur looking to modernize roadside assistance. Washington, D.C., startup Urgent.ly has been expanding rapidly, and it has partnered with AOL-owned MapQuest. The deal could jump-start exposure for both brands among consumers and on automakers' new infotainment platforms, since it will become the first navigation app to offer free on-demand help nationwide. Urgentl.ly last month announced it had raised $1.2 million in new funding.
Analysts say the companies that arrive on the scene first have an early advantage but they're in for a bumpy ride, since the barrier to entering the market is not that high and there's a formidable incumbent in AAA.
"Much like Uber, it's all about which company best leverages the network and becomes the go-to app very quickly," said Ross Rubin, principle analyst with Reticle Research, an advisory and consulting firm.
"The revenue model may be a bit more difficult. One reason AAA asks for a subscription is it's one way to be profitable, given that a towing incident is relatively rare. One of the biggest challenges will be marketing and driving customer awareness."
Rubin also doubts many consumers will download a roadside assistance app and enter credit card information before they need it. He says that makes these firms "difficult to be top of mind when the user needs it. If you're injured or the car is significantly damaged, downloading an app is probably not going to be top of mind."
But he does see opportunity with fleets and with smarter cars hitting the streets. "The connected car would be a good position for them to be a service that's offered via other providers (or) an OnStar scenario, where HONK is called automatically if you're in an accident so you don't have to call."
Brundage is banking that customer service (15-30 minute arrivals in urban areas), competitive pricing and, eventually, purple tow trucks bearing HONK's logo will draw customers.
He says the service has big plans for the new year, including connected cars. And, while he won't elaborate, he says HONK has international aspirations.
But first, he wants HONK's icon on your smartphone, next to that button for the on-demand taxi.
"If Uber is the app that you need when you don't have a car," he says, "HONK is the app when you do."