Helium-filled replica of Civil War balloon lifts off at NY museum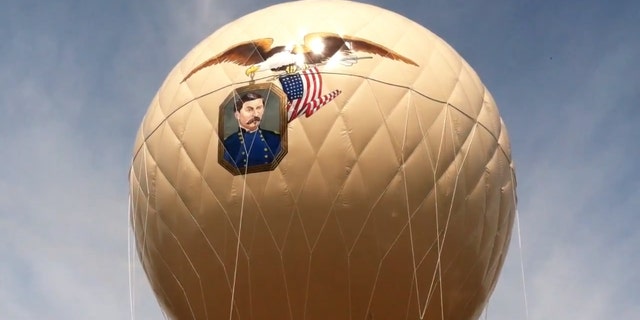 MUMFORD, N.Y. – Terry Lowe drove 1,000 miles to get a taste of what his Civil War balloonist ancestor experienced while observing troop movements on the battlefields of Virginia — minus the pot-shots from Confederate guns, of course.
"It was phenomenal," Lowe said after taking a ride in a balloon with his 20-year-old son, Nathan, on a calm, sunny Tuesday morning at the Genesee Country Village & Museum, 15 miles southwest of Rochester.
The balloon is the centerpiece of the museum's commemoration of the 150th anniversary of the Civil War. It duplicates one used by Union troops to telegraph intelligence that allowed ground forces to track Confederate troop movements and bombard their positions.
The helium-filled replica is based on the original Intrepid, one of the largest of the Union's seven hydrogen-filled balloons commanded by Thaddeus Lowe from 1861 to 1863. Lowe was a 29-year-old aeronaut, scientist and inventor when he was personally tasked by President Abraham Lincoln to create a Union Army balloon corps for aerial reconnaissance.
It was dangerous work. The tethered balloons and the observers riding in the baskets made tempting targets as they slowly descended from more than 1,000 feet. They were never hit, but Thaddeus Lowe and his fellow observers "were shot at a lot," said Terry Lowe, a great-great-grand-nephew of the Civil War balloonist.
The museum offered rides Tuesday for the media, with Terry and Nathan Lowe also getting their turn in the tethered basket.
"It's a very smooth ride," the elder Lowe reported after his trip aloft.
However, at about the 200-foot level, the wind caused the basket to start swaying a bit, giving the Lowes a taste of what their ancestor and his comrades experienced over the battlegrounds of Virginia 150 years ago.
"I'm thinking to myself, it's a nice, calm day," said Terry Lowe, a 60-year-old technology coordinator for the city of Lincoln in Nebraska. "Can you imagine was it was like to take observations when the wind was blowing and there was smoke over the battlefield?"
Starting Wednesday, the museum will offer daily tethered rides taking passengers to 300 feet, weather permitting. The cost is $15 in addition to the museum's all-day admission of $15.50.
The project almost didn't get off the ground because of a helium shortage, but Macy's came through with a donation of 50,000 cubic feet of the gas.
[youtube UXEwuLZzQKM]