Giraffe wanders into a South African restaurant, tourists remain calm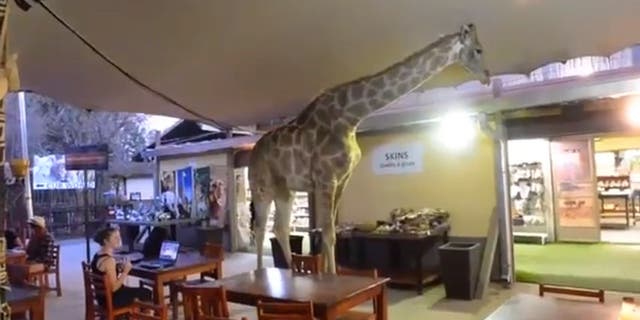 NEWYou can now listen to Fox News articles!
So this giraffe walks into a bar…
This is not the start of a joke. Much to the surprise of tourists at the Lion Park safari in Johannesburg, a giant giraffe named Perdy sauntered into the park's café and wandered around the bar.
While guests at the park's café had expected to see wild animals up close and personal, they likely didn't expect to dine with a wayward giraffe.
Luckily, visitors remained calm enough to crack jokes, snap photos and record videos as the giraffe meandered its way up to the counter.
"How can you explain this to someone?" a woman in one video is heard asking a fellow onlooker as the crowd chuckles at the wandering giraffe. "It's not the same as saying, 'oh the giraffe was in the restaurant.'"
Totally unimpressed with the establishment, the giraffe did not stay for a full meal. Although, Perdy did graze on a small potted plant in front of the bar just before leaving.
Check out the whole startling scene in the video below.