Gastroenteritis outbreak on Sea Princess cruise sickens 200 passengers
Sea Princess passengers certainly weren't feeling like royalty after a gastrointestinal virus outbreak sickened over 200 people on the ship.
On Jan. 2, ABC AU reported that the Princess Cruise vessel docked in Brisbane, Australia, on Thursday morning after roughly 200 passengers suffered from a norovirus outbreak. The Sea Princess ship was nearly finished with a two-week round trip between Brisbane and New Zealand.
332 ROYAL CARIBBEAN PASSENGERS SICKENED WITH STOMACH VIRUS
"Around 200 people were believed to have been infected with the virus," a Queensland Health spokesperson told the outlet, confirming norovirus as the cause of the illness. "Appropriate sanitation procedures and outbreak control measures have been implemented and the vessel is expected to undergo further comprehensive cleaning while in Brisbane."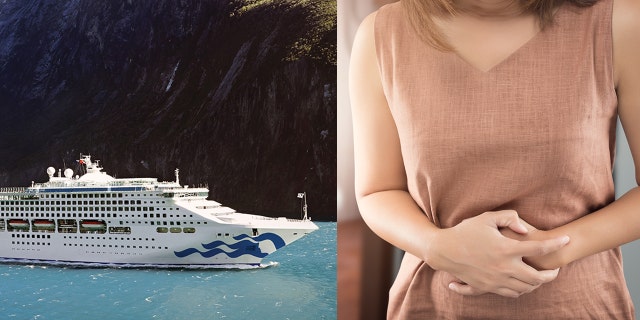 One passenger, Helen Perry, told the Daily Mail Australia that amid the ordeal, she was even quarantined in her cabin for 60 hours after coming down with the illness, during which time she was given crackers and soda. She also said the cruise's crew sanitized her room twice per day while she was isolated.
For their part, Princess Cruises told passengers via email that they are "carrying out a comprehensive sanitation program in coordination with several international public health authorities," in addition to coordinating for the ship to receive an additional disinfection.
Moving forward, transportation lawyer David Adams told the Brisbane Times that sick passengers could be entitled to compensation for the incident.
DEADLY MEXICO TOUR BUS CRASH SPARKS CONCERNS OVER SAFETY OF CRUISE LINE-SANCTIONED EXCURSIONS
"We believe that passengers who have been harmed should be entitled to a full refund as well as financial support for the care and treatment of their injuries," Adams said.
"If passengers will lose wages or will incur any unexpected costs as a result of the outbreak, they shouldn't be forced to wear these and should be reimbursed by the operator," he added.
Some sounded off on Twitter, voicing their displeasure with the situation.
Princess Cruises gave Fox News the following statement:
"Guests embarking Sea Princess in Brisbane, Australia yesterday were notified of a delay in boarding arrangements at Portside Cruise Terminal for the ship's turnaround," a comapny spokesperson said. "This enabled increased precautionary sanitation of the ship and terminal following the just completed cruise which saw an elevated number of guests reporting gastrointestinal symptoms confirmed as being due to norovirus."
"Proactive steps taken on board during the cruise reduced the number of new cases being reported and guests were also thanked for adhering to sound health guidelines including regular hand washing and use of hand sanitizer dispensers," they added.
FOLLOW US ON FACEBOOK FOR MORE FOX LIFESTYLE NEWS
Sea Princess' completed cruise with 2,130 guests was a 14-day itinerary from Brisbane to New Zealand destinations. The new cruise began yesterday is also to New Zealand on a similar itinerary.
According to ABC, the Sea Princess is at least the fourth Australian cruise ship to suffer a gastrointestinal outbreak in the last year. They're not alone, either: in early December, 332 Royal Caribbean passengers fell sick with a stomach virus while on board.
According to their website, fares for the 14-day New Zealand cruise range from $2,000 to $6,600 per person. The Sea Princess can hold up to 2,000 guests.
Despite falling ill and being locked in her cabin for 60 hours, passenger Helen Perry told the Daily Mail Australia that the trouble wouldn't stop her from going on another "fantastic" cruise.
"[I had] 60 hours in a lovely cabin with a gorgeous view … best sick bed I've ever stayed in," Perry said. "I enjoyed myself enormously in spite of it."