Football Fans Never Lose the Party at the 'Holy Grail of Tailgating'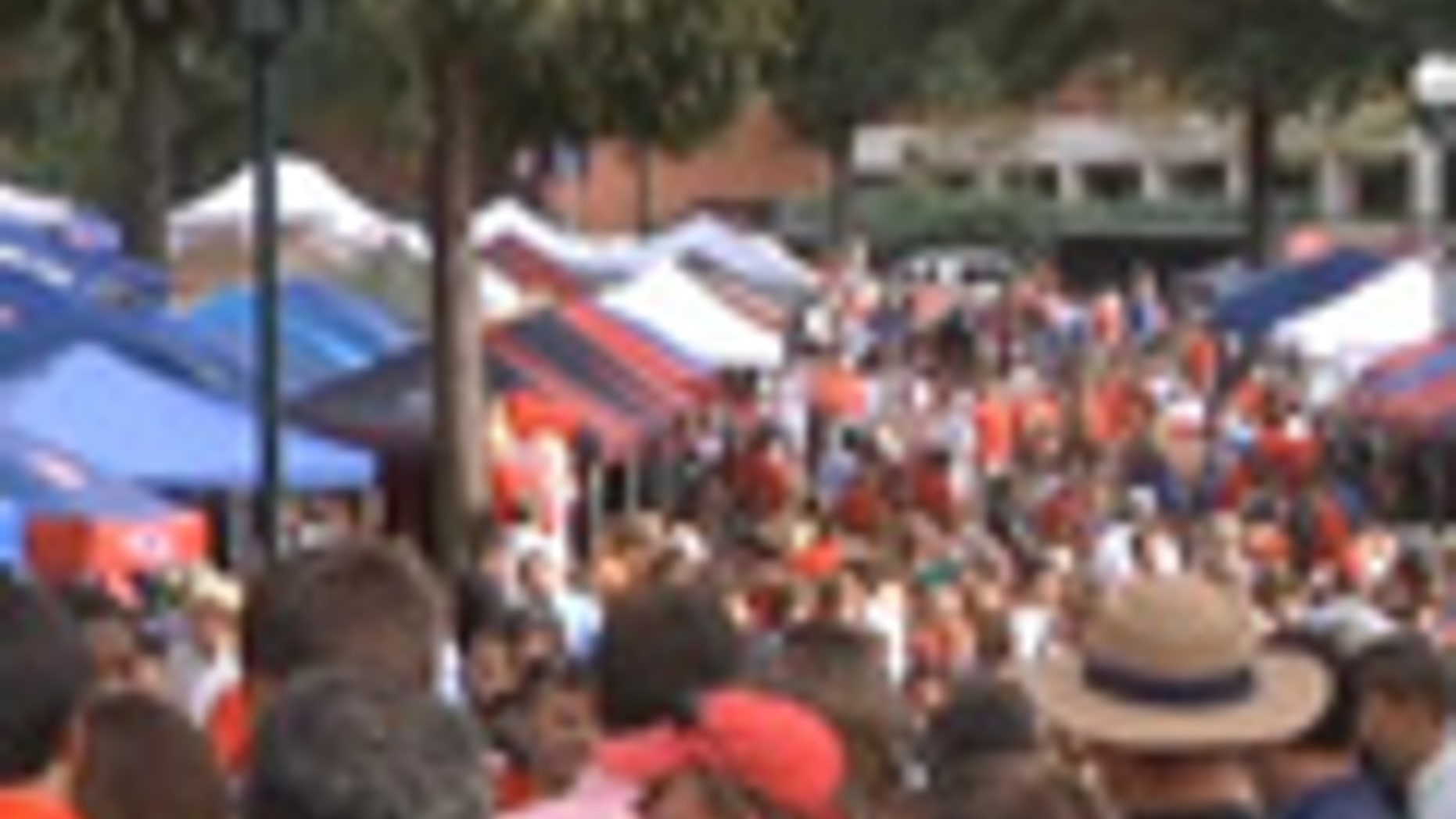 Sporting News has called it "The Holy Grail of Tailgating" and Sports Illustrated said it was "the number one tailgating" experience in college football.
Welcome to The Grove -- a 10-acre plot of grass in the center of the University of Mississippi that is transformed into a luxury tent city the night before every home football game.
Click here to see the latest NFL getaway travel deals.
Replete with chandeliers, large screen TV's and lots of finely dressed students and alumni, fans show up early and stay late for the most extravagant tailgating in the country.
During each home game some 50,000 spectators gather in the Grove, some traveling across the nation to Oxford, Miss. to experience this one-of-a-kind tailgating  --or Groving as it's come to be called.
"I think it's the difference between cotton and polyester," says Sparky Reardon, Ole Miss's dean of students, when comparing the Grove to other tailgating set-ups. "Other schools come to us and say, 'How do you do this?'"
On game day, the tailgating grounds are transformed into a sea of red and blue tents for as far as the eye can see, with portable kitchens and living rooms.
"We get here early, we stay here late, we bring the food, we bring the TV, we bring the music, and its something my family's done for a long period of time, and something I'm passing down to my son now," says extreme-tailgater, Scotty Yount.
He's not talking about a couple of little 12-inch TV's either. Massive 40 and 50-inch, high-definition screens with satellite dishes outside are regular sights around The Grove, and ensure that fans don't miss any of the day's big games.
"We'll be here until the last game goes off tonight," Yount says with a smile.
Satellites and TV's are just the beginning of the tailgating extravagance though. Chandeliers hang over beautifully set table spreads complete with large intricate center pieces of freshly arranged flowers, while seemingly endless amounts of delicious southern cooking lay on silver platters and fine china.
Matching the elegant tent décor, fans skip the jeans and t-shirt look for more country club-like attire. Southern Belles break out their high heels, cocktail dresses, and pearls on game day; while men wear dress shirts, ties, and sport coats.
"It's tradition," explains Cord Tutor, an Ole Miss student. "We dress nice here, we all like to good."
Above all else though, Ole Miss fans pride themselves on their southern hospitality, and warmly invite visitors from opposing teams into their cozy tents for food and drinks; good conversation; and reprieve from the sun.
"If you come here you'll be treated like friends and family," says Reardon.
Even during losing-seasons, fans pack into "The Grove" for every home game because as the Grovers like to say in Oxford: "We may not win the game, but we never lose the party."
Have you been to an eye catching arena? Or do you have a favorite stadium? Send us your pictures and videos of your favorite stadiums, arena, aquatic centers, or other sporting locations.