Egyptian travel industry dealt another serious blow after EgyptAir crash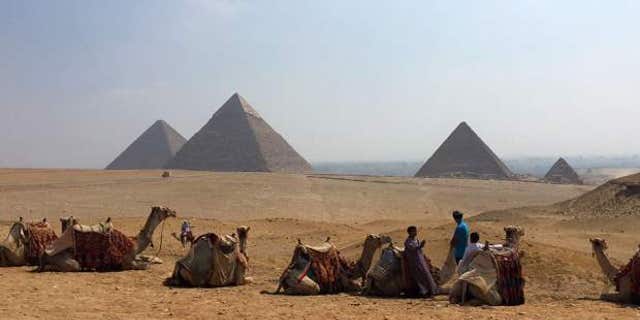 NEWYou can now listen to Fox News articles!
As emergency crews continue to search for wreckage from the EgyptAir Flight 804 jetliner crash, experts warn the latest incident is certain to cause devastating setbacks to both the flailing tourism industry and the overall economy in Egypt, where tourism accounts for about 12 percent of the GDP and for nearly one in nine jobs.
Even before the Airbus A320 carrying 66 people crashed into the Mediterranean Sea on Thursday morning, a spate of plane crashes and terrorist attacks over the last seven months had prompted hundreds of thousands of tourists to rethink their travel plans to Egypt.
An average of 900,000 foreigners were visiting the country each month before last Oct. 31, when a chartered Russian plane, Metrojet Flight 9268, blew up shortly after taking off from Sharm el-Sheikh International Airport. ISIS quickly claimed responsibility for planting a bomb that killed all 217 passengers and seven crew members aboard.
One month later, the number of tourists visiting Egypt had fallen to 500,000.
On Jan. 8, gunmen opened fire at a hotel in the Red Sea resort city of Hurghada, injuring three tourists.
The next month, the number of tourists visiting Egypt fell to 346,500, according to CAPMAS, Egypt's official statistical agency. Compared to the year before, the decline was nearly 46 percent.
Thursday's EgyptAir crash has not been declared a terrorist attack, but Egypt's minister of aviation, Sherif Fathy, indicated that the case for terrorism is "stronger" than technical failure. The U.S. State Department has not issued a specific travel warning for Egypt, but it has issued advisories for neighboring Libya and Sudan in the past several months, citing the proliferation of terrorist groups within the region.
Experts say it is too soon to estimate the fallout from the EgyptAir crash, but they are confident that tourism in the region is unlikely to rebound soon.
According to the Ministry of Tourism, tourist-related spending fell by 15 percent last year, a figure that could fall even further if American travelers, bolstered by a strong U.S. dollar, decide to spend their money elsewhere.
"There is understandable consumer caution and hesitancy," said Paul Wiseman, president of Trafalgar USA, which operates over 250 guided excursions across the globe. "There has not been a large influx of cancellations [for Egypt trips] for travel, but people are making different destination choices."
"A few years ago, Egypt was a top 10 destination for Americans traveling with Trafalgar," Wiseman said. "Sadly, that is no longer the case." Though Trafalgar continues to operate tours to Egypt and other Middle Eastern destinations, "continual setbacks like this will certainly cause people to travel to other destinations," he said.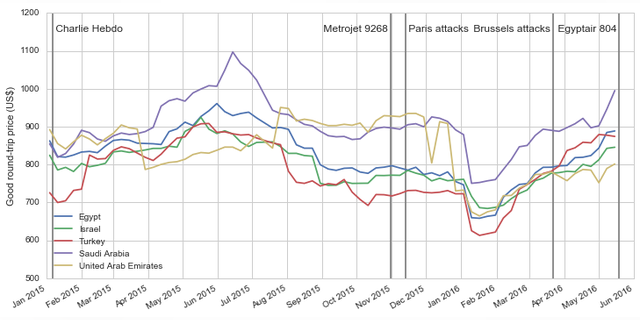 The vast majority of tourists in Egypt are Europeans who vacation at the country's Red Sea resorts. Their numbers fell sharply when many carriers halted routes to resort towns after the Metrojet disaster. Sharm El Sheikh and other once-thriving Egyptian resort destinations have been turned into ghost towns since the October crash.
But unlike the European beachgoers, Americans generally go to see Egypt's archaeological sites, like the pyramids and the Sphinx. They have continued to travel to Egypt, but industry experts say their numbers could fall sharply now.
Coupled with political unrest in the region, the EgyptAir crash may only reaffirm the "external perception" among travelers "that there is a heightened terrorism risk for travelers to Egypt that needs to be addressed," said Nick Doyle, managing director and head of security risk management at Kroll, a security risk management consultancy based in New York.
Patrick Surry, chief data scientist at the airfare prediction site Hopper, said the company has not seen rapid changes in searches for Middle Eastern travel, but it did see "significant sales early this year, and prices have stayed below seasonal levels compared to last year, likely due to weak demand."
Surry said terrorism tends to have a devastating effect not just on the local travel industry impacted by tragedy, but on regional tourism as a whole.
In the wake of the recent terrorist attacks in Paris and Brussels, he said, "flight search demand to Europe is currently down about 13 percent for 2016 to date compared to 2015 to date."
Though it is too early to see specific effects from the EgyptAir crash, flight prices to Egypt have fallen about 4 percent from last year, according to Hopper.