Delta passenger kicked off flight after using restroom sues for racial discrimination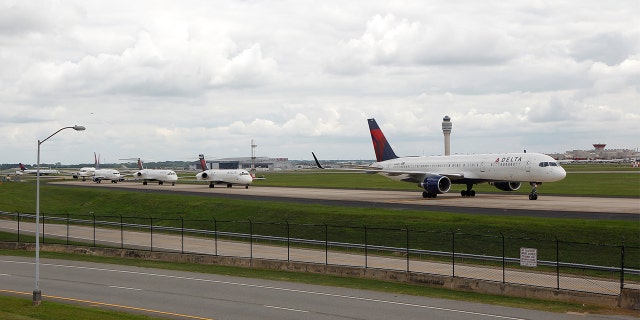 A Delta passenger who was kicked off a flight in April for using the lavatory while the plane was taxiing has filed a federal lawsuit against the airline alleging racial discrimination.
In the lawsuit filed Tuesday, Kima Hamilton, a black man, says the color of his skin was a factor in Delta's decision to remove him, Milwaukee Journal Sentinel reports. The suit seeks unspecified compensatory and punitive damages.
SOUTHWEST FLIGHT MAKES EMERGENCY LANDING OVER COFFEE MAKER
On April 18, Hamilton was sitting on a plane at Atlanta's Hartsfield–Jackson International Airport bound for Milwaukee. After waiting approximately 15 to 20 minutes on the tarmac, he asked a flight attendant to use the restroom, but was told they would lose their place in line for takeoff and he'd have to return to his seat.
After waiting some more, Hamilton couldn't hold it any longer, so he quickly used the restroom then sat back down. Shortly after, the pilot announced the plane would be returning to the gate so a passenger could be removed. Two Delta employees then boarded the plane and approached Hamilton, one after the other, telling him he needed to get off the plane.
A fellow passenger seated across from Hamilton, Krista Rosolino, recorded the incident on her cell phone. "I purchased this ticket. I've -- I had an emergency. I had to pee. ... I tried to hold it the first time. ... I absolutely couldn't...and now I'm being kicked off the plane," Hamilton can be heard saying in the clip.
BREASTFEEDING MOM KICKED OFF SPIRIT FLIGHT FOR 'NON-COMPLIANCE'
After initially refusing to get off the plane, Hamilton complied and was met with FBI agents at the gate. All of the other passengers were forced to get off the plane as well, the Sentinel reports.
Hamilton was then denied from purchasing another plane ticket from Delta, though he was credited back a portion of his initial fare. Hamilton told WDJT he was forced to buy a ticket for a Southwest flight at three times the price of his original Delta ticket to get home later that day.
Delta issued the following statement regarding the incident and Hamilton's lawsuit.
"Our flight crews are extensively trained to ensure the safety and security of all customers. It is imperative that passengers follow FAA regulations to comply with crew instructions during all phases of flight, especially at the critical points of takeoff and landing, which our findings indicate this customer did not do," a Delta spokesperson told Fox News in a statement.
FOLLOW US ON FACEBOOK FOR MORE FOX LIFESTYLE NEWS
"We take any claims of discrimination seriously though we cannot comment further on pending litigation."