China restricts popular report-a-bribe websites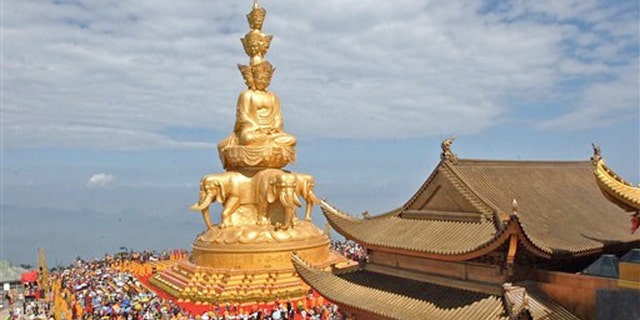 BEIJING – Fed up with the endless payoffs and bribes endemic in China, public relations consultant Chen Hong ripped off an idea from India: set up a website to let people post anonymous tips on official bribery. It proved wildly popular — and short-lived.
Chen's website — www.ibribery.com — drew 200,000 unique visitors in two weeks. Its anonymous posts wrote about bribing everybody: officials who demanded luxury cars and villas to police officers who needed inducements not to issue traffic tickets. Some outed doctors receiving cash under the table to ensure safe surgical procedures. Mainstream media spread word about the site, amplifying the outrage among netizens.
Then, the censors stepped in, Chen said, blocking access to the site for people inside China. Worried that he was risking trouble, the 28-year-old Chen shut down his site over the weekend.
"Bribery has just become a way of life in China and everyone is affected," said the fast-talking Chen, who owns his own online public relations consulting company. He thought the site would help the government by giving people a forum to vent: "I didn't want the site to be perceived as a threat, but more to help them solve problems that already exist."
Corruption is a deep-seated ill in China. The communist leadership has launched numerous campaigns over the past dozen years to eradicate it. Public surveys routinely list it as the No. 1 grievance, saying graft has worsened with economic prosperity.
The brief history of Chen's website underscores Beijing's stance in rooting out corruption: While wanting to end pervasive graft, the authoritarian government wants to do it itself, worried that involving the public risks letting popular anger boil over.
"In addition to fear of groups that may use the site as a tool to rally for protests against the government, they'll also be concerned about slander against officials," said Liao Ran of Transparency International, a Berlin-based anti-corruption watchdog.
"China's corruption problems run deep especially with a weak judicial system and the lack of press freedom. That's why people take extreme measures like committing suicide," said Liao, "because there is no other means of airing their grievances."
The Internet has been a megaphone for popular disaffection in China, and with the world's largest population of Internet users, the outrage can build quickly. Activists among China's 450 million netizens have seized on instances of abuses of power by officials and their relatives.
When the 23-year-old son of a police official was stopped by a crowd after his car struck and killed a student, his plea of defiance — "Go ahead, sue me. My father is Li Gang!" — rocketed around the Internet becoming a catch-phrase. Li Qiming got six years in prison.
Chen decided to set up his website after reading about a similar one in India, www.ipaidabribe.com, run by a Bangalore-based non-profit group. Chen said he thought about ordinary citizens like his mother, a junior high school teacher who often fends off gifts of money, food, and crafts from parents hoping for preferential treatment for their kids.
Within days of Chen's site taking off, several other bribery-reporting copycats such as www.522phone.com and www.wohuixingle.info also surfaced.
They have now been shut down too. Chen said although the government has not contacted him, he has talked to other webmasters who said they closed their sites after warnings from the government. The people who set up those websites either did not return emails or declined to comment.
Calls to the Ministry of Industry and Information Technology, which oversees Internet controls, rang unanswered. A request for more information faxed to the State Council Information Office, which also has an office that oversees the Internet, received no response.
Wu Yuliang, a vice chairman of the Communist Party's anti-corruption agency, said at a news conference Wednesday that the government values the role the Internet can play in combatting corruption. Still, he said, such websites should operate in accordance to law.
"I'm sure they're worried that the site will get out of control without proper monitoring and create havoc," Chen said. "I understand their concerns, but I will look into restarting the site even if it's blocked."
He said he is currently applying for a license with China's Internet control body, hoping to gain approval to operate the site on the mainland. Chen said he is still working with about 30 other volunteers from around the country to improve the site while it is offline.
Government leaders routinely acknowledge how bad corruption is, but insist authorities are actively trying to eradicate the scourge. China ranked 3.5 on watchdog group Transparency International's 2010 Corruption Perceptions Index which rates countries on a scale of zero, being highly corrupt, to 10, being highly clean. That put China at the same rating as Thailand, Serbia, Greece and Colombia. The United States came in at 7.1, well below Denmark, New Zealand and Singapore, which were at the top with 9.3.
In recent years, senior party politicians and government ministers in China have been jailed and in at least one case executed for corruption.
A recent report on graft released by the People's Bank of China said corrupt Chinese officials have stolen more than 800 million yuan ($120 billion) and fled overseas since the mid-1990s, with the U.S. being a top destination. Wu, the anti-corruption official, said those figures are incorrect, but declined to clarify.
Many experts, including those within official think tanks, say that unlike India, with its robust activist groups and traditions of free speech, the Chinese government is more interested in stifling outward dissent to preserve social stability.
But they question whether corruption can be contained unless the government fully engages the public's help and allows greater transparency. The Internet, they said, offers a degree of anonymity ideal for encouraging tips.
"Because saving face is such an important aspect of Chinese culture, the online forum is perfect for airing out sensitive issues," said He Zengke, director of the Institute of Contemporary Marxism at the Central Compilation and Translation Bureau, a Communist Party research institute.
"The government should look at these sites as a good thing and we should encourage similar forums to help push reform, transparency, and more public involvement in China."