Hotels, bed and breakfasts, hostels, and even tents; these are all places you would probably consider acceptable accommodations for your next vacation.
Well what about a tree? Would you mind sleeping amidst birds and their fellow canopy dwellers as part of your next getaway?
OK, we're not talking about literally sleeping in a tree. We wouldn't expect you to turn a branch into your bed. (Although, if you did do that we'd give you major props.) We're talking about treehouse tourism; a rapidly growing niche within in the travel industry that we absolutely adore, not only for its eco-friendly features, but also for its ability to channel that adventure-seeking, tree-climbing child that lives inside us all.
Across the U.S. and around the world more and more treehouses are becoming available for overnight stays the same way you might book a room in a traditional hotel. In fact the craze is becoming so popular that Pete Nelson— a professional treehouse builder and the owner of Treehouse Point, a treehouse resort in Fall City, Washington— is the star of his own Animal Planet show, Treehouse Masters.
The best part about the growth of this travel trend is that the availability of so many different types of treehouses provides getaway opportunities for all types of personalities.
From rugged cabins tucked away deep within the rainforest to elegant abodes equipped with endless amenities, a wide variety of styles and locations to choose from make it easy to create the treehouse getaway of your dreams. (We know, your seven-year-old self is jumping up and down right now.)
1. Beach Treehouse— Kilauea, Hawaii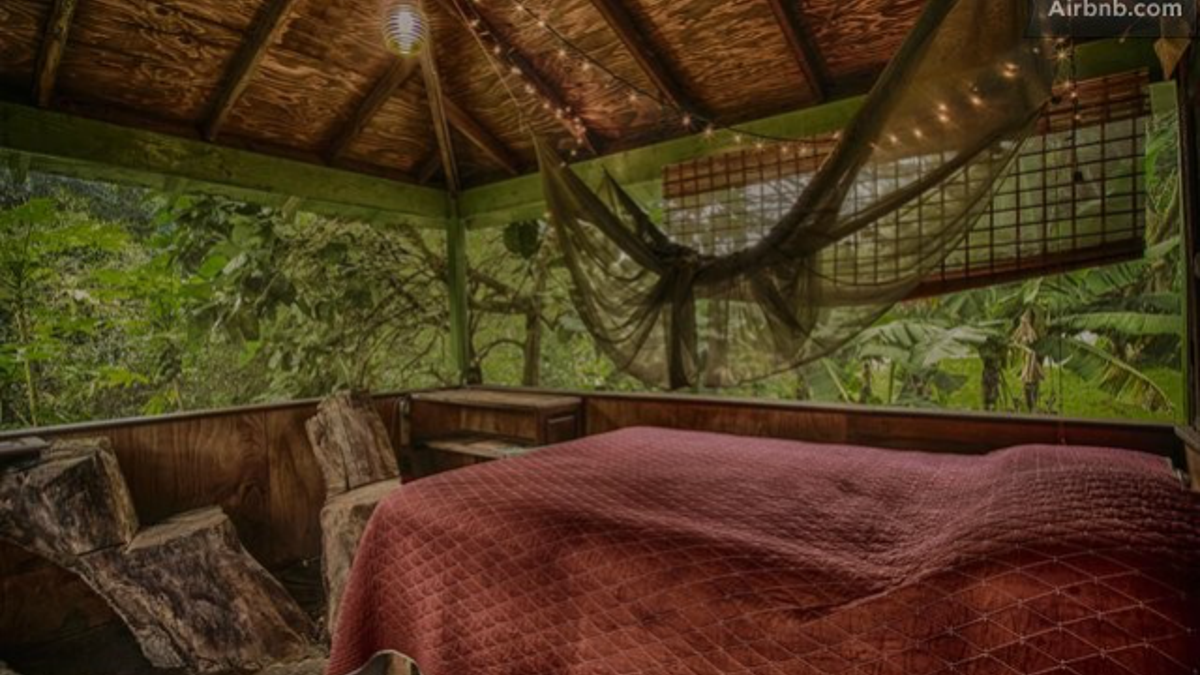 Guests of this exotic escape will find it easy to appreciate the natural beauty of Hawaii's Kauai Island. Situated just a 10-minute walk from Moloaa Bay (famous for providing the backdrop to several scenes in Gilligan's Island), a trip to this treehouse offers endless opportunities for engaging in water sports (among other equipment visitors have access to snorkeling gear, surf boards, kayaks, fishing poles, beach towels, scuba tanks, and boogie boards) and while the small treehouse includes not much more than four walls, a roof and a bed, amenities include a common area with a full kitchen, wireless Internet (although guest are encouraged to unplug), and bathrooms with modern toilets and showers.
$79/night
2. The Upper Pond— Fall City, Wash.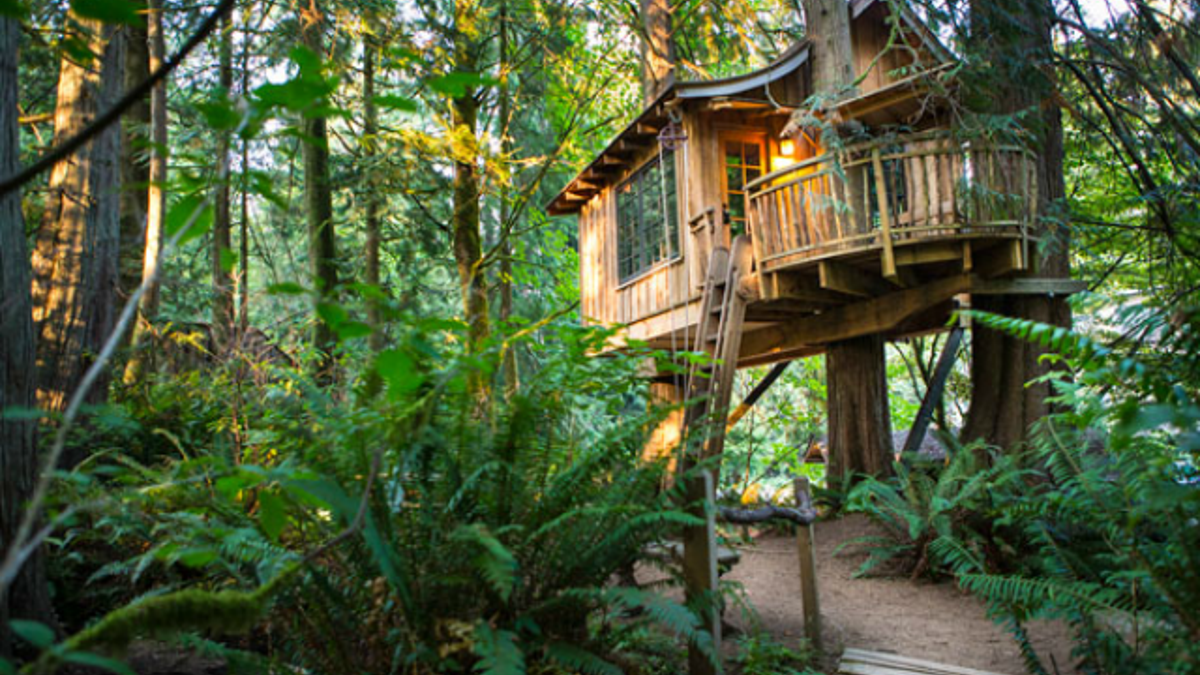 Disconnect from the hustle and bustle of everyday life and dive deep into the tranquility of TreeHouse Point. The Upper Pond is one of six high-up houses in this unique Washington resort that's located only 30 minutes outside of Seattle. Owner Pete Nelson has been building treehouses for 20 years and is the star of Animal Planet's Treehouse Masters, so a stay here ensures one of the most authentic treehouse experiences that money can buy.
$330/night;
3. Sierra de Huétor Treehouse— Andalusia, Spain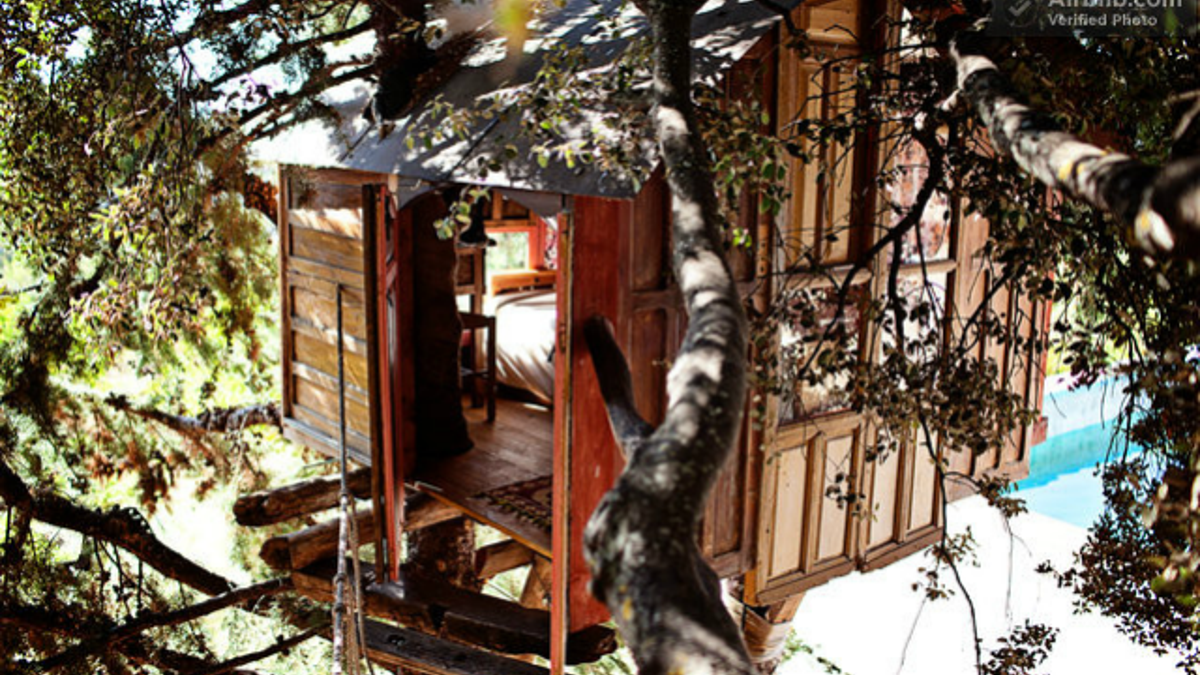 Just like a secret clubhouse, to enter this arborous abode you'll first have to scale a makeshift set of wooden plank stairs before crossing the hanging bridge that will lead you through the front door. An outdoor kitchen equipped with a barbeque and shared outhouse restrooms make for camp-like accommodations. While you're here explore the nearby Arab baths, cave villages, wineries, or Sierra Nevada National Park. When you return to your tree home, unwind easily as you enjoy unrivaled mountain views.
$43/night;
4. Big Pine Treehouse— Eureka Springs, Ark.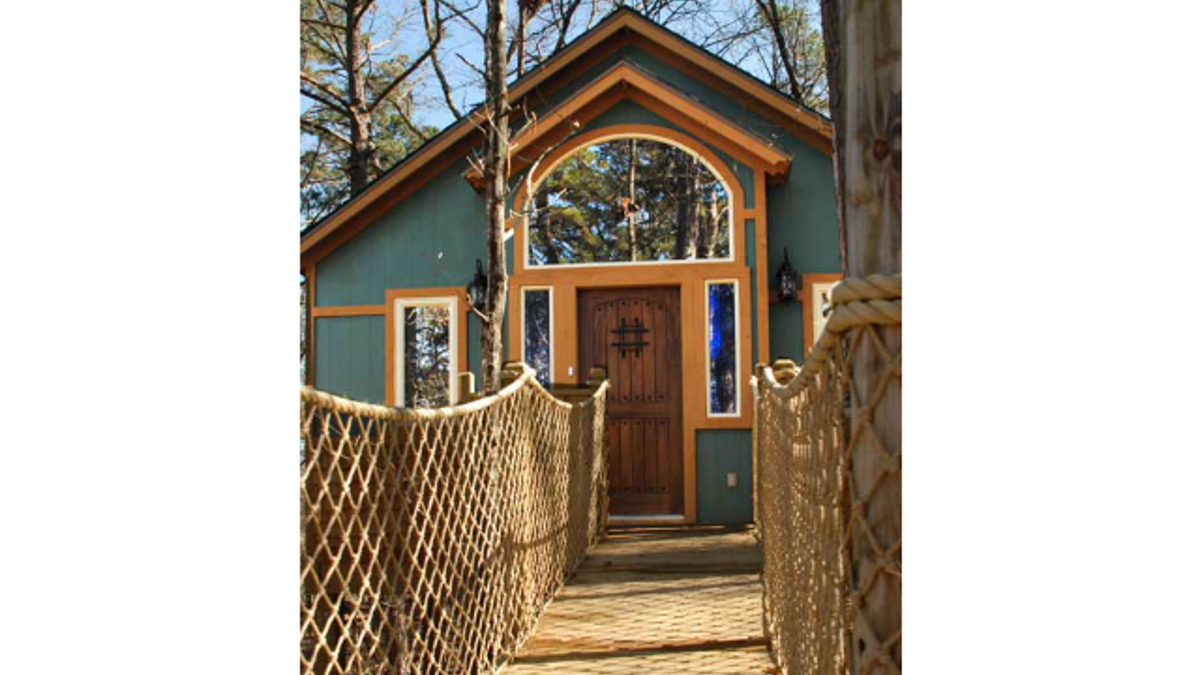 Picturesquely plotted within the woodlands of Arkansas, conveniently located just five minutes from Eureka Springs— a historic Victorian town in the Ozarks— and with seven different beautifully designed treehouses to choose from (the Big Pine is our favorite), The Grand Treehouse Resort is something of a treehouse haven. The one-of-a-kind resort offers wedding, anniversary and birthday packages making it an ideal celebration getaway for nature-lovers of all kinds.
Starting at $149/night;
5. Connecticut Treehouse Getaway— Sharon, Conn.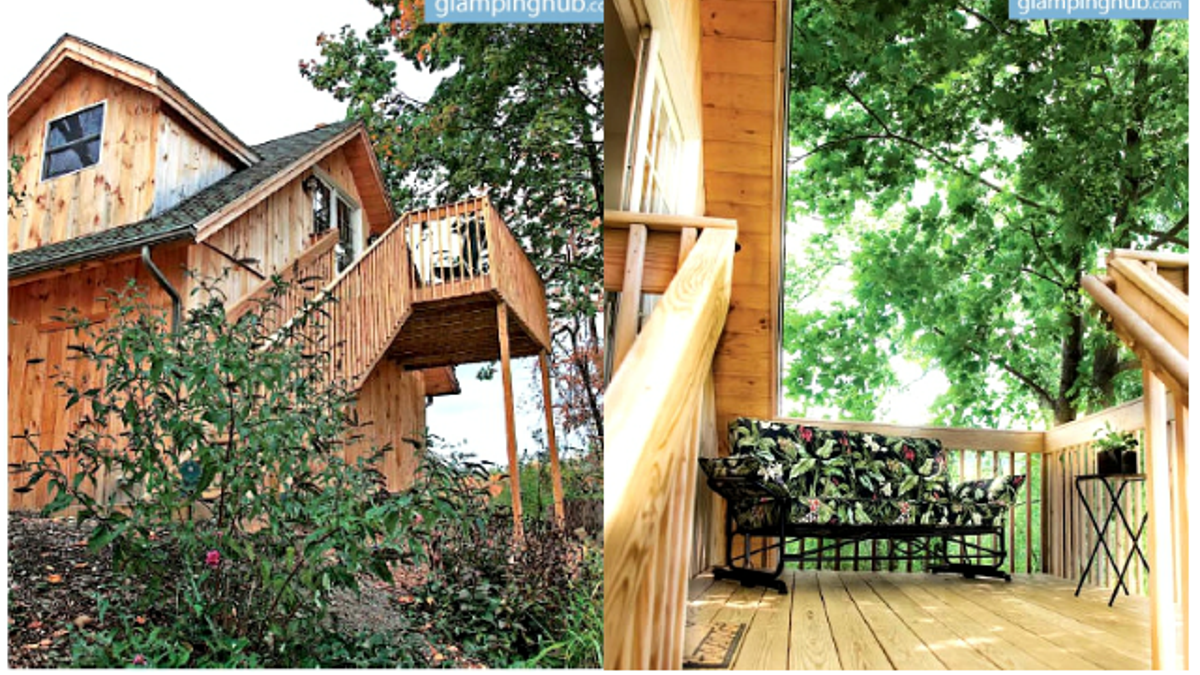 This for-rent treehouse is best enjoyed during the fall when rural New England showcases an awe-inspiring display of fall foliage. It sits at the end of a secluded dirt road and overlooks a 30-acre pond making for a peaceful escape from the hectic hustle of everyday living. Nearby attractions include the Hotchkiss School and the Lime Rock Park racetrack, and those in search of outdoor adventures will find plenty to do with miles of trails at the Audubon Center and opportunities for canoeing on the Housatonic River.
$242/night;
Read the full article for more treehouses for rent.
More from TheActiveTimes:
12 Tree Houses You Have to See to Believe
12 Incredible Places for Luxury Camping
The Most Amazing Scuba Dives on the Planet