Cat misses flight after escaping carrier at John F. Kennedy International Airport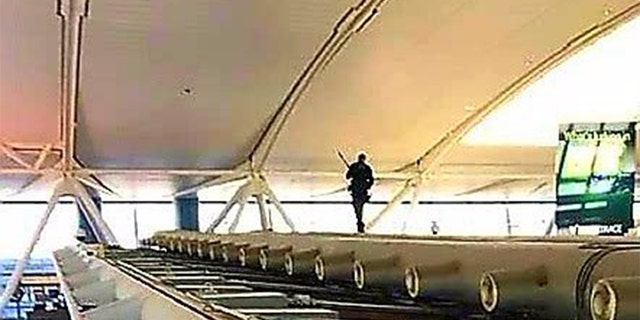 A 29-year-old woman was forced to head to China alone after her beloved cat, Pepper, escaped from a carrier at John F. Kennedy International Airport in New York.
Pepper's owner, who was not named, works as an attorney and was relocating to China for a job. She was checking in for her flight late Friday morning when the cat's carrier fell and the door popped open, causing the feline to flee.
DOG REUNITED WITH FAMILY AFTER AIRPORT ESCAPE
According to New York Daily News, Pepper jumped onto the check-in counter and then leapt onto a low roof of the check-in kiosk before running away.
"It's a lovable cat," the owner's friend, who also requested not to be named, told New York Daily News. "I don't know why it ran off. I think it was in shock with everything that was going on."
The friend shared a photo of Pepper hoping someone would see it running around the international terminal.
The Port Authority Police Department conducted an exhausted search for the pet on Friday hoping to reunite the worried traveler with Pepper, but could not locate the missing animal.
"She was really upset," the friend said to New York Daily News. "She was crying for hours. She had that cat for four years. I think she got the cat originally in California at a shelter."
FOLLOW US ON FACEBOOK FOR MORE FOX LIFESTYLE NEWS
Port Authority police are still searching for the black and white cat, as are travelers -- some of whom reported seeing "the tail of the cat," but have not been able to capture it.