Carnival Cruise Line investigating its security team after 'bloodbath' brawl gets 23 ejected
The Carnival Corporation said on Monday that it plans to investigate "all aspects" of a large-scale brawl that broke out on a recent cruise, "including the security response," according to Reuters.
Carnival had previously stated that it would be launching a full investigation into the incident, which took place in the early hours of Feb. 16 near the tail end of the Carnival Legend's 10-day trip out of Melbourne, Australia. In footage of the altercation shared by 3AW later that day, dozens of passengers and staff members could be seen punching, kicking and wrestling in what appeared to be a violent altercation near the ship's nightclub.
WARNING: Video contains graphic content and language.
One witness later described the fight as a "bloodbath," while another said the rest of the ship's guests were "truly scared for [their] safety."
P&O CRUISE FORCED TO TURN AROUND AFTER WOMAN SMACKS MAN WITH A WINE BOTTLE
As a result of the violent fighting, police unloaded 23 members of a large extended family from the Carnival Legend in Eden, New South Wales, on Friday afternoon.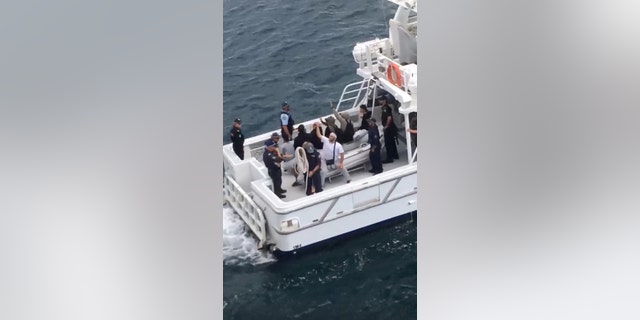 On Monday, however, the Carnival Cruise Line stated that it will be reviewing its own staff's actions during the melee.
"Our security team responded in several instances to extremely unruly behavior by these guests while the ship was at sea," Carnival said in a statement obtained by Fox News. "One particular altercation in the nightclub began when the group physically attacked other guests. The actions seen on the video by our security team are not in line with our values and policies. We are conducting a full investigation and will take appropriate corrective action as necessary."
"The actions seen on the video by our security team are not in line with our values and policies."
Carnival further confirmed that the ship's other guests disembarked in Melbourne on Feb. 17 as scheduled. The company also said it offered each guest a 25 percent discount on a future cruise, though some were less than thrilled at the prospect.
"I won't be travelling Carnival ever again so a 25 percent off a future cruise in my eyes is unacceptable," passenger Mark Morrison told the Associated Press.
FIGHT OVER MAN'S FLATULENCE FORCES FLIGHT TO MAKE EMERGENCY LANDING
Other guests had also claimed that the family had been harassing guests and staff from "the minute they got on the ship," and had even threatened to stab or throw people overboard.
WARNING: Video contains graphic content and language.
"[It was] very violent, they were full-on attacks," said passenger Lisa Bolitho, who described the unruly passengers as being from the same "big Italian family."
Bothilo claimed she informed the ship's captain about the problem, but quoted him as saying, "What do you want me to do about it — throw them overboard?"
FOLLOW US ON FACEBOOK FOR MORE FOX LIFESTYLE NEWS
Police in New South Wales said on Friday that the 23 passengers were transported to Canberra, where other travel arrangements were made to transport them to Melbourne.