American Airlines pilot buys Papa John's Pizza for 159 passengers after flight is diverted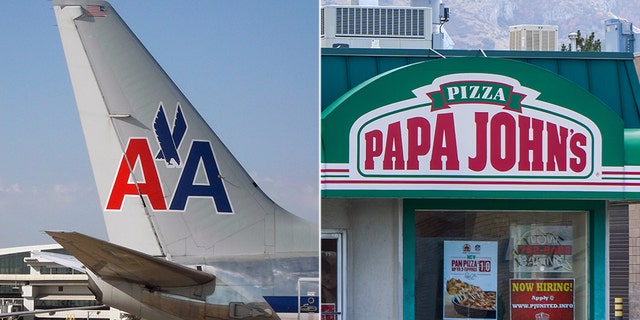 An American Airlines pilot is being praised online for his sweet gesture after a flight was met with an unexpected diversion.
Flight 2354 from Los Angeles to Dallas/Fort-Worth was diverted to Wichita Falls, Texas, due to extreme thunderstorms in northern Texas, American Airlines confirmed to Fox News.
The plane was safely diverted into the regional airport on Thursday night. However, the next flight for Dallas/Fort Worth would not be until Friday morning.
AMERICAN AIRLINES FLIGHT ATTENDANT TOLD PASSENGER TO 'PEE IN A BAG' AFTER PLANE'S TOILETS OVERFLOW
Understanding the frustration of the 159 stranded passengers, captain Jeff Raines took it upon himself to make the best of an unfortunate situation.
Raines called up the local Papa John's and placed an order for 40 pizzas to be delivered to the small airport.
In a video of the event, the pilot can be seen going back and forth between the delivery car and the passengers waiting outside the terminal.
People in the video can be heard saying "What a guy," about the pilot's selfless action.
Raines, however, explained he could not have done it without his crew.
UPSET TEEN ON AMERICAN AIRLINES FLIGHT RECEIVES 'LIFE ADVICE' FROM 64-YEAR-OLD
"Thanks for the compliments however this was a 'TEAM' effort," Raines said in a statement on Facebook, FOX6 reports.
"My First Officer was on the telephone with crew tracking / hotel desk arranging for our release and hotels for the entire crew. The Flight Attendants manned a galley cart from the aircraft serving waters, juice, and sodas to all the passengers in the terminal. All while the Envoy SPS Personnel were arranging for a bus, re-booking flights, and answering a flurry of questions from these passengers. Thanks to everyone for your help – there is no 'I' in TEAM," he continued.
American Airlines told Fox News it was proud of its crew members' actions.
FOLLOW US ON FACEBOOK FOR MORE FOX LIFESTYLE NEWS
"All of us are always proud of our crew members who take great care of our customers who fly on American Airlines. We are fortunate that our crew members are the best in the business," the airline said.
The flight repotedly took off for Dallas/Fort-Worth Friday morning.