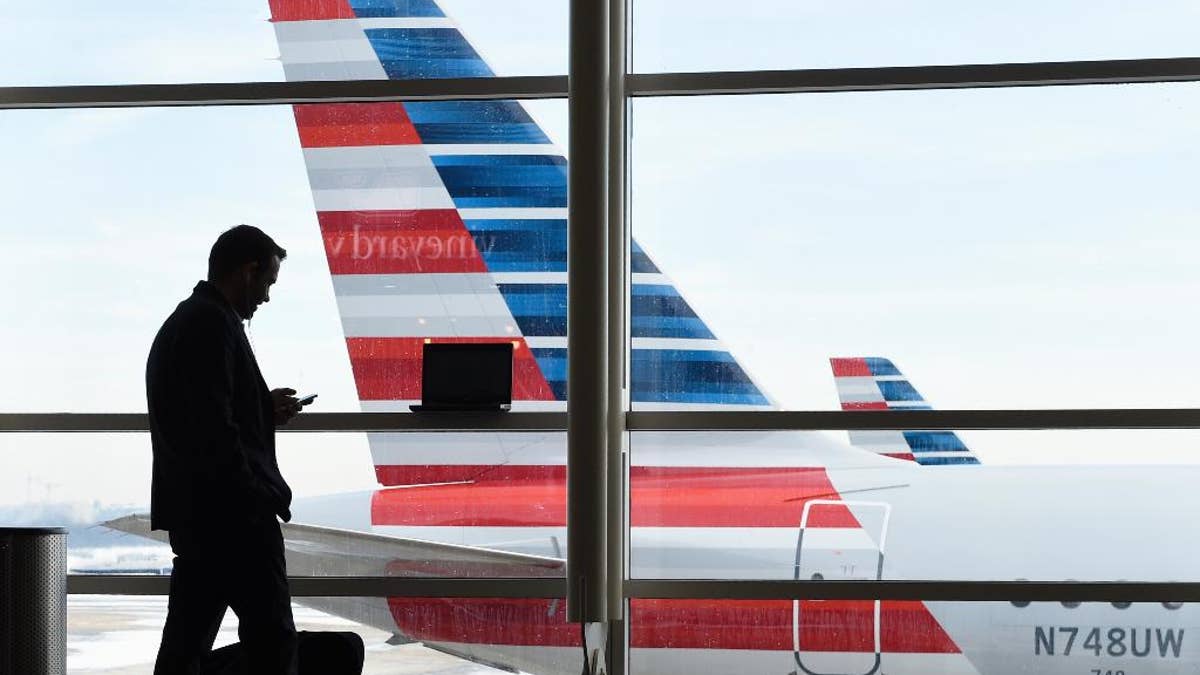 American Airlines on Friday responded quickly to a video that shows a sobbing mother with baby in arm after a confrontation with a male member of the flight crew.
WARNING: GRAPHIC LANGUAGE
The initial reported confrontation was not in the video, but a passenger on the flight out of San Francisco said the employee "violently took a stroller from a lady with a baby" and hit her, "just missing the child." The airline announced the worker was "removed from duty."
The woman in the video appears shaken and barely can catch her breath.
A male passenger is seen getting up from his seat. He can be heard saying he wanted to know the worker's name.
Later, this unidentified passenger confronts the flight attendant, telling him, "You do that to me and I'll knock you flat." The flight attendant responds with, "Hit me. Bring it on."
The flight landed at about 7:45 p.m. at Dallas-Fort Worth International Airport. American Airlines issued the statement minutes after the plane landed.
The airline apparently learned from the recent United Airlines fiasco, and acted quickly. The woman's seat was upgraded to first class, and she was put on another flight.
The airline's statement added, "We have seen the video and have already started an investigation to obtain the facts. What we see on this video does not reflect our values or how we care for our customers. We are deeply sorry for the pain we have caused this passenger and her family and to any other customers affected by the incident. We are making sure all of her family's needs are being met while she is in our care."
Bob Ross, president of the Association of Professional Flight Attendants union, which represents American Airlines workers, said in a statement that tight schedules, overcrowded planes, shrinking seats and limited overhead bin space have made it difficult for flight attendants to board passengers.
"All of these factors are related to corporate decisions beyond the control of passengers and flight attendants," Ross said.
The incident comes less than two weeks after video of a man being violently dragged off a United Express flight sparked widespread outrage."American doesn't want to become the next United, but then, United didn't want to become the next United," said Henry Harteveldt, travel industry analyst at Atmosphere Research Group. "No airline wants to be seen as being anti-consumer or anti-passenger."
The Associated Press contributed to this report.