Airline debuts first 'Star Wars' themed airplane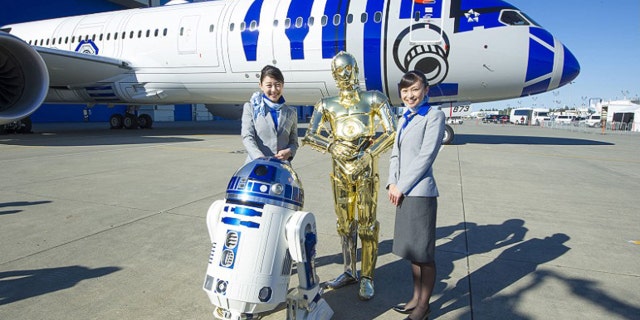 Now "Star Wars" fans can really fly through a galaxy far, far away.
Japan's largest airline, All Nippon Airways, debuted the first of three "Star Wars" themed jets over the weekend. The Boeing 787-9 Dreamliner, which seats 215 passengers, is inspired by Luke Skywalker's robot friend R2-D2.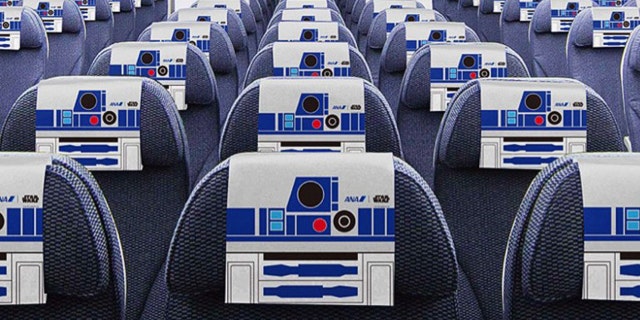 ANA partnered with Disney ahead of the release of the latest movie installment "Star Wars: The Force Awakens" to decorate a trilogy of themed aircraft.
From the exterior, the R2-D2 plane looks remarkably similar to its counterpart from the feature films with blue striping and painted on ports. The interior of the plane features robot-decorated headsets, cups and paper napkins.
Flyers will be able to enjoy all six episodes of the "Star Wars" films in the franchise—this is the first time any of the films have been offered as in-flight entertainment on a commercial aircraft, reports CNN.
The first plane will initially shuttle passengers between Tokyo and Vancouver, with the first flight scheduled to take off Oct. 18. After its inaugural flight, the shuttle will be offered on routes between Japan and several cities in Europe, the U.S., Australia, China and Indonesia.
The next plane, which is scheduled to be unveiled in November, will be a modeled after a new droid character, BB-8, from "The Force Awakens." And the final general movie themed plane will roll out in March 2016, offering service between Japan and North America.