After failed experiment, preakness doubles down on party atmosphere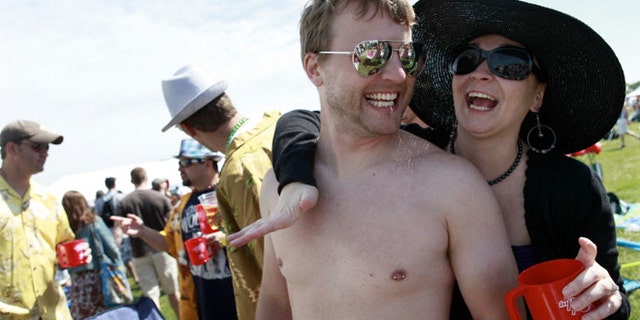 The 2012 Preakness will feature Grammy Award-winning artists, all-you-can-drink beer, and a "party manimal" with a unicorn-man sidekick.
Oh, and a horse race.
Four years after organizers failed to transform Maryland's most famous race into a family-friendly event, the Preakness is stepping up efforts to preserve its self-proclaimed "best party in Baltimore" status.
"We've always viewed (the Preakness) as the people's race, the people's party," Maryland Jockey Club President and Chief Operating Officer Tom Chuckas said of the annual race scheduled for May 19.
The 2008 installment of that party -- fueled by cases of beer brought by infield spectators -- ended with 300 people in the hospital, 126 ejections from Pimlico and six arrests.
"The biggest problems we faced were the injuries," Baltimore City Police spokesman Anthony Guglielmi said. "People would get intoxicated, then climb up on and run across port-o-potties. People in the infield would throw beer cans at them, causing some serious injuries."
After the 2008 race, the Maryland Jockey Club attempted to make over the race's party-first image, setting the safety of spectators as the top priority.
They banned outside alcohol at Pimlico. Instead of store-bought cases of National Bohemian, in 2009 fans had to pay $3.50 for a 16 oz. beer.
Fans met that decision with hostility. Attendance dropped more than 30 percent, the Preakness' lowest total since 1983. That put the second-oldest racetrack in the nation in jeopardy of losing the middle jewel of the Triple Crown.
"If you've ever been to a horse race at Pimlico, you have to wonder if you'd bring your 5-year-old into that environment," said Stephen McDaniel, a sports and entertainment marketing professor at the University of Maryland College Park.
"If you're trying to build a fan base, you're really handcuffed. There's a lot of things that the horseracing industry, particularly in Maryland, would like to see fixed," he said.
In need of an attendance boost, the Preakness abandoned its family-first outlook and re-emphasized the party atmosphere in 2010.
Organizers chose "Get Your Preak On" as the cornerstone of their new, social-media marketing campaign.
"The 'Get Your Preak On' campaign was edgy and controversial," Chuckas said. "It put us on the map."
To sports marketing experts, the move indicated that the Maryland Jockey Club was more concerned with attendance than the race's image.
"The Preakness has made it known where they stand on their campaign. They are looking to fill the seats, and they have done so in lieu of their reputation," said Ronald Oswalt, CEO of Sports Marketing Experts, a consulting firm.
That year, organizers also introduced a special infield "MUG Club" ticket that included a bottomless mug of beer.
"(In 2008) any individual could come to the Preakness loaded up with a keg of beer and 20 cases of beer," Chuckas said. "We've provided the MUG Club ... You can drink all day. As far as the best party, it's a deal you can't beat."
The MUG Club allows the infield to function much like a bar. Bartenders have the ability to cut people off, leading to fewer hospitalizations and injuries.
"It was a wise decision by race personnel to make that change, and everyone seems to have a more enjoyable time. It's a much classier event," Gulielimi said, noting there were no arrests last year.
Last year, the Preakness took another step to emphasize the party -- by introducing a half-horse, half-man with a nipple ring and a beer gut as the infield's mascot.
The party "manimal" hit Facebook, Twitter, YouTube and billboards across Baltimore with a simple message: Let's party.
"Attendance is driven by the fact by people want to have a keg party. Kegasus puts a face to that," McDaniel said.
Though non-traditional, Kegasus' marketing tactics worked. Along with fillies, broad-brimmed hats and black-eyed susans, Kegasus quickly became an icon at Preakness.
The infield demographic -- 21 to 35-year-olds -- noticed. The infield attendance grew 12 percent between 2010 and 2011 to more than 107,000.
"(Kegasus) was promoting a party. He was trying to create some interest because one of the dilemmas we faced was getting young people out here. He did that for us," Chuckas said.
Still, the Preakness has earned more of a party reputation than the other legs of the Triple Crown.
"The Kentucky Derby is very gentrified. If you compare the Preakness to the Derby, this is why people in horse racing are not in favor of Kegasus. They feel it's not helping the image. It's appealing to the lowest common denominator," McDaniel said.
But the success of Kegaus and the InfieldFest convinced Preakness organizers to do more to expand the party atmosphere.
This year, the InfieldFest will kick it up yet another notch with live performances by Grammy winners Maroon 5 and multi-platinum rapper Wiz Khalifa.
There will also be Olympic beach volleyball matches, corn-hole competitions and a bikini contest.
"What does it say about the state of horse racing that you're so concerned with attendance that you're having a keg party in the infield?" McDaniel asked.
"Horse racing has tried over and over again to get people interested, but they can't. Running a promotion like this is saying, 'Come out and drink.'"
But Preakness organizers say their party-first model is the only way to attract new fans.
"It's been a rite of passage going back a number of years. Anybody and everybody believed as they got older the Preakness was a stop on their journey to adulthood," Chuckas said. "Those kind of actions will keep Preakness where it is today and help it grow."
But McDaniel worries that horse racing may eventually crash the party.
"It'll be interesting to see if they're able to maintain this because of the implications of promoting drinking," he said.
The 2012 race will also feature a new party mascot. Kegasus' sidekick UniCarl, a half-man, half-unicorn serves as Kegasus' personal assistant and trainer, according to lore developed by Preakness marketing staff.
"UniCarl was created to continue to expand Kegasus' role. He's a sidekick to Kegasus, and it also generates some interest from the demographic we're trying to reach," Chuckas said. "It takes some of the pressure off Kegasus. It's like the Lone Ranger and Tonto."
Capital News Service contributed this report.