A proposed Robin Hood theme park to be build in Sherwood Forest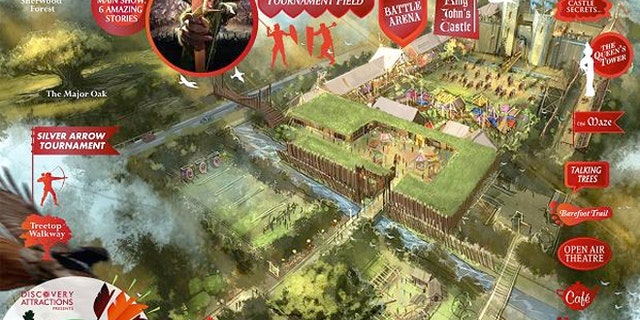 Robin Hood lived with his band of merry men in Sherwood Forest.
Now, if plans for a new multimillion-dollar visitor theme park are approved, visitors can experience first hand what it's like to live like the English folklore hero is his very home --minus the part of stealing from the rich and giving to the poor.
The government of Nottinghamshire County, where Sherwood Forest is located, is seeking to build a $20 million visitor attraction called Discover Robin Hood, reports ITV.
If the plans are approved, the 40-acre park will feature activities such as archery, falconry, jousting and wild food cookery. The park will also have tournament field tobe used for events such as jousting shows, falconry exhibits, archery contests and costumed medieval theatre, while visitors daring to enter the maze will encounter talking trees, it is reported.
If the parks get the green light, it would open in spring 2015, developed by Discovery Attractions, which has also worked with Madame Tussauds and Alton Towers.
"Discover Robin Hood will be the first in a series of world-class visitor attractions from Discovery Attractions, based on Britain's rich heritage of myths and legends. It will bring to life the story of Robin Hood in a way that is both entertaining and educational for kids and adults alike," Rob Gray, marketing director of Discovery Attractions said in a release.
Theme parks are increasingly adorned with familiar names, which according to experts is a big draw for visitors.
Earlier this month, Paramount Studios revealed plans for a $3 billion theme park in Kent, to compete with the Disneyland Paris, which is to be packed with themed rides based on its cinema hits, which include Transformers, Star Trek, Titanic and the Indiana Jones series.