7 Tips to Avoid Family Holiday Travel Tension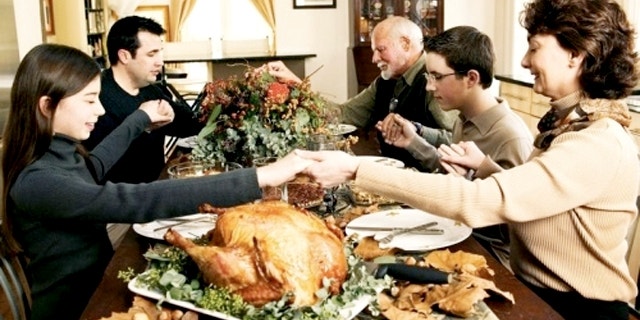 Ah, the holidays. It's filled with joyous moments where family gathers to share food, fun--and generally tries not to get too annoyed with one another.
Flying or driving to that Thanksgiving dinner can be stressful enough. But then there is the added extra stress of cramming into Grandma's one-bedroom condo in Florida or staying with the overbearing in-laws for for longer than you'd care to.
While seeing family during this holiday season hopefully comes with more good than bad, there are a few tips to help you deal the with the anxiety.
Fox News Traveler spoke with family travel expert Eileen Ogintz from TakingTheKids.com about how to make family time more enjoyable while you're traveling this holiday season.
1. Get enough space: Even though you're eating Thanksgiving dinner with Grandma or your mother-in-law – you don't necessarily have to stay with them. If there's not enough bedrooms and bathrooms for everyone, it's a great excuse to get a hotel. Some cities have special deals over the holidays because business travelers aren't booking the rooms.
2. Consider a destination: If everyone doesn't fit in one relative's home and you'll have to book hotel rooms anyway, think about spending the holiday together at a vacation resort opposed to someone's house. Changing the gathering location from year to year will make the experience more enjoyable.
3. Get out and about: Don't make everyone stay together all the time. Break up into smaller groups within the extended family for day trips or adventures. You don't walk in lockstep when you're home so why should you do it on a holiday vacation when you're supposed to relax and enjoy yourself.
4. Make it more just an obligation: Try to make spending time with family around the holidays really feel like a vacation. Plan mini-excursions to give everyone something to look forward to.
5. Avoid certain topics: If you need to, let everyone know politics, religion and parenting styles --along with other controversial issues--are not allowed to be discussed over Thanksgiving dinner. Keep the conversations neutral to avoid offending or upsetting family members.
6. Give everyone a break: Allow everyone to come and go as they want. Don't force together time. Everyone will have more fun if they feel the freedom to participate when they want to.
7. Take a year off: If it's a year when you just can't face it – such as if you've gotten a divorce, been widowed or your son has been deployed in the military - there's nothing wrong with saying, 'I'm going to go to Paris or I'm just going to do something different.'