5 European-style villages in the US to celebrate the holidays
Is there anything cozier during the holidays than the thought of a snowy Swiss chalet, a cottage in England's Cotswolds or a festive Austrian village? Unbeknown to most, you can enjoy that European feel right here in the U.S. at towns dotted across the country. From Washington State to Georgia, here are some European-style American villages with grand holiday celebrations that'll make you feel like you've hopped across the pond.
1. Frankenmuth, Mich.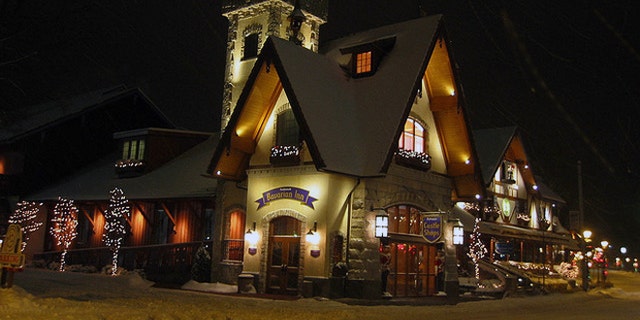 Located in the middle of Michigan in the Saginaw Valley is a quaint little town called Frankenmuth that was designed after a Bavarian village. Founded in 1845 as a Bavarian mission colony for Lutherans, Frankenmuth, now known as "Michigan's Little Bavaria," currently has a population of 4900.
Frankenmuth officially kicked off Christmas with its annual Holiday Celebration & Candlewalk on Nov. 29, when participants joined in a walk through the town's light displays while holding luminaries. The town also lit a 20-foot Tannenbaum and offered visits with Santa at the end of the trek. Frankenmuth's claim to fame during the holidays is Bronner's Christmas Wonderland, which claims to be the world's largest Christmas store. There visitors can stroll down a half-mile "lane" with thousands of lights and view beautiful outdoor displays along with a life-size Nativity. Additionally, the Silent Night Chapel on site is a replica of a church in Austria where the song "Silent Night" was written and sung for the first time.
Be sure to stop by the Old Christmas Station, a German Christmas museum that also serves old-fashioned pastries. Charming accommodations options include the Bavarian Inn Lodge, Historic Weber House Bed & Breakfast and the Marv Herzog Hotel.
2. Helen, Ga.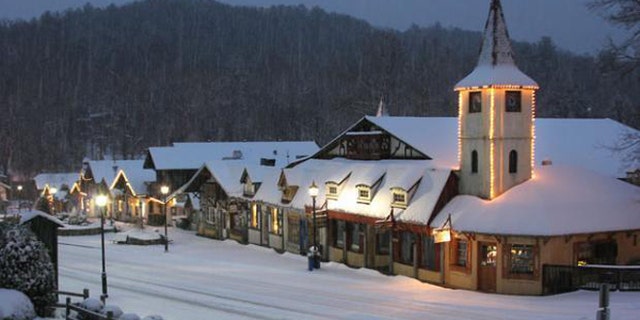 Nestled in the foothills of the Blue Ridge Mountains of northern Georgia, the town of Helen, only 90 minutes north of Atlanta, was established in the 1800s but was turned into a replica of an Alpine village in the 1960s. With its mountain setting, you'll feel like you stepped into a different time and place. For those who grew up in the '80s, this area is also the home of the "Cabbage Patch" doll.
Helen lit up its village for Christmas on Nov. 29 when Santa and Mrs. Claus rode into town on their horse-drawn sleigh. Other holiday events include beautifully decorated trees throughout the Lodge at Unicoi State Park, a live Nativity at the North Georgia Zoo in nearby Cleveland, the annual Christmas parade on Dec. 7 and the Christmas in the Mountains Festival with arts and crafts, kids' activities, hot cocoa, caroling and more, also on Dec. 7.
Must-sees include the Christmas & More German Christmas store; Elfmade Wooden Toys, a woodworker who crafts his own toys; Hofer's of Helen, an authentic Bavarian bakery; and the Christmas Shoppe, which sells local artisan ornaments. Choose from mountain cabins and bed and breakfasts like Alpine Hilltop Haus and the Sylvan Valley Lodge for overnight stays.
3. Solvang, Calif.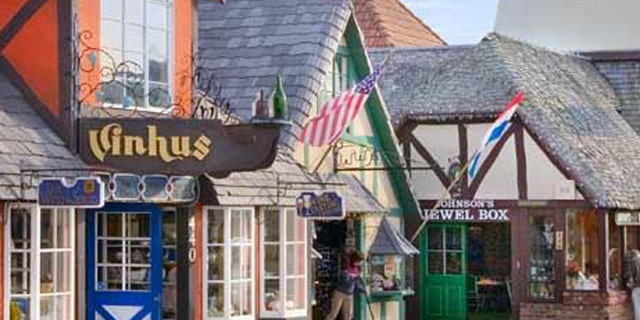 In the heart of Santa Barbara, California's wine country, with the Santa Ynez Mountains as a backdrop, travelers will find a surprising village known as California's Little Denmark. Located between Los Angeles and San Francisco, Solvang, Calif., has a population of 5000 and averages 350 days of sunshine every year. Founded in 1911 when Danish-Americans settled in the area and built schools and churches to preserve and promote Danish heritage, Solvang truly sparkles during the holidays.
Named the "most Christmas-y town in America" by Time Magazine in 2011, Solvang visitors can experience a Scandinavian holiday with the town's beautiful décor and many events. Each year Solvang hosts JuleFest, a Danish-inspired festival that includes a tree-lighting ceremony Dec. 6, an ice skating rink, a Christmas parade on Dec. 7 and S'moresFest, where visitors can roast their own marshmallows. The entire village is decorated with lights and there more than 100 live decorated Christmas trees dotting the streets in front of local merchants.
Consider the King Frederik Inn, Petersen Village Inn or Solvang Inn & Cottages for accommodations, and stop in the Danish Mill Bakery for butter cookies, pastries and bread, as well as the Jule Hus Christmas Store, with old world traditional decorations, and Gaveaesken, which sells Danish paper cuts and Scandinavian Christmas items.
4. Vail, Colo.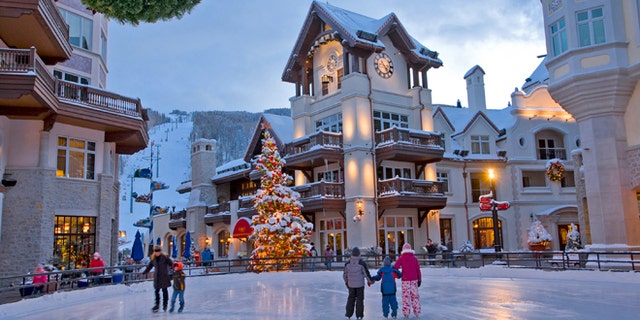 While the town of Vail is best known as a ski resort, Vail Village, a shopping, dining and entertainment district, harkens a Swiss chalet, just like you'd find at the base of the Swiss Alps. But, instead, Vail Mountain serves as the backdrop.
Patterned after the town of Zermatt, Switzerland, its buildings include decorative balconies, richly detailed doors and windows, and other building detailing such as decorative woodwork, mural and stenciling, according to Tom Braun, principal of the land planning consulting firm Braun Associates, Inc., who has worked in Vail Village. "Since its inception in 1962, Vail Village has created its own unique interpretation of a Swiss Alpine village," he says.
The town kicked into full gear shortly after Nov. 22, which was opening day for skiers. Vail's annual Holidaze celebration, which begins Dec. 20, includes ice skating performances by world-champion ice skaters, a tree lighting ceremony, carolers roaming through the village and a New Year's Eve Torchlight Ski Down and fireworks, where skiers ski down the mountain carrying torches. Vail also hosts a yearly Snow Daze series of live concerts, which this year runs Dec. 13-15, and has ice skating open to the public.
Vail offers many vacation rentals, hotels, inns and bed and breakfasts, but these can be full during ski season. Interesting shops and restaurants include Noel, the Christmas Shop; The Gilded Spruce, a year-round Christmas store; and the Swiss Chalet restaurant at the Sonnenalp Hotel, which serves authentic Alpine cuisine.
5. Leavenworth, Wash.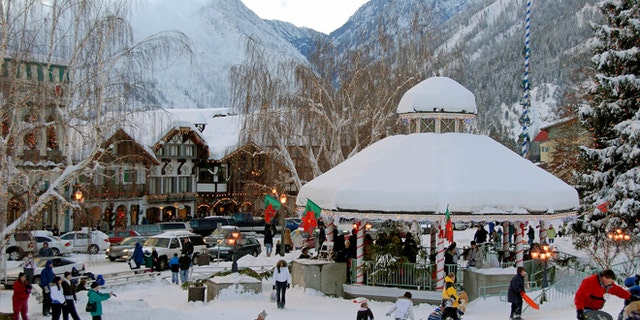 High in the Pacific Northwest is the gorgeous little town of Leavenworth, Wash., dubbed a "Bavarian snow globe." In the early '60s, town leaders decided to turn the town into a replica of German Bavaria, which they felt had no equal except the beautiful alpine area of Leavenworth.
During the Christmas season, count on snow and wander with carolers among the Bavarian-style buildings decorated with a quarter-million twinkling LED lights. Since 1966, the town has hosted a yearly Christmas Lighting Festival. The event, on weekends from Dec. 6-22, includes chestnut roasting, visits with Santa, live music, a living Nativity and a performance of "It's a Wonderful Life."
Lodging in Leavenworth varies from mountain cabins to bed and breakfasts and hotels. Options include the Leavenworth Village Inn, Bavarian Lodge and the Mountain Home Lodge. Top attractions include the Nutcracker Museum; Kris Kringl Christmas store; Nusskracker Haus, which boasts one of the largest supplies of nutcrackers in the world; and Der Markt Platz, specializing in German gift items.
Give your family a European vacation this holiday by visiting one of these American gems.