'World's biggest' helium hard drive unveiled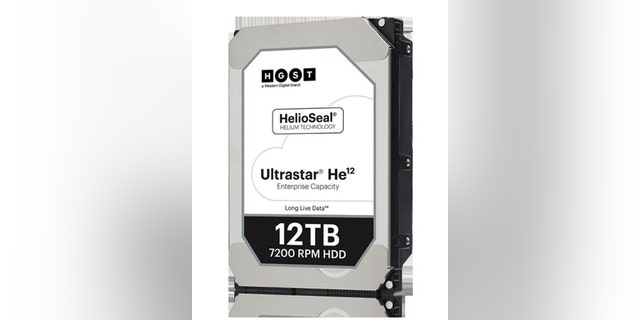 Western Digital has launched a 12 TB helium-filled hard drive.
The new Ultrastar He12, now available, gives the San Jose, Calif.-based storage device manufacturer the 3.5-inch hard drive data capacity crown – at least for the moment.
To put that into perspective, a typical mid-range laptop today ships with a 2.5-inch 1 terabyte (TB) hard drive. So, Western Digital has managed to squeeze in 12 times that capacity into a 3.5-inch enclosure.
APPLE MAY GO AFTER VENMO, BUT WHY?
The He12 is also more power efficient than its predecessor and offers a mean time between failures (MTBF) of 2.5 million hours. The high-performance models offer interface speeds of 12 gigabits per second.
Western Digital was able to pull it off by tapping into its "HelioSeal" process that seals helium in the drive. This allows it to pack in 8 storage platters to achieve the "world's first 8-disk design [with] 12TB capacity," Western Digital said in a statement.
"The stable internal environment created by fourth-generation HelioSeal technology... [increases] the capacity by 20% when compared to the 7-disk design of the prior generation," Western Digital added.
Consumers will probably settle for smaller-capacity drives
Cutting edge, massive-capacity internal HDDs (designed to be installed in a computer) are typically marketed to large business customers. And the Ultrastar He12 is no exception.
So, don't expect to pick it up at a retailer like Best Buy.
But consumers can get their hands on external drives with pretty large capacities. For example, Best Buy sells an 8TB external Western Digital "My Cloud Mirror Gen 2" drive for $599.99.
And Best Buy also offers a smaller-capacity 6TB internal Western Digital "Desktop Everyday" 3.5-inch drive for $219.99.
AMAZON JUST ANNOUNCED THE ECHO LOOK, A NEW CAMERA AND SYLE ASSISTANT
And if you can settle for a mere 4TB of capacity, internal drives can be picked up for a little over $100. Drop down to a 2TB drive and you're in the neighborhood of $75. And 1TB drives are dirt cheap these days. Western Digital sells one via Best Buy for $54.99.
Western Digital did not indicate the price of the He12 in its press release but the top-line capacity means it won't be cheap.