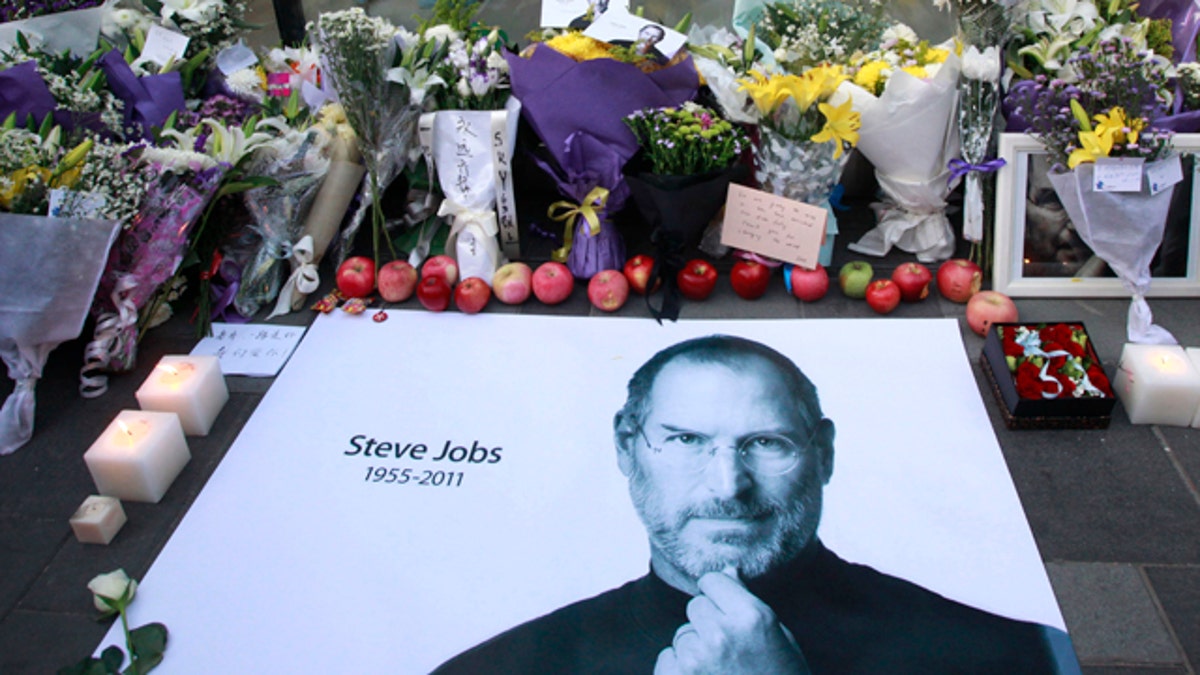 Technology and design admirers flocked to Apple stores worldwide on Thursday to express their sorrow at the death of Steve Jobs, the visionary who transformed the daily lives of millions.
The Apple co-founder who inspired the Macintosh computer, iPod, iPhone and iPad died on Wednesday at the age of 56 after a long battle with pancreatic cancer. He stepped down as Apple chief executive in August.
Flags outside Apple's headquarters in Cupertino, California, flew at half mast as mourners gathered on a nearby lawn, where fans left flowers and a man played the bagpipes.
In New York City, an impromptu memorial made from fliers featuring pictures of Jobs was erected outside a 24-hour Apple store on Manhattan's Fifth Avenue, with fans snapping photos of it on their iPhones.
"As soon as I heard the news, I came out to this Apple store to pay my respects," said business professor Gary Hamel. "I saw tears in some people's eyes."
Grieving fans all over the world left flowers, notes and apples with a bite taken out, just like the Apple logo -- instantly recognisable despite being one of the few top brand logos that does not feature the company's name.
Many said their lives had been transformed by Apple.
"I wouldn't be able to run my business without Apple, without its software. I run a video production company. It's allowed me to have my dream business," said David Chiverton who was leaving Apple's flagship Regent Street store in London.
"I bought the iPod nano, in black. I wanted to buy something to remember the day by," Chiverton said.
At the Frankfurt Apple store in Germany, Wolfgang Kummer, ex-managing director of font design and desktop publishing services company Linotype, left a white rose.
"You recognise his hand in all Apple products and I expect we will continue to see his influence," he said, adding that Jobs had changed the world of desktop publishing. "But eventually it will fade."
In Tokyo, a group of fans brought together by Twitter gathered at sunset with candlelight apps turned on on their iPhones and iPads.
And at China's biggest Apple store, in Shanghai, mourner Jin Yi expressed regret that Jobs had not lived to see even closer links between humans and their devices.
"He created these gadgets that changed people's perceptions of machines. But he did not manage to witness the last step in which, through his gadgets, people's lives can be effectively fused with these machines."
Even Apple employees not allowed to give their names to the press because of Jobs's authoritarian style of leadership said they were saddened.
A sombre-looking assistant at an Apple store in the northern English city of Manchester said: "We're carrying on doing our jobs as usual and we're not commenting on this. But at the end of the day it's our boss, and we're all pretty cut up about it."
At the Apple store in Sydney, lawyer George Raptis, who was five years old when he first used a Macintosh computer, spoke for almost everyone who has come into contact with Apple.
"He's changed the face of computing," he said. "There will only ever be one Steve Jobs."