Windows 8 Tablets Set to Challenge iPad, Android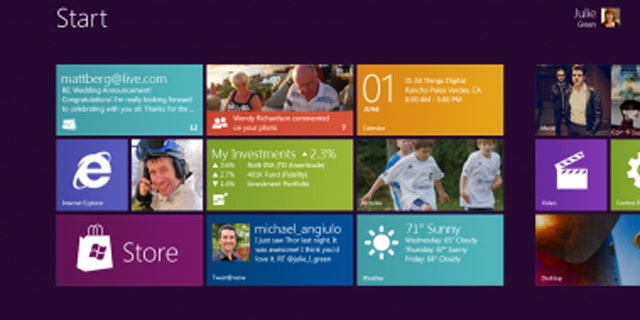 Watch your back, iPad. Look out, Android. Windows is coming.
Microsoft Windows president Steven Sinofsky showed off a prototype Windows 8 tablet at the All Things D conference in California this week -- the company's answer to Apple's "magical" device and Google's Android.
The new tablet-friendly operating system will function much like the Windows Phone 7 platform, with tiles you can flick around the screen, click to start an app, or reposition anyway you want.
The hardware for this new batch of tablets will likely mirror what's already on the market: tablets like the Motorola Xoom and Acer Iconia A500 that use the Nvidia Tegra 2 processor (and run the competing Google Android 3.0 operating system). The dual-core 1-GHz chip runs lightening fast for browsing the Web, playing games, and playing movies. Those tablets sport front- and rear-facing cameras, boast sharp graphics, and work well for touchscreen games.
In a tersely stated e-mail prior to Sinofsky's display, Microsoft spokeswoman Anna Imperati told FoxNews.com that "Microsoft has nothing to share at this time" about any upcoming Windows 8 tablets.
However, NPD analyst Stephen Baker said Microsoft is likely working on a Windows 8 tablet. One major hint: He says Microsoft is developing a version of the next OS that will run on standard PC chips and -- for the first time ever -- on a different class of processors like the Tegra, which are based on a totally different architecture.
"We all know they are working on Windows 8. We all know that tablets will be a key market for them. We just don't know when these will be in the market and competing," he told FoxNews.com.
"Expect a tighter familial relationship with the Windows Phone platform," Rob Enderle, a consumer analyst, told FoxNews.com. He expects a Windows 8 tablet to boast "full Windows capability and likely have enhancements that will dramatically reduce launch time, battery life, and communications -- with some level of Skype built in."
Not everyone agrees. Ken Dulaney, a Gartner analyst, told FoxNews.com Microsoft will have a tough road to walk in the tablet space.
"Apple made tablets popular because they created software that was another generation above Windows in ease of use," he told FoxNews.com. "Microsoft will have to change the Windows UI radically to succeed," Dulaney said.
The news of Windows 8 tablets comes as computing shifts from total reliance on desktops and laptops to a new touchscreen paradigm. And ironically, Microsoft attempted to capture the tablet market over a decade ago with the Tablet PC platform.
Of course, those devices were bulky, operated more like a computer, and required the use of a stylus.
A recent Nielson survey showed the Apple iPad has an 82 percent share of the tablet market. Financial services firm UBS has predicated sales of around 28 million units for the reigning touchscreen device. So how can Microsoft differentiate from the field?
One key to success will be a diversity of apps, Baker said. Windows developers should be able to port their wares to the tablet easily. And Microsoft has a long history of working with hardware makers, helping them bring products to market.
Baker said he'd like to see Microsoft come out with a Windows 8 tablet by the holiday season this year -- but predicts it will probably be sometime next year instead. As to whether Microsoft will shoot its own foot by promoting a switch to tablets, Baker said most people will continue using computers and carrying smartphones -- they'll just add in tablets.
"Consumers will migrate to multiple devices that do different jobs in different circumstances, and we expect to see consumers own all three types of devices over time," he said.
Still, Microsoft has an unusual ability to challenge even the biggest names in technology. The company's Bing.com search engine has encroached on Google dominance, for example. And in the video game market, the Xbox 360 has taken on and arguably bested Goliaths of the industry like Sony and Nintendo.
But will the company's market capitalization of around $208 billion let it afford the marketing resources to challenge even the mighty Apple? Only time will tell.