Will combat vehicles use urine for fuel?
A team of Army researchers did not set out to prove that human pee could fuel U.S. military vehicles and bases in the future — but their unexpected urine discovery could transform how the armed forces get energy in the field.
A U.S. Army Research Laboratory (ARL) team at Aberdeen Proving Ground in Maryland believes it has discovered a way to use urine to provide power.
Soldiers can be required to carry more than 80 pounds on a typical 72-hour mission, and more than 15 pounds of those pounds can be batteries.
Could this urine discovery reduce the load a soldier carries by a whopping 20 percent?
In future war zones, soldiers may be using their own urine to produce electricity for the devices they need on the move — from drones and night vision devices to laptops and communications equipment.
WILL A SINGLE BOMB STOP NORTH KOREA?
While urine could be used to power devices and greatly lighten the load for soldiers, fuel cells could also be used on a much, much larger scale like powering vehicles and theoretically even entire bases.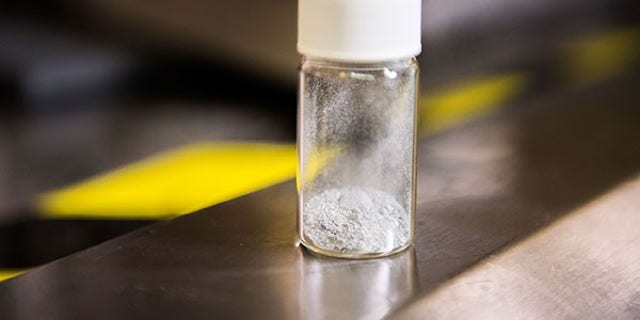 Why urine?
It is the hydrogen in the urine that Army scientists are keen to exploit to yield power.
They get the hydrogen by adding the ARL team's special aluminum nano-powder to the urine, igniting a chain reaction that releases hydrogen.
In under three minutes, one kilogram (2.2 pounds) of the powder can produce 220 kilowatts of power from urine, researchers say.
AUSA 2017: 4 AMAZING LAND VEHICLES AT THIS YEAR'S SHOW
Hydrogen is important because it has enormous potential to power fuel cells.
With hydrogen harvested from urine as fuel, the fuel cell yields electricity as well as water and heat, all three of which could be utilized by the military.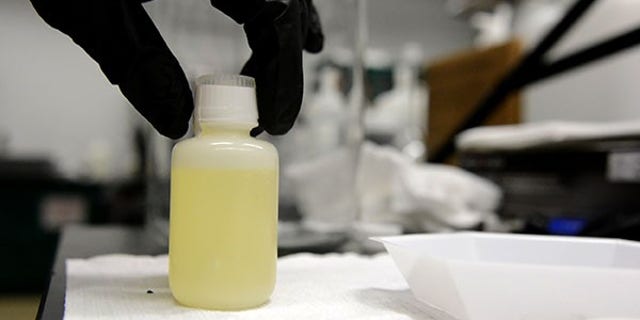 How do fuel cells work?
Fuel cells work like batteries. They contain chemicals and the chemicals are converted into electricity. With hydrogen fuel cells, the process of converting hydrogen and oxygen into water produces the electricity.
But fuel cells are different to batteries in the sense that they do not go dead or need to be recharged.
As long as there is hydrogen harvested from urine or elsewhere, the fuel cell will deliver endless electricity.
PODCAST: INSIDE THE SEAL TEAM 6 WORLD WITH THIS FASCINATING SNIPER
But why is pee important?
Why the excitement over this urine and hydrogen discovery? After all, hydrogen is one of the most common elements and can come from a range of sources.
AUSA 2017: THIS MILITARY ATV CAN 'THINK' AND DRIVE ITSELF
Hydrogen fuel cells could greatly lighten the load for soldiers so they would not have to carry battery weight anymore. But they need fuel for the hydrogen fuel cell.
One thing a soldier would always have access to in any war zone, anywhere in the world, no matter how remote and isolated ... is urine.
So this discovery could help pave the way to constant, easy access to fuel and power.
From Polaris MRZR ATVs to tanks, hydrogen fuel cells could be a future source of fuel. As far as military vehicles go, another fuel cell advantage is that they generate electricity quietly. By reducing noise, it could help reduce detection by enemy forces and enable a stealthier approach.
Again, with the fuel accessibility of urine, soldiers would always have easy, immediate access to fuel to potentially power a motorcycle or a Joint Light Tactical Vehicle (JLTV).
AUSA 2017: THIS NET MAKES US SPECIAL OPERATIONS VEHICLES 'DISAPPEAR'
In some ways, Forward Operating Bases bear certain similarities to the International Space Station. Resources are very limited and resupply can be challenging since they are remote and difficult to access.
Energy is a vital resource there to keep critical tech powered.
If urine could be converted to provide fuel, then the base would have constant access to energy.
To resupply fuel to a base, soldiers can be exposed to threats like IEDs and attacks by enemy forces. With immediate access to an endless power supply through urine, fuel cells could put an end to the need to resupply conventional fuels and therefore reduce the risk to U.S. soldiers.
PODCAST: HOME DEFENSE AND PROTECT YOUR FAMILY LIKE THIS SOF SURVIVAL EXPERT
Other advantages to fuel cells
Hydrogen fuel cells are a very clean, efficient and effective way to produce electricity. If fuel cells can be cracked, they could truly revolutionize power for the military.
They are more energy-efficient than combustion engines — they can convert the fuel chemicals to electrical energy up to about 60 percent more efficiently, according to the Department of Energy.
It is also far cheaper to use urine as fuel rather than JP-8, diesel and other conventional fuels used in war zones. So hydrogen fuel cells could dramatically reduce fuel costs.
They also yield far lower emissions than their combustion engine counterparts. The only emission is water. While benefiting from the efficiency and cost reduction, the military could help reduce carbon dioxide emissions and air pollutants.
Discovery? The pee advantage
While the Army scientist team was working on developing materials and tech to improve capabilities for soldiers, they developed a special new nano-galvanic aluminum-based powder. When the powder comes into contact with water, it yields pure hydrogen.
But it doesn't just work with water. Tests revealed that when the powder was added to lots of different liquids with water it also yielded hydrogen.
ATHENA LASER WEAPON 'KILLS' 5 'OUTLAWS'
Their research was already important. And then they made an additional discovery — an unexpected one.
The Eureka moment? Urine.
With urine, there was a twofold increase in the reaction rates. So when the special powder was added to urine, it produced hydrogen far faster than even water.
What's next?
The team is continuing to advance and also looking at how other fluids readily available to a soldier downrange could be harnessed — including saliva.