Want an Ultra HD TV and 4K content? Sony might be the choice for you.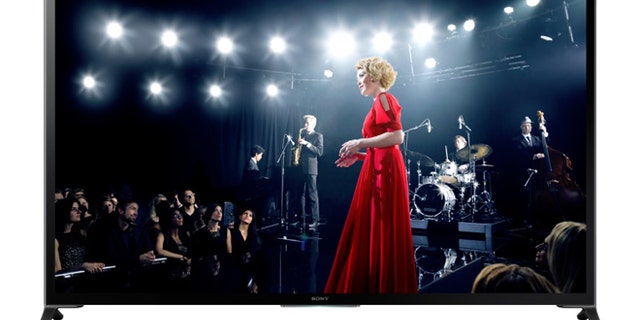 NEWYou can now listen to Fox News articles!
While its competitors were touting humongous TVs and curved screens, Sony's CES 2014 message was more about expanding the assortment of 4K content available to those who buy its Ultra HD (UHD) TVs.
Among the announcements were a relationship with Netflix to bring streaming 4K videos to UHD TVs, and an expansion of its Video Unlimited 4K download service with more content, and a new UHD Media Player.
For Sony, this year's press event was much more low-key than those of previous years—no Sony Pictures movie stars (yes, you Seth Rogen) and no Taylor Swift singing to the packed crowd. But the company did introduce some innovative products, including a new wedge-shaped TV and several digital imaging products, while discussing UHD more as a complete ecosystem than as just a series of single products.
In the TV area, Sony will have three new UHD series, for a total of nine models in screen sizes ranging from 49 to 85 inches. Among the new tech highlights is Sony's X-tended Dynamic Range technology, which is designed to boost contrast and detail by boosting brightness and improving black levels.
Sony's new flagship UHD TV series is the XBR-X950B, available in 85- and 65-inch screen sizes. This set has a full-array LED backlight with local dimming. Just below that series are the XBR-X900B sets, available in 79-, 65-, and 55-inch screen sizes. These TVs use edge-lit LED backlights and have a new wedge-shaped design that allows more room for the large Magnetic Fluid speakers on each side of the set. In my opinion, the new design, which places the speakers lower in the cabinet, has a much more attractive appearance than last year's model.
Sony's entry-level 4K UHD TV series, the XBR-X850B line, will have models with 49-, 55-, 65-, and 70-inch screens. An optional wireless subwoofer (model SWF-BR100) is available for these, and other, sets. This series doesn't get the extended dynamic range feature.
All of these TVs get HDMI 2.0 inputs, for streaming 4K content from phones and tablets.
During the event, Netflix's CEO Reed Hasting talked about Netflix 4K streams being available on Sony TVs when the service launches. To give you even more 4K content choices, Sony says, it's working with Netflix and 4K photo services such as 500px and PlayMemories to make Sony TVs ready for that content.
Sony mentioned it was expanding the library of 4K content available in its Video Unlimited 4K download service, and that it would offer a new Sony Ultra HD Media Player, though few details about it were provided.
Copyright © 2005-2014 Consumers Union of U.S., Inc. No reproduction, in whole or in part, without written permission. Consumer Reports has no relationship with any advertisers on this site.