Vatican taps space technology to preserve its treasures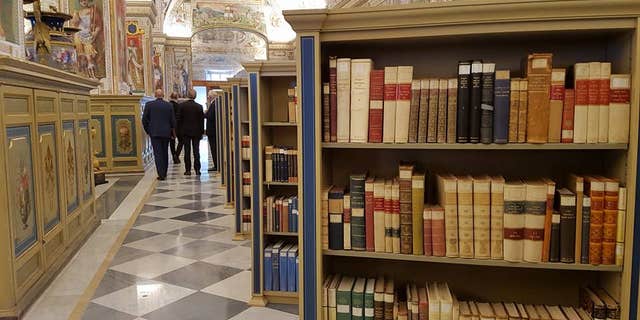 NEWYou can now listen to Fox News articles!
The Vatican Apostolic Library has teamed up with the European Space Agency (ESA) to digitize its treasures using space technology.
The Library's ancient collection is being digitized in an attempt to ensure that future generations will have access to the books. The organizations have been working for five years to digitize the collection using the Flexible Image Transport System (FITS) data format.
The format, which was born out of radio astronomy and adopted by the ESA, NASA, and scientific institutions, is described as ideal for long-term data storage.
BRITISH WWII VETERAN VISITS FRENCH TOWN HE LIBERATED, VIA VIRTUAL REALITY
Earlier this month the Vatican Apostolic Library and the ESA agreed to extend their partnership on archived information. "Our collaboration is based on the common intention by our two institutions to promote the long-term preservation of images in electronic format," said Monsignor Cesare Pasini, Prefect of the Vatican Apostolic Library, in a statement.
Pasini also noted how the recent earthquakes in Italy have highlighted the importance of preserving valuable information.
Founded in 1475, the Vatican Library is one of the world's oldest libraries. Some of its manuscripts and codices are 1,800 years old, pre-dating the printing press.
EYE ROBOT: MEDICAL DEVICE CAN CARRY OUT CATARACT SURGERY WITH PRECISE CUTS
The FITS digitization can also help preserve the original documents, according to Vatican and ESA officials. Pressing the documents against a pane of glass for scanning can distort the old pages, so specialist scanning software has been developed to automatically calculate the document's different angles, resulting in an accurate, flat image.
The format's instructions for reading and processing data are in a text header tacked on top of the data. This means that, in a century, when computers will likely be very different, all the information to decode the data will be present within the same files.
The ESA told FoxNews.com that about 10,200 manuscripts have been digitized in the FITS format, equaling about 5 Petabytes of stored data. The project's long-term goal is to convert about 82,000 manuscripts for a total data volume of about 50 Petabytes. By way of comparison, 1 Petabyte is equal to about 223,000 DVDs.
HIGH SCHOOL TO USE TECH TO HELP THE BLIND DIFFERENTIATE PAPER MONEY
The space agency is also looking to use FITS to ensure that old and new satellite data is widely available. "FITS can be the solution to transform this challenge into an opportunity," explained ESA's Long Term Preservation Programme Manager Mirko Albani, in an email to FoxNews.com.
Follow James Rogers on Twitter @jamesjrogers