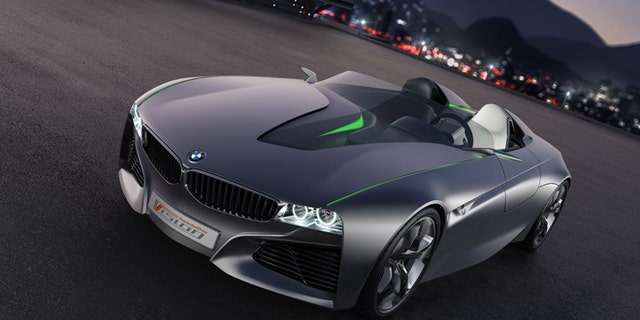 Automobiles have come a long way in just the past few years.
Engineers have made great advances in protecting passengers in a crash. They're now hard at work on systems that warn drivers when they drift out of their lanes, and when pedestrians or other vehicles are in their blind spots.
Until recently, however, car interiors were pretty primitive compared to the technology we've grown accustomed to in our living rooms and offices.
That's changing fast as carmakers rush to outfit vehicles with digital rearview mirrors, large color touch screens, Internet connectivity and more sophisticated voice-recognition technology.
The first to bring satellite navigation and iPod integration to cars, BMW continues to be a pioneer of in-vehicle technology.
BMW's ConnectedDrive system combines navigation, infotainment and Web services. Maps and other content are displayed on an easy-to-read console screen. The screen contains a powerful 3D graphics chip to display realistic street and building views of major cities.
Drivers control the system with a small, round, touch-sensitive pad mounted near the gearshift.
With the iDrive pad, drivers can use familiar swipe and pinch gestures and spell out simple commands with fingertip gestures.
BMW partnered with speech recognition leader Nuance on technology that lets the driver dictate text messages and record voice memos, which can be archived or converted to email later.
With a 4G SIM card, select BMW 3, 5, 7 and M-series models also turn into LTE hotspots. Inside the car, the dock connects to the car's antenna for improved reception. But the cradle also has its own antenna and power supply, allowing 30 minutes of use outside the vehicle.
Honda designers had their heads in the cloud when developing HondaLink, which debuts on the 2013 Accord.
Honda teamed with top audio company Harman to build its in-dash system, and with Harman-owned Aha Radio to provide cloud-connected radio, live news, audio books and more. You can also listen to Twitter and Facebook newsfeeds.
Just bring your tethered iPhone or Android to the party.
The new HondaLink smartphone app lets you pre-select content before driving, so there's less fumbling with your phone while you're on the road.
Are you ready to drive without a rear window? Audi put a lot of forward thinking into its digital rearview mirror technology, which will make its first appearance in the electric R8 e-tron later this year.
Although it sounds unnerving for a car to have no rear window, the camera and monitor system covers a much larger field of vision than a conventional rearview mirror. Taking over for the mirror is a 7.7-inch, self-illuminating AMOLED display.
The R8 e-tron also shatters any notion that electric cars have to sacrifice speed and sportiness. It has a top speed of 125 mph and can go from 0 to 62 in 4.6 seconds. Its range on a full charge is an impressive 135 miles.
Then there's the Primac Concept 1, a $1 million Croatian electric supercar that boasts a top speed of 189 mph and a 0 to 62 time of 2.8 seconds! You can see it in action here.
Getting back to the more practical, Ford is steadily rolling out its lively Focus Electric. Its range is 76 miles on a full charge, which takes about four hours.
Realizing that "range anxiety" is holding back a lot of would-be electric car buyers, Ford developed the MyFord Mobile app just for the Focus Electric and plug-in hybrids.
The app monitors the battery's charge and estimates remaining mileage. Its MapQuest-powered database can also guide drivers to the nearest charging station. There are now nearly 4,500 public charging stations across the country.
When you're feeling smug, it's easy to use the app to brag on Facebook and Twitter about how much carbon and money you're saving.
Like other Ford models, the Focus Electric comes with the top-of-the-line Sync with MyFord Touch package, which offers a full menu of entertainment, navigation and Internet options. It also offers many features unique to the electric hatchback.
A screen to the left of the speedometer offers advice on braking and accelerating to maximize range. When lots of blue butterflies gather on the display to the right, you're driving efficiently.
Finally, if you're considering buying an electric or alternative-fuel vehicle, the U.S. Department of Energy is a great resource. The site also keeps a database of all stations by fuel type - such as electric, biodiesel, natural gas - and can help you plan a route.
Kim Komando hosts the nation's largest talk radio show about consumer electronics, computers and the Internet. Get the podcast or find the station nearest you at www.komando.com/listen. Subscribe to Kim's free e-mail newsletters at www.komando.com/newsletters. Copyright 1995-2012, WestStar TalkRadio Network. All rights reserved.