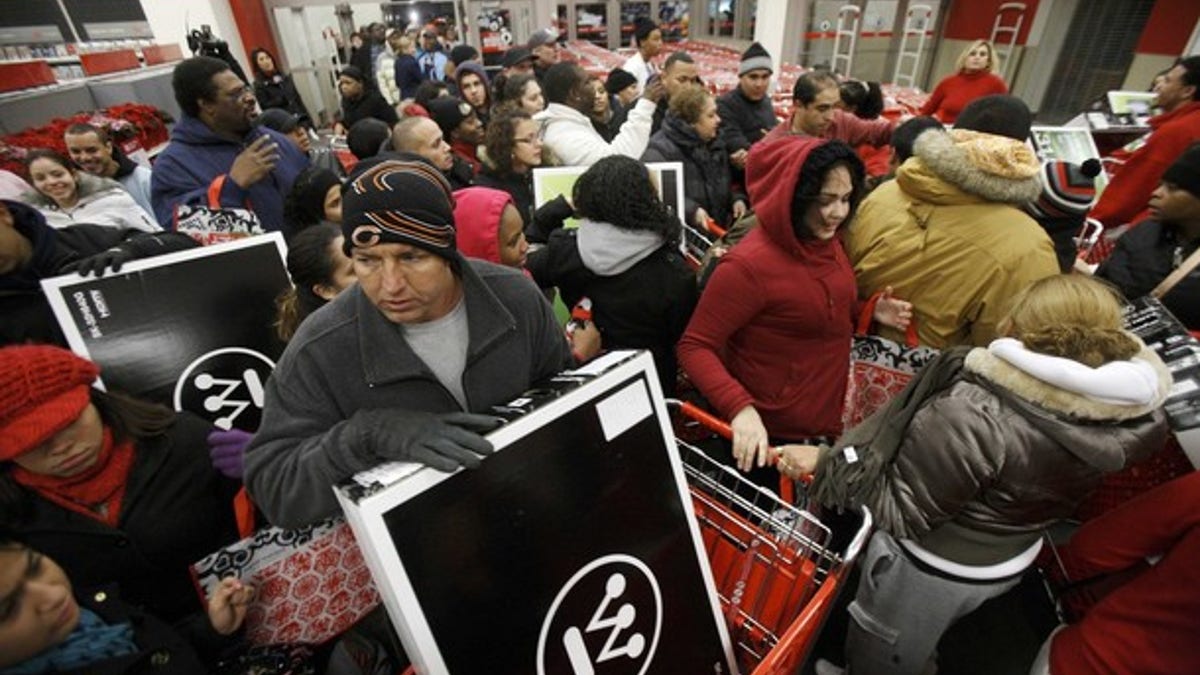 Don't wait for the day after Thanksgiving to do your holiday shopping: Black Friday deals are already here.
Christmas lands on a Saturday this year. This may seem trivial, but for retailers who have struggled with a multiyear economic downturn, that detail is of the utmost importance: It means there's one less weekend for shopping this holiday season.
To make up for the lost weekend, many retailers are starting early or having significant pre-Black Friday sales. Yes, that's right: Black Friday has already begun.
Online retailers have traditionally led the charge for early sales, and this year is no different. Amazon officially began its Black Friday festivities on Monday, Nov. 22. The sale will last through Saturday, Nov. 27, and includes free shipping on items over $25. The site features such deals as an LG Blu-ray player for $79.99, a 15.6-inch Acer Aspire notebook for $399.23, and Google Android-powered phones for as little as 1 cent with a two-year Verizon contract.
Electronics specialist Newegg took it one step further with "Black November," promising deals all month long and daily category sales with free shipping on most items. Monday, the site offered 15% off select computer accessories.
Dell Small Business has also gotten on the Monday bandwagon with deals lasting through Sunday or until supplies are gone. The company has laptops starting at $349 and desktops starting at $389.
Wary of the online threat, many brick and mortar stores are offering free shipping on all items for a limited time, including Wal-Mart, Target and Best Buy.
"Pre-Black Friday" sales are also becoming a regular addition for many retailers. Sears has held weekly "Now" sale events every Friday and Saturday since Oct. 29.
"Last year, customer response to our 'Black Friday Now' deals was overwhelmingly positive, and many were thrilled that they did not have to wait for holiday deals," said senior vice president David Friedman in a statement. "This year, we wanted to extend these deals to two days to help our customers get the best quality gifts for the ones they love -- without breaking the bank."
Other shopping stalwarts are following suit. Wal-Mart began an extensive sale on electronics beginning earlier this month. Target is having a four-day sale going into Thanksgiving, with 50% off some electronics. Best-Buy is selling the Kindle for $139 while Frigidaire appliances are going for 30% off. Home Depot is also offering significant sales, with free shipping on most large items and orders over $250.
While many of these sales offer savings for less stress, the deals may not be as aggressive compared to the steals available on the actual day. For instance, a Best Buy Panasonic plasma TV is on sale now for $899 -- a $100 savings. But according to leaked Black Friday ads, that same TV will be $699 this Friday.
For those looking to avoid the crowds or skip the overnight camp-outs, pre-Black Friday deals remain a welcome relief. For everyone else -- pick us up a few cheap TVs, okay?